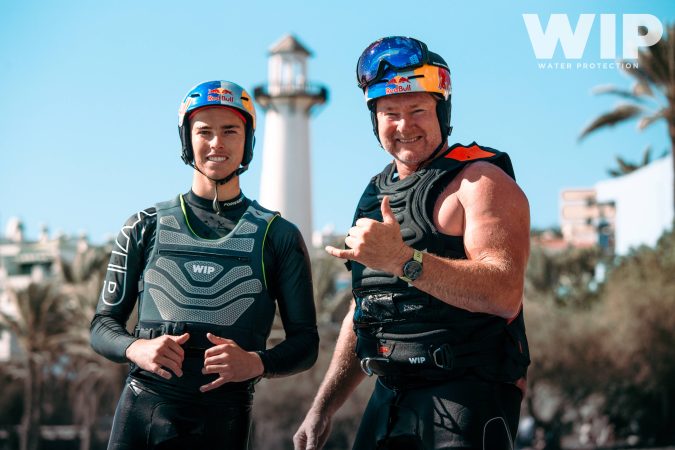 WIP S/S 2024 WATER HELMETS Preview
Retail Buyers Guide: Water Helmets S/S 2024 Retail Buyer's Guide
Brand: wip
Interviewee: x
After the delivery delays and poor sell-in of last summer, was 2022 a bad year for spring-summer wetsuits? And how is 2023 doing so far?
We are new in the board sport wetsuit world, as our background is about head and upper body protection where we have a very strong position. But we are designing and selling wetsuits since several years in the sailing world and now extending our range to board foiling sport. So the big overflow of wetsuits in 2022 did not affect us too much.
What are the biggest trends in buying habits nowadays? Buy less often but high end, go for cheap options, wait for sales period…
We're observing that many customers are leaning towards investing in high-quality, versatile pieces that last longer, reflecting a more sustainable approach.  The new Wing foil Sport did open new needs and opportunity to design specific neoprene suits. If you use a surf wetsuit for winging, you will destroy knees and elbow in a short time…People are now clear about this and looking for specific offers.
The women category has energized summer wetsuit designs with the outbreak of multiple silhouettes (long jane, short john, wetsuit pants, etc.). Is this just a Insta fad or groundswell trend?
At WIP, we believe women wetsuits are not only about special colours and specific patterns. In our Sailing wetsuit line, we came as the first brand offering women's wetsuits specially designed with a key innovation. Our Design Award-winning WIPEE standing pee system allows women to stop holding back and drink as they wish for a good hydration. What's more, our 3DS technology creates a 3D mapping of our wetsuits, and the softness of neoprene offers a degree of flexibility to suit different morphologies and aquatic activities.
WIPEE Tech: https://www.youtube.com/watch?v=MvRNE-hjOuw
WIP INSIDE Tech: https://www.youtube.com/watch?v=laNMwK3ykzo
WIP 3DS Tech https://www.youtube.com/watch?v=OhY-Qb5gCYo
Which style are the customer favorites nowadays: fullsuit, short sleeve, springsuit, fancy styles?
With the revolution of foiling sports, we've seen a growing demand for more protective suits offering a good shield to sharp foils and friction with top deck board pads.  With tactical location of build in shock absorption pads, we strike a balance between protection and freedom of movement. Even during summer, riders are looking for more neoprene coverage to be safe, especially for legs.
Which are your key innovations in materials & constructions for SS24?
As there are many long history actors in the wetsuits industry, we really focused at bringing to retailers and consumers an unique wetsuit design approach. WIP is about water protection, not only for thermal but also for impact protection. Our key innovation is our WIP INSIDE technology integrating composite hard sheets fused in neoprene at strategical places where bones are not well protected by muscle or fat. We create a body armour that is very discreet allowing great freedom of movement with super high stretch neoprene. In addition, our 2024 range features real sustainable improvements including:
– Solvent Free Glue: We use water-based glue, eliminating harmful and volatile organic compounds (VOCs).
– Dope-Dyed Yarn: This process of colouring yarn saves huge amounts of water while reducing energy consumption and water pollution.
– Oyster shell and limestone loaded neoprene.
Quick colors/graphics focus: will wetsuits mimick the surf apparel for SS24 with a comeback of bold colors?
For SS24, we're embracing a sleek and sophisticated aesthetic with a focus on classic, understated tones. Our wetsuits will feature elegant blacks and other sober colors that exude timeless style. This approach reflects our commitment to combining performance with a sense of refined style.
Apart from the material sourcing and production addressed in question #5, do you implement complementary durability campaigns? (partnerships, give-back actions, recycling…)
Beyond materials and production, we are actively engaged in complementary sustainability campaigns. WIP is part of the 1% For the Planet program, means donating 1% of our sales to associations supporting the environment. This year we're teaming up with Sea Shepherd to help them protect the oceans. Last but not least, our packaging is made from 100% recycled and recyclable materials, using natural, nontoxic Soy ink.