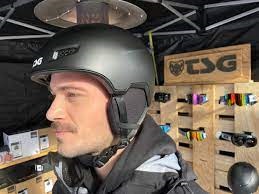 TSG S/S 2024 WATER HELMETS Preview
Retail Buyers Guide: Water Helmets S/S 2024 Retail Buyer's Guide
Brand: TSG
Interviewee: Nadja Herger, Head of Communication
What are the main trends in water sports helmets?
Helmet use in watersports is pretty niche. So, I see a trend in convertible helmets, that can be used for watersports but also for skateboarding, biking or snowboarding.
What designs are you offering in your SS24 collection?
Our new All Terrain Helmet was designed with water sports enthusiasts in mind. The great thing is that it can be used for all elements and different sports. Equipped with neoprene ear pads and a water blocker inside the helmet, it is perfect for wakeboarders, kitesurfers and of course e-foils. After the water, the ear pads and blocker can be easily removed, and the helmet is ready for the next skateboard session or the ride on the bike. In winter, install the fleece ear pads and, depending on the weather, the wind and rain blocker and the All Terrain turns into the perfect snowboard helmet. So we didn't promise too much. 1 helmet that covers everything. Certified to EN 1078 (skate and bike helmet standard), EN1077b (ski and snowboard helmet standard) and to a harmonised standard for water sports helmets. The package includes the following accessories: 1 pair of neoprene ear pads for water sports, 1 pair of fleece ear pads for winter sports, 1x removable wind and rain blocker.
What colours / prints are you offering in your SS24 collection? Any standout collaborations?
The All Terrain helmet will come in satin black, satin oil blue, satin marsh (grey with yellow)
Are you offering any accessories to your helmets?
We offer wakeboard earpads for all our hardshell skateboard helmets.
Any new sustainable practices in your production or shipping processes?
Our helmet boxes are made of natural cardboard and only printed with black. No plastic window, no cardboard coating.
What is your situation regarding stock and deliveries?
We have stock, not necessarily for all colours, but more or less all models are available.