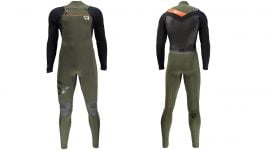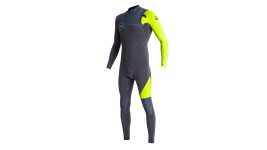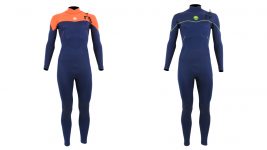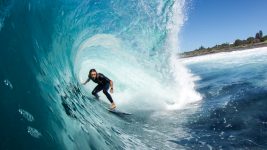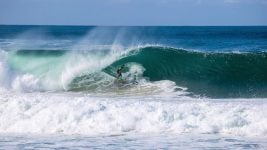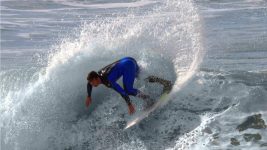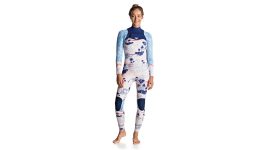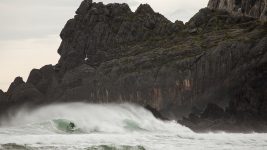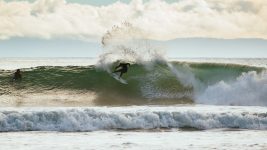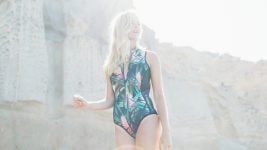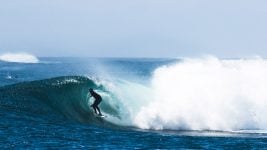 Each season has its thickness of neoprene, and summer in Europe plays by the same rules. During the high season, the product offerings get wider and the colourways multiply in order to outfit men, women, and children, basically everyone who wants to take advantage of the joys of the ocean in comfort. Here's a look at a summer business that's showing no signs of weakness. A report by Denis Houillé.
THE HIGH SEASON
It's no secret that the summer market is still enormous. From holidaymakers worried about outfitting the entire family in neoprene to seasonal surfers hungering for the hottest high end new thing, and locals entrenched in their habits, there has to be something for all tastes, all budgets… and all body types.
So, in spite of the higher water temperatures in Europe in summer, neoprene sales don't drop off, quite the contrary. For certain manufacturers, the spring/summer season outperforms even autumn/winter in terms of sales volume (from 30% to 50% according to the brands). This is due notably to the women's and children's segments, which experience a real boom at this time of year when the interest in surfing is at a peak. Picture Organic Clothing doubled its product offering this season (in terms of stock-keeping units) "essentially to satisfy the demand from women" admits one of the brand's three Co-Founders, Julien Durant. The design department at O'Neill continues to create lines "specifically for this new generation of athletic women who want to bring more personality, elegance and confidence into the water," specifies Jan Michaelis, European Marketing Manager at O'Neill Wetsuits Limited. And the same point is noted at ION Wetsuits, where their Product Manager, Marc Burhans says: "Women's summer styles are growing pretty good. Especially our Muse line."
At Rip Curl, the number of products increases along with the temperatures, notably because of the expanded offering of colours and the addition of summer products (wetsuit vests, rash vests, longjohns, etc.) At the same time, and this is a market-first, the French designers from Saint Jacques Wetsuits are getting ready to release a neoprene skirt called: "Jeanne" that will actually be a 3/2 long sleeve spring suit with a skirt. Welcome to "wet-à-porter"!
For next season, manufacturers like Circle One for example predict "an even larger choice of colours in the kids line – a direct request from our retailers," explains General Manager, James Trevelyan. The same thing at Adler where all women's models come in three different colourways in order to seduce a maximum number of clients! Fit and cut will be the decisive criteria, precisely for women as confirmed by Benoit Brecq from the marketing department at Madness: "The cut of our "boot cut" long sleeve shorty for ladies has been designed to suit every woman even if you are not shaped like Alana Blanchard…"
ATTRACTIVE PRICES
Fathers, mothers, and children, all (at the same time!) want a wetsuit that fits their size and their taste. When outfitting this whole surfing population, price is a determining factor. So, the manufacturers do everything they can to offer well performing wetsuits at very aggressive prices.
At West, the quality to price ratio is exploited to a maximum in order to satisfy all of the different levels of product. The same thing at Circle One, where the approach consists of offering the best in terms of materials and cuts at the best price, no matter the customer. Therefore, entry-level and mid-range products constitute a large part of summer sales, except perhaps for Rip Curl which is the exception to the rule according to the head of their Technical Division Jonathan Cetran who says it is "the only brand to sell more high end than entry level product over the course of the season."
There are many part time surfers who are looking for a good quality wetsuit above all, manufactured by a renowned surf brand. By integrating high end details (lining, stretch, or seams) in their entry-level products the specialist neoprene manufacturers are able to remain attractive to a price sensitive seasonal clientele. In the short or medium term, their surfing ability will evolve along with their demands in terms of equipment, and if they get truly bitten by the surf bug, then they'll be looking to buy new gear adapted to changing seasons.
TAILORED TECHNOLOGY
Wetsuits are made to be worn in cold water and as the head of the Technical Division at C-Skins, Mark Brown reminds us: "Major technical advances are made in winter and then they are brought into the S/S lines."
But in 2017, the ultimate in technical irony is that wetsuits now work too well and even at 2mm can be "too hot for the season," attests the neoprene specialist at Alder, John Westlake.
So, manufacturers adapt by offering simplified models, which still perform just as well. The last few years has seen lining technology advance considerably on summer models; the fleece fibres are shorter in length for lighter, faster drying wetsuits with less water retention. This is a true added value in wetsuits from specialized surf brands. The thermal, hydrophobic, anti-irritant and anti-bacterial properties that make them so successful are also what help customers easily tell them apart from the rest of the summer offerings (mass market, beach accessories, etc.)
Neoprene technology is no longer a secret for O'Neill, which adapts its rubber and breaks it down into three parts: "Firstly, an exterior hydrophobic layer that keeps your wetsuit dry, then a neoprene core with microscopic air cells that increase insulation and reduce weight, and finally a pre-treated internal layer for maximum flexibility while maintaining its original form." Jorges Imbert from Quiksilver emphasizes the importance of interior and exterior coatings that both help to protect the neoprene from overexposure or overstretching. At Gul, Mike Pikering also mentions that a Hydrophobic coating is woven into the materials.
Other properties, such as paddling comfort are very important. To make sure they get it right, the designers study strategic seam placement so that the neoprene is flexible enough in the areas where it needs to be the most (shoulders and armpits).
DURABILITY ABOVE ALL
The high frequency of use of summer models, as basic as they may be, must in no case alter the quality of the product. Starting with the resiliency of the colours over time, and most notably the lighter tones, which have a tendency to fade faster. In the same way that manufacturers optimise the shape memory of neoprene in order to guarantee its capacity to retain its original form. In reality, a battery of tests is performed on prototype wetsuits before they ever see the light of day in the marketplace. In the product development workshops at O'Neill (Area 52) a dozen of each model of wetsuit is tested before it goes into production, which rules out any errors where materials, assembly or fit is concerned.
It's the same process at Rip Curl (one of the only brands with its own factories) where uncompromising tests are performed "600 hours for a new neoprene, 200 hours for a new wetsuit" specifies Jonathan Cetran.
As for Madness, there is no better crash test than surf schools admits Benoit Brecq: "The models are always in use there and dry in direct sunlight!"
Nowadays and from experience, the manufacturers know the weak points and the stress points on their models and how to anticipate for wear. At Adler, John Westlake "has a look at every wetsuit sent back for repairs, thankfully very few," and "makes sure that the problem doesn't happen again." Every effort is put into assembly and precisely into areas with the most wear. The wetsuit industry uses some of the strongest stitching techniques: after being glued beforehand, they stitch the neoprene halfway through its thickness without poking all the way through. The procedure is even more complex on summer models, which are even thinner and demand a very particular attention to detail as Mark Brown from C-Skins describes: "Seams don't stretch as much as the neoprene around them so curving seams and anatomically placing seams to points of less resistance is the aim."
Quiksilver stands out as well with strategically placed reinforced areas "at the end of each seam, flap, zip and panel whether it's inside or outside," specifies Wetsuit Manager, Jorge Imbert.
Typhoon optimize comfort with "smooth skin neoprene on the neck and cuff," says Leisure Product Manager, David Ellis.
In summer, since one session per day is never enough, quick dry linings are definitely favourites. But, that doesn't mean you can skip the step of rinsing the wetsuit with fresh water after use. It's still good to remind clients that salt and sun aren't a good mix and risk altering the quality of the neoprene much more rapidly; rinse with fresh water, dry in the shade, if possible in a light breeze.
Another point, at Circle One, "We pay particular attention to stretch panels at the back of the lower leg and arm so the suits are super-easy to put on – this can make all the difference to a shop sale," says James Trevelyan, the General Manager.
IN TUNE WITH THE SEASON
They're all on vacation for two months, and as soon as there is the smallest bit of swell they don't want to hear anything about horseback riding or volleyball. They want to go surfing. Of course, since last year, they've grown and will "obviously" want new colours in order to give it their all in the water! It's not a surprise that the kids models sell the best with extreme colour contrasts like grey/red or black/green at Adler. The mix of orange with black or dark blue seems to please the youth, too.
Strong summer sales allow brands to offer more colourways, which is always refreshing in the shop. Yet, even amidst all the summery tones, black and other more subdued colours remain the most popular. Men's and women's models are still offered in more sober tones and they're well liked… as the success of the Quiksilver Originals monochrome models attests over the last several seasons: "For next year, four new colour treatments are on the programme," says Jorge.
Tiki Wetsuits are concentrating on dark, unified tones. "We don't look at wetsuits as fashion accessories, but more like a piece of functional equipment. So, inherently we prefer an understated look," admits designer Phil Bridges before specifying that the "navy line worked well this summer."
It's the same at Brunotti: "All the softer tones work well! Sober looks and not too overboard on the logos," specifies Head of Product Hans Schaap. Picture also cites a mix of tones (bi-colour weaving) which seems to please just as well in the outdoor lines as their wetsuits. Finally, we can say what we want, but black has never been as popular as affirmed by Onda Wetsuits. "Black is a timeless colour, people will always continue to wear it and buy it," says Pedro Towers from product development. We see the same approach from the newcomers at Déjà Vu Wetsuits, who swear by "full black, no logo, very simple, minimalist and retro".
At West, things are rather conservative, too. "Darker colours are in highest demand and we only use clear colours under the arms", declares Sales Manager, Patrick Wattin. On the other hand, on the beach you won't be able to miss the wetsuits from Saint Jacques, which are trying "to head off the beaten path and away from the standardized neoprene market," with the help of stripes, original prints, as well a strict attention to details (embroideries, magnets, pockets, belts) describes Founder, Stan Bresson.
Finally at Roxy, it's hard to miss their POP surf capsule collection, "inspired by Hawaii's rich surf culture, the capsule comes with bold colours, bright stripes and deep blue hues evoking the mystery of the ocean," says Jorge.
ENVIRONMENTALLY FRIENDLY
Considerable progress has been made in the processes of neoprene conception and lamination. Nowadays, the entirety of the production progress is closely monitored, optimized and allows avoidance of enormous costs in water and energy. Working on the efficiency of the cutting of the neoprene sheets, brands like Circle One have managed to reduce by 10% the amount of waste compared to 2016. Typhoon manage to remove packaging where possible and reduce the number of shipments from suppliers by collating orders where possible.
Neoprene of natural origin has become a reality thanks to Patagonia and after 200 material tests, everyone agrees that the consistency of the rubber, as well as the qualities of flex, resistance and UV protection surpass those of traditional petro-chemical based neoprene. Just as eco-friendly, most of the linings are now made solely from recycled, hydrophobic materials, which ward off humidity, dry quickly and in the end give a nice feel to the product.
In terms of recycling, there is no lack of initiatives like the Resurrection programme from Rip Curl, which gives a new life to neoprene off-cuts left over after production: wallets, labels, drink holders, etc. The same thing goes for recycling used wetsuits, which in turn find numerous new uses: soles of shoes, beach bags, bracelets… and lots of others are being studied according to the Australian and European designers working under the logo of The Search.
A notable mention on the eco side of wetsuits is UK brand Finisterre, who although aren't producing summer suits have embarked on a mission to find a full time wetsuit recycler. #WetsuitsFromWetsuits will look to make new wetsuits from old wetsuits.
In the end, the ultimate objective is for products to last as long as possible. This is why on the inside of wetsuits we often find precious advice on how best to take care of the neoprene so that consumers are as well informed as possible from the beginning. Just in case there is a tear, many brands offer to repair the wetsuit for free for two years after purchase (like the specialists Sen No Sen), and many offer a lifetime guarantee. What a great way to maximize your investment down to the last centimetre.