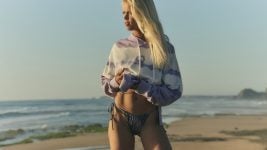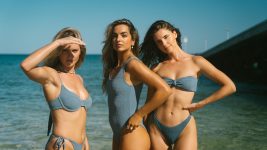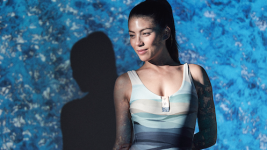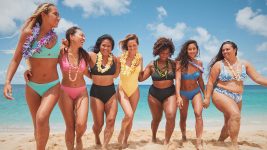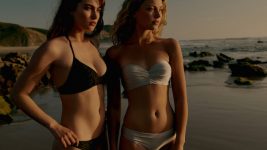 Womens Swimwear 2023 Retail Buyer's Guide
Women are active, eco-conscious, body positive and, above all, feminine. Fulfilling all these aspects might be challenging for other categories, but when it comes to swimwear, the ladies can have it all. By Rocio Enriquez.
SS23 swimwear offering is diverse. Different trends ensure every swimmer will find the perfect fit for their body type, aesthetic preferences and intended use. There is a demand for sustainable materials and an interest in structured fabrics. In construction, we will see asymmetric designs and a lot more flesh exposed through cut-outs and mesh areas. Sporty styles respond to increased levels of activity observed on every beach. Looks aim to please everyone. Bold prints cater for women who like to stand out. Clean, classic colours appeal to those looking for minimalistic elegance. "The classic, clean style is making a comeback", says Marion Bertrand from Picture. Active swimwear and textured fabrics are the areas that hint to more growth in 2023. Mix and match offers are widespread. They offer the possibility of making the perfect combination of colours are shapes that best meet each consumer's needs.
SS23 collections draw inspiration from the restorative power of nature. After an extended period of restrictions, reconnecting with nature has a balancing effect on our minds. "Our new styles are infused with a feeling of inner peace and chill vibes", says Mariëtte Ide from Barts. Isabelle Weppe from Billabong says, "It's all about slowing down and letting go". Next Spring/Summer collections speak of tropical islands, sunbathing and playful waves. Pukas and Rusty look to the Australian coast surf lifestyle. Roxy uses Caribbean vibes to produce a range that is bold and fun. Rhythm's Sunbather collection uses cut out and backless features to expose the skin. Oxbow looks at the Costa Rican jungle and the African desert for inspiration. The tropical inspiration of Hurley's Aura of Aloha theme spans women's and men's collections. 
Looks.
Next year's collections scale up from earthy and pastel tones to bright colours. Rusty chooses faded blues and olives for their Spring release, shifting to bright turquoise blues, oranges, and pastel pinks for the Summer. Billabong offers a warm transition palette that combines pastel and bright colours like a rainbow. Barts' palette also varies from organic colours to very bright ones. Pukas goes for powerful colours such as orange, yellow and aqua. "We add some contrast colours to complement and emphasise the strong tones", says Marta Campama from Pukas. Oxbow uses jungle vibrant colours for their first delivery, and desert sand and solarised colours for the second. Picture takes inspiration from the French Dune du Pyla to deliver an abstract movement of pastel colours. O'Neill mixes bright neon with pastel nuances. Hurley ranges from timeless black to statement colours such as pink punch or neon lime. 
Florals are quite present in SS23 collections. Along with geometrics, they are Hurley's main focus. O'Neill, Rhythm, and Billabong present their own versions too. Paisley prints make an appearance, as seen in Picture's and Rhythm's offering. Tropical inspiration is executed through the exotic patterns of Oxbow, Billabong's Vacay print, and Hurley's Aura of Aloha range. Pukas features the hand drawn designs of their creative director, Marcos Azpiroz. Hurley also presents a collection inspired by Nascar, which will feature the crosscheck flag pattern. Brands that do apparel or accessories tie the swimwear range to them. Using the same prints and colours they create a total look. O'Neill uses the same prints in their lifestyle sweat packs, for a complete beach cover up. Picture's prints and colours crossover to streetwear and accessories, offering retailers an easy merchandising. Rhythm also crosses over most of their prints to their apparel offering. One of them, the Cairo Paisley, will be found in the men's Spring collection too. Roxy aims for a head-to-toe consistent look. "Our prints, colour palettes and fabrics are designed for all categories to give consistency to our retailers and consumers", says Nelly Pargade. Billabong coordinates swimwear prints with their sportswear collection. Oxbow implements some apparel pieces in the range. "We work on a total universe of beach style to go with our swimwear collection", says Eléonore Courret. 
Body inclusivity is a conversation that all brands take part in. There is a lot of variety in shapes. One pieces and bikinis with great coverage share shelves with more revealing designs. However, there is a rising trend to expose more flesh, and skin exposure is not limited to skimpy designs. More covering pieces use mesh and cut-outs, and one pieces become backless. Sporty styles have a strong presence and drive a lot of growth. Roxy expects their biggest demand from lycras. Billabong´s Global Design Director, Leila Heydari, says, "We are very excited to launch our Adventure Division swim line engineered for surfing and active water sports". Boardsports brands always hold in mind the active woman when designing their collections. Their savoir faire will be rewarded now that the mainstream trend of wearing activewear has expanded to swimwear. Construction techniques make them supportive and comfortable, while creative design solutions, such as asymmetries, make them feminine. "We are introducing the long sleeve crop top for the younger and more sporty audience", says Mariëtte Ide from Barts.
Construction.
Offering a swim piece that enables activity with comfort and support is a priority. "Our swimwear is made for the active surfing girl: durable materials, elasticated elements and ergonomics", says Marion Bertrand from Picture. Fernando Rivero from Hurley says, "Our main inspiration comes from listening to our athletes. We listen to their needs for surfing but also in look and style". Roxy has invited their female surfers to the development of their Ultimate Surf collection. "It features constructions that are adapted for all surfing women and all bodies", says Nelly Pargade. O'Neill offers swimming unitards and shorts, and longer top drawstrings for better adjustability. They avoid stitching against the skin and offer different constructions for intended use and body shape. "We are developing D and E cups", says Ricardo Campoa. Rusty also widens the shape and size ranges in tops and bottoms. Their new collection reaches size 16. They focus on tops that fit bigger busts and their bottoms range from small, cheeky ones to surf shorts. 
When it comes to materials, textures are all the rage. They offer unique looks and add value. Barts announces lots of different structured fabrics for next Summer. So does Rhythm, who is also continuing their Avoca texture that has proved a customer favourite. Billabong continues their Peach Stretch fabric and their Tanlines rib story. They add innovations such as a wavy stripe, printed ribs, and textured solid colours. Rusty announces ribs and terry ribs. O'Neill uses an Italian rib fabric from Jersey Lomellina. Technical treatments make them resistant to their intended active use. Fabrics offer UPF+50 protection and resistance to chlorine and sun creams or oils. Other treatments include DWR coating and Polygiene anti-odour treatment. 
The use of recycled yarns is widespread. O'Neill works with Repreve® for the recycled polyester, and Econyl for the recycled polyamide. They also work with Seawool, a fabric made with shell fibres. Picture works with Mipan® Regen fabrics. Billabong and Roxy feature recycled fabrics in 100% of their collections. Hurley, Oxbow, Rusty, Pukas and Barts have also ramped up the use of recycled polyester. Sustainability is observed in other areas of manufacturing, beyond recycled materials. Pukas manufactures in Portugal or in their own facilities in the Basque Country, and only sources their materials from Europe. Picture focuses on sustainable sourcing of materials too. Rusty and Billabong extend their eco approach to swing tags and hygiene stickers. An interesting initiative in terms of social responsibility is Hurley's support of the "Black Girls Surf" foundation. 
Retailer Support.
Many brands have taken to exotic locations to shoot their SS23 stories. Oxbow will follow their female riders on a surf trip. Roxy's "Currents of Cool" campaign depicts the Caribbean Sea. Rusty continues to celebrate the West Australian coast. They have sent their team to the beautiful white sandy beaches of Exmouth. Billabong's "Pipedreams" story is linked to the famous Hawaiian contest, drawing inspiration from the 90s. They also announce a special collaboration with an iconic brand that will feature a good dose of flower power. Pukas and Rhythm have invested in their photoshoots to offer elevated imagery for stores. Visual assets will be plentiful and attractive. Retailers will be well stocked for both digital and physical spaces. Brands are also offering education and advice to help retailers push this category. Barts works with their retailers to help them choose the pieces of the collection that suits them best. Oxbow offers retailers association models. "We show them how they mix and match according to different body morphologies", says Women Product Manager Eléonore Courret. O'Neill provides a bikini fit and style guide. It offers information about support, coverage, and style, helping consumers' choice. Rhythm offers swimwear clinics for retailers who need it. Billabong organises presentations for their key accounts. They explain the details of the collection and give the right arguments to the sales force to push it. Additionally, they offer a gift with purchases to drive the demand for this category. Picture offers their retailers specific hangers with information about the benefits of their swimwear. Pukas has a detailed information pack to assist their retailers with communication and marketing. Rusty makes sure that their reps are ready to promote new product as it lands. They are also ready to accommodate specific requests from retailers that need something different than their ready-made POS. 
Swimwear does not seem as severely impacted by stock and delivery issues as other categories. Many brands manufacture close to their market, such as Pukas in Portugal or Oxbow in Tunisia, which could explain this. Strong relationships with suppliers and retailers allow for adjustments in manufacturing and shipping. Earlier purchase orders allow for longer production lead times. Everything points to a timely delivery for Spring and Summer collections next year.