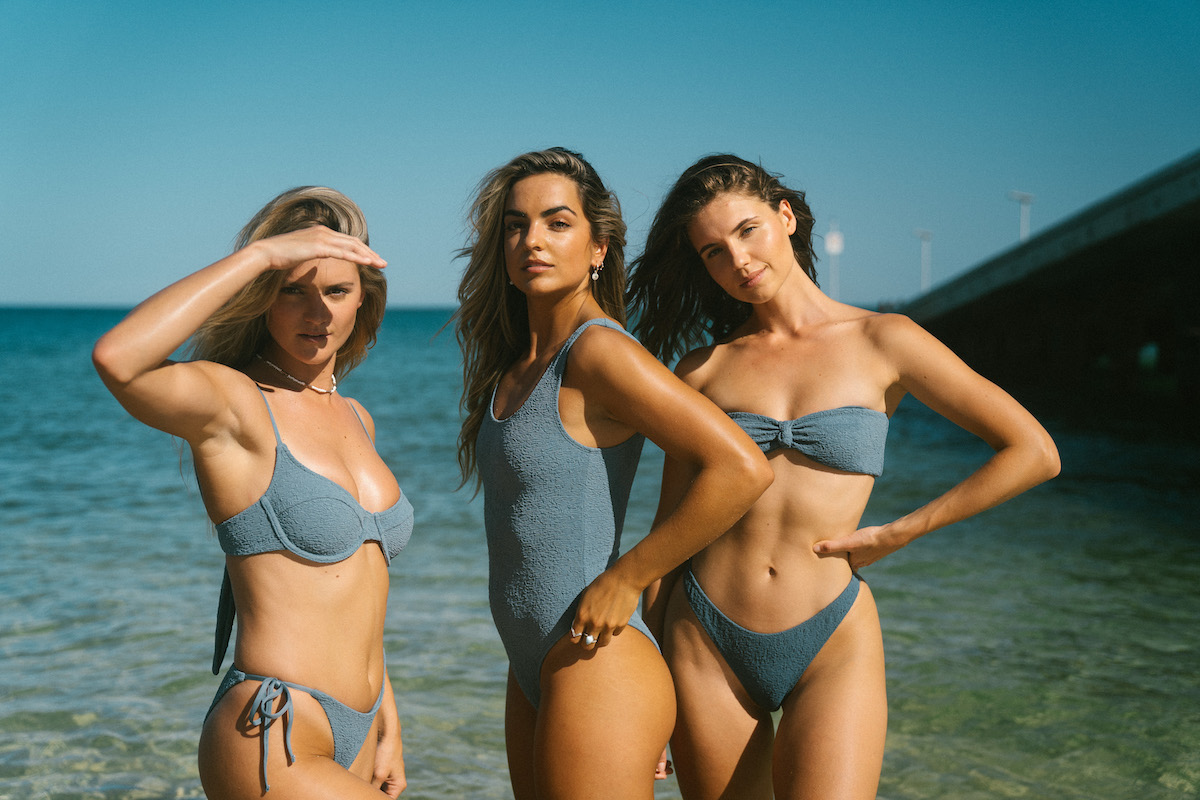 Rusty 2023 Womens Swimwear Preview
Retail Buyers Guide: Womens Swimwear 2023 Retail Buyer's Guide
Brand: Rusty
Interviewee: Noelle Aguirrebena, Senior Ladies Designer & Ellena Clark, Rusty Womens Brand Manager
What are the current industry trends in women's swimwear?
The swim trends that applies more to our market are basic silhouettes with interesting fabrics and textures, bold colours and suistainable materials.
What style/shape of swimwear is most popular in your range?
Back to basics – our most popular silhouettes are a multiway triangle halter top that you can wear in more then 5 ways and our Midi and Brazilian pant which hikes higher through the hips – slimming the waist line and elongating the legs.
What were your best sellers in the SS22 collection?
Our best seller is a fabric and not a silhouette. "The Sandalwood" textured fabric. All silhouettes in this fabric and any colour we bring to the market are very popular. The silhouettes are proven and easy to wear for different body shapes. This fabric story offers something for everyone.
Where do you expect the biggest growth in SS23?
Any fabric that has a texture, solid or printed. Texture is the biggest growth area for us as a brand as well as for the industry as a whole.
What have been the major inspirations behind the designs in the SS23 range
The Australian coastal landscape, from east and west, where the colours emerge from turquoise waters to deep red soil and our beautiful coral reefs.
What colour palettes and prints will we find in your SS23 range? Any crossovers from other brand product categories?
Colours in spring are a little more toned down, with faded blues and olives being the main shades. In Summer there is a shift to bright turquoise blues, deep blues, oranges, and pastel pinks, bringing joy and excitement.
What silhouettes are you featuring in your SS23 collection? Any construction techniques you'd like to highlight?
Rusty Womens silhouettes are evolving each season. We have a wide range of top and pant fits that cater to a wide range of shapes and sizes. Our new collection is evolving into a size 16 range. With a focus on tops that fit bigger busts and pant fits from a small cheeky to a surf short for the more conservative customer.
What materials are you using in your SS23 collection?
We have a varaity of texture fabrics, ribs, terry ribs and recycled fabrics.
What efforts are you making towards sustainability?
Sustainability continues to be our design-driven, especially for swim, as being so closed to the ocean. This is reflected in our fabric materials, swing tags, and our top product, a full sustainable spring suit and wetsuit, made of Ecoprene foam, 100% limestone-based.
What are your marketing stories for your SS23 collection?
Rusty Women's Spring collection continue to hero our beautiful West Australian backyard. The Rusty Women's team headed to the idealistic location of Exmouth, the beautiful white sandy beaches and turquoise waters ensured we could focus on the amazing swimwear range of Spring 23.
How will you support retailers to sell this category?
With a never ending transition to online and social, Rusty Womens is focused on ensuring that our retailers are supported with the necessary assets for their socials and online. Ensuring they have an easily accessible suite of amazing imagery for when the season goes live. Also ensuring our sales representatives are encouraging the promotion of new and fresh product as it lands.
We will also be supplying some great instore POS options for them as well as being accommodating to any 'left of field' requests that any one may have. As a brand we are very accommodating and are happy to assist in any way we can. If the retailer wins, we win at the end of the day.
Have you suffered any stock or delivery issues due to supply chain bottlenecks? If so, what solutions have you implemented?
We haven't had any problems with our supply chain. We initially put a contingency plan in which allowed our factories a longer lead time for work, and due to our long and friendly relationship, they have responded well to this.
Best Sellers:
Cross My Heart Mutliway Bikini Top
Cross my heart futures a 2 Colour easy to wear print. This style has been printed in our recycled nylon with extra life lycra. The silhouette has been modified to be able to wear in more than 5 different ways, which is shown in a special hangtag designed to demonstrate this future.
Sandalwood 
Sandalwood is a custom made fabric that has the stretchiness and flexibility to adjust to different body shapes, making it our most flattering fabric., This will also be found in multiple colours across all our silhouettes, from triangles and underwire tops to high cut pants, Brazilian pants, and one-pieces.
Lucky Bralette
Lucky Bralette features a texture terry rib. This is offered in a Chocolate colour for the spring months and in our popular blue for the summer months. The silhouette details a bralette in a front vee shape with knot feature and adjustable straps.