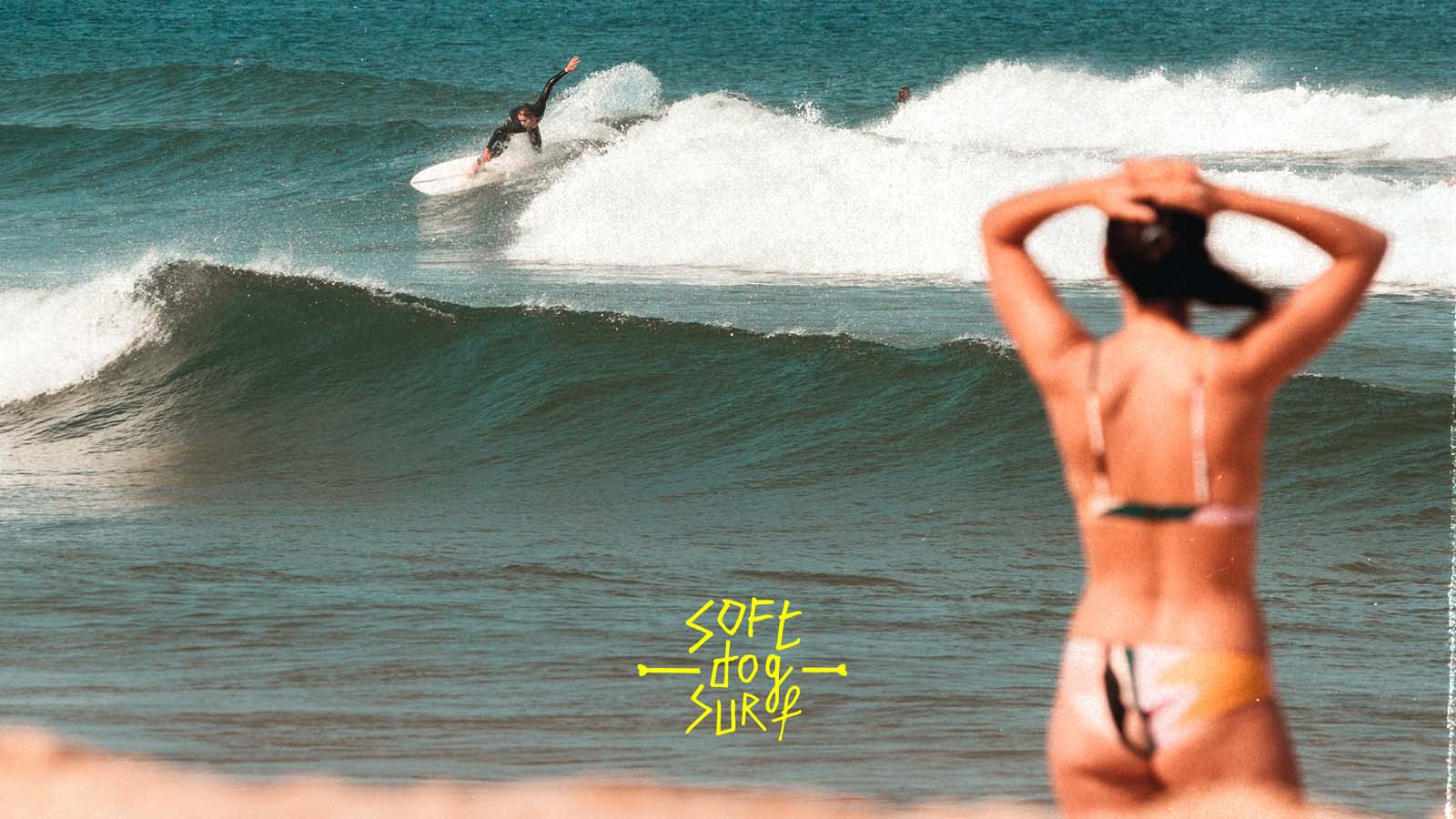 Softdogsurf 2021 Softboards Preview
Retail Buyers Guide: Softboards 2021 Retail Buyer's Guide
Brand: SoftdogSurf
Interviewee: Joeri Van de Vliet, Founder & CEO
2021 saw a massive influx of newbies in surfing due to COVID "free time". Did they favor softboards over hardboards?
We believe they did. First of all, because lots of newbies start on softies off course. But secondly and maybe even more important; as soft board manufacturers, we have the duty to make softies way better, so all levels of surfers can enjoy the ocean. Especially on the aspects of safety and performance. RIDE HARD, GO SOFT!
No name brands can be found anywhere, whereas boardsports retailers are pushing the core softboards brands. What piece of advice do you suggest so they can persuade customers to buy the "real thing"?
If you look at a surfboard there are mainly two things: quality of the construction and the quality of the shape. I'd suggest looking for soft board manufacturers that are focusing on surfers from all levels to suit their boards. Too many board manufacturers out there are only offering 'F1-cars' instead of cars that are made for your convenience and look very nice too. Drive from A to B in a stylish and comfortable way, that's what riding a softie should be like.
Which designs are trending in 2021? Nano shortboards, mini-mals and funboards, high-perf replicas…
Our Alpha-series (the high-performance series) are very much in favour of experienced surfers looking for more fun and less pressure on an average day out. But the biggest growth we see is in our Kennel series (durable meets fun shape) because they aim for surfers with an intermediate level. Especially the longer lengths with more volume are leading the pack.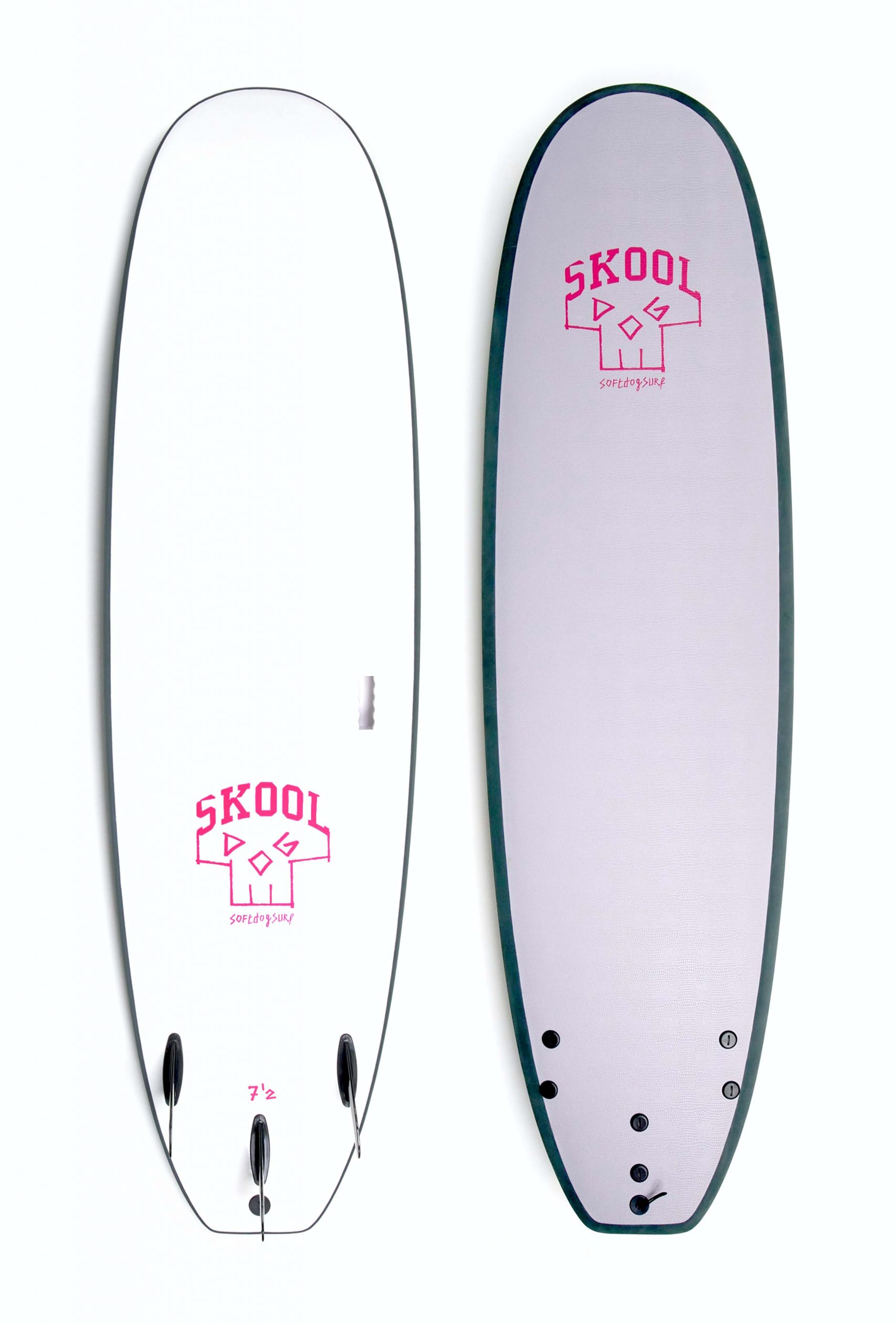 Do you have a specific offer for schools/rentals?
Yes, we do. We sell state of the art schoolboards offering great durability and are very stable to ensure the success rate. Tested and approved by our own internal "stab in the soft" program. It took some summers, but in partnership with European surf schools and – camps, we have tested and produced lots of samples to make sure these boards will last!
Anything new to mention in the construction area?
We work with 3 different focus points in the constructions we use. It's a lightweight construction for the performance Alpha-series, durability meets shape-performance for our mid-range "Kennel" and we go all-in on durability and success rate for the "Skooldogs" we offer to surf schools and rentals.
The softboard swag lies (a lot) in its bold graphics: what are your favorite artworks/colorways in your 2021 range?
All of them…we love the dog show! We go for big prints on top of the boards and all-over patterns on the bottom. The Doberman's design is a classic in our graphic history. Oh yeah…you can spot it from miles away on the beach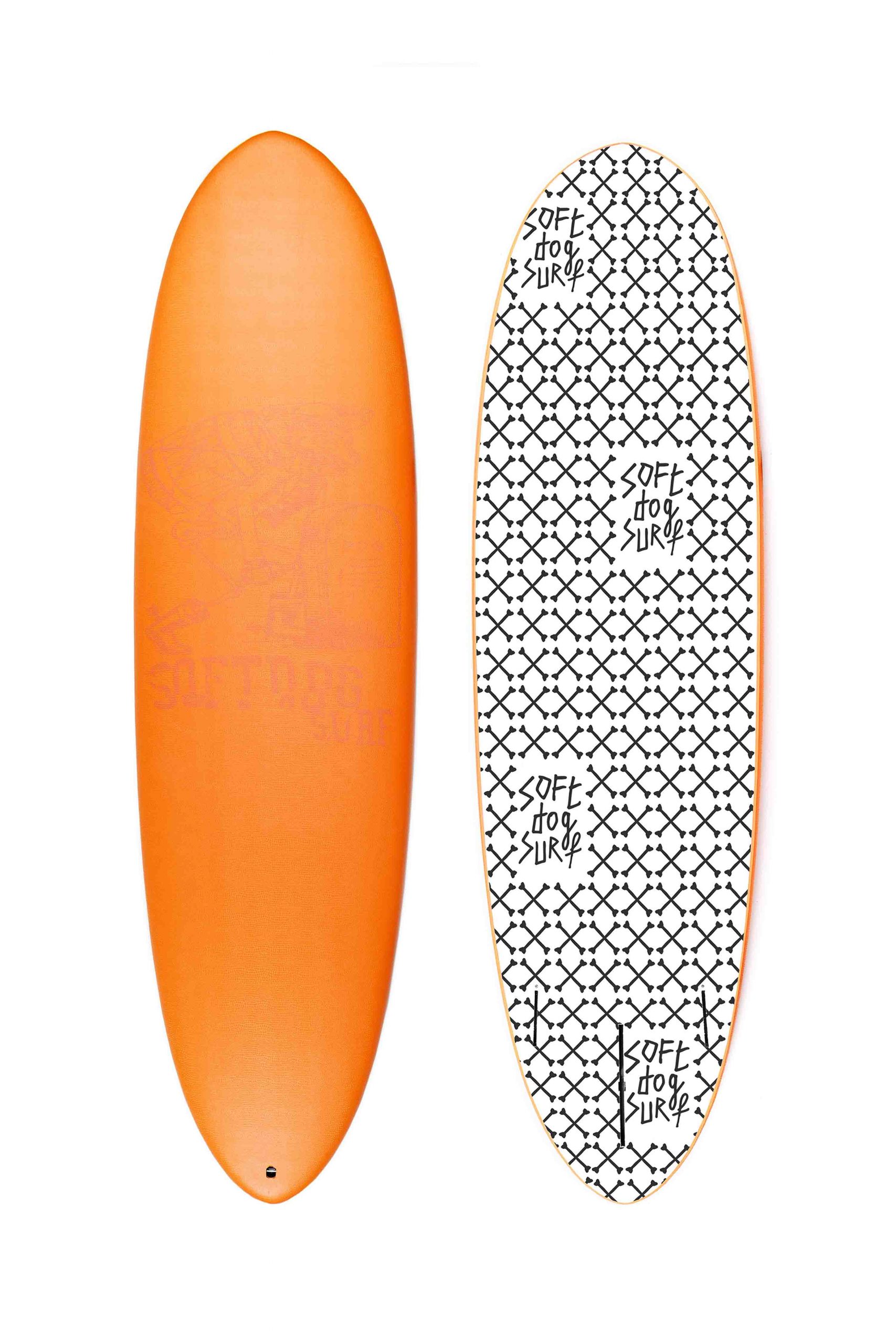 Sustainability is, even more, an issue (than with hardboards): do you propose alternative materials and/or recycling programs?
We are working with eco-friendly IXPE for our lizard soft skin on all boards. Furthermore, we are looking at the durability of our boards as the best argument for nature. They simply last longer. In future productions, we are looking at recycled plastics for our integrated Futures Fin-boxes. But mainly we have the biggest responsibility towards our planet when we talk about shipping surfboards.
Key Products:
Alpha 5'6 – 35L, 21 3/4, 2 ½
Integrated Future Fin boxes, lizard skin, a 5 fin setup, etc. Alpha Dogs offer all the features that a performance surfer needs to be combined in a lightweight and solid construction. Invisible seams and a tail pad design are the other characteristics of our progressive Alpha series. The 5'6 is a great groveller for your summer days.
Retriever 7'0 – 58L, 22 ¼, 3
A mid-length board with a low rocker to go fast. With a very friendly volume, it catches everything, but with its outline, it handles waves with more juice too. The 2+1 fin set-up gives this dog a lot more characteristics! Surf it as a single fin for maximum glide and cruise or in a thruster setup to get more performance. Like a true retriever, it's a very intelligent and reliable family dog!
Skooldog 7'2 – 66L, 24, 3
Durability meets the ultimate success rate. Perfect for the very first waves, but we see our team grabbing these stiff boards (integrated bamboo sheets!) with lots of volumes to score as many waves as they can on average days with intermediate surf lessons. These boards turn everyone into a happy surfer and are the perfect board for learning!