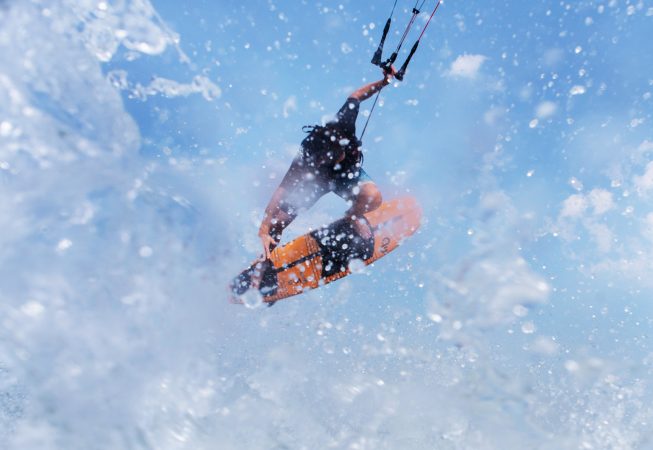 Eleveight 2023 Kiteboarding Preview
Retail Buyers Guide: Kiteboarding 2023 Retail Buyer's Guide
Brand: Eleveight
Interviewee: N/a
What is the current trend / biggest demand in kiteboarding?
Big Air is certainly still a very popular trend that is reflected in our sales figures for the XS kite.  Designed to fit the demands of thrill seekers, the XS helps big air riders push their limits. We've also seen Eleveight's wave-riding products show constant growth, particularly as the wave/freeride segment is growing in popularity. Riders like to mix up their wave sessions with some classic freeride. Wave kites like our WS have great versatility and work on perfect down-the-line days but also in some sloppy onshore conditions, where you want to mix up your session to get the most fun out of it. If we talk about the biggest demand in kiteboarding, then the classic freeride market is still top. The all-rounder products like our RS kite and Master twintip are reflecting the best needs of the target market. 
Where do you expect the biggest growth in 2023? 
The upcoming season won't be as easy in terms of growth. We can see the impact of inflation in most parts of the world and the purchasing power of the consumers is affected by all this uncertainty. Nevertheless, we expect the biggest growth area will be in our specialised high-performance products such as the RS+, a kite that's very light in construction and like a Formula 1 car in performance. The high-performance segment is still new in our sport and for this reason, we still expect higher demand.
Which of your kites have sold well in the last 6 months and why?
The question is not easy to answer because we were sold out of all of our products. But the biggest demand was for our new RS+ kite. We introduced it in August 2022 and the feedback and subsequent demand was fantastic. The RS+ is a high-performance freeride kite with state-of-the-art materials yet it's still priced reasonably. The price point in this market went through the roof last year, so I think our product strategy paid off.
What are the industry trends in terms of kite design, construction and materials?
I would clearly say that a big trend was in the use of new materials and a differentiation between constructions. We have seen the same trend in other industries for years, for example in cycling where a bike model is available in different configurations and price points. Our industry follows the same trend.  In the last few years, we have had new innovations in materials. We can produce the same model in different configurations with a different performance outcome. In our case we introduced the Plus range to our lineup. The Plus models have an upgraded construction with new innovative materials and a further focus on weight reduction. The Plus range is aimed at riders with demands for more dynamic performance.
Which of your boards have sold well in the last 6 months and why?
Our top seller is still our freeride model, the Process. We also had huge demand for our Plus range. The Master C+ and the Process C+ are lightweight full carbon boards with a very sophisticated construction. These light boards became 'most wanted' items in the Big Air community. 
What are the industry trends in terms of board design and construction?
For the twintips we can see specialised products for Big Air set the biggest trend. These boards have to perform well in higher winds and have to tackle big impacts following massive jumps. We at Eleveight also focus on our surfboard segment. Here we can see more and more that people demand a real surf feel, a board with good flex and response. Our Plus range features a classic surfboard construction tailor-made for the needs kite powered wave riding.
Have you introduced any new products / variations in-season? 
As we say, Development Never Stops! Our new season will be packed with some new innovative products. Our freeride/wave kite will feature completely new material, and we'll also introduce a second wing into our line-up which will become part of our Plus range. Furthermore, we developed a completely new hydrofoil with a specific teardrop shape and state-of-the-art performance. All the info will be released in the next months allowing riders to try our new gear this spring.
Anything new in terms of sustainability?
We try to decrease packaging in the production process (for example, any unnecessary plastic). Furthermore, we work with leading raw material suppliers (e.g. our ripstop is from Japan) to achieve the most durable and highest standard of quality, and also a better production process. We also try to source products from Europe to decrease our transportation footprint.
How are you helping retailers sell your product?
We like to think of Eleveight as a family as personal connections are very important to us. Part of our job is to visit shops and make sure everyone has the right product training. We also push big demo days to allow customers to try our products and create a good image on the beach which helps shops to drive sales.
What's your situation regarding stock and deliveries?
The situation is much better than over the last two years. Our deliveries are on time and the supply change seems to be nearly back to normal. Eleveight forecasted very well last year and we have almost zero overstock and therefore don't need to carry anything over to the upcoming season. Our warehouse is already packed with new products such as the RS V7 and our new TT range which were all just recently launched into the market.
 Best Sellers
The RS is our best-selling kite, shattering limits with its freeride versatility. Packed with nifty features, the RS is designed to tame any storm, boost massive airs, and master any kite spot. Version 7 has exceptional efficiency with a revised profile for even better low-end performance and ease of use. Its aerodynamic design has extraordinary capabilities allowing you to minimise your quiver by maximising your wind cover.
The Master C+'s disruptive nature allows the rider to shatter any limit, pop harder and boost higher than ever before.  It's our lightest and most performance freeride to freestyle crossover twintip, for riders that demand the ultimate premium experience. We fused together superior design, unmatched materials, and masterful craftsmanship. The Master C+ features a precision-milled Super Fly 3D Paulownia wood core for significant weight reduction that's coated entirely with high-tech carbon fibre. 
Featuring a noseless design and our top level CFT construction, the Escape + delivers a pure surf feel in small to medium waves and explosive freestyle potential. Using the short rail line shape of the Escape, we've minimised drag and optimised pop, and for the Plus model we've gone even further. The PU core features a wooden stringer and is laminated in Polyester with an Innegra/carbon vector grid for increased durability. The single concave bottom generates speed and provides insane dynamic drive, while reinforced fin boxes keeps your ride secure even in the sketchiest landings.