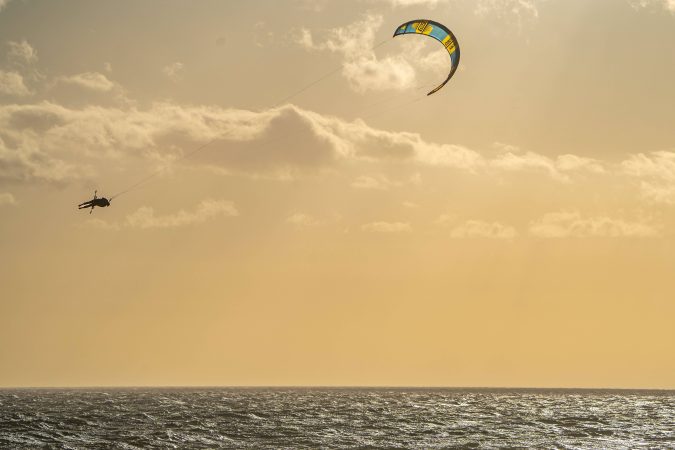 Ocean Rodeo 2023 Kiteboarding Preview
Retail Buyers Guide: Kiteboarding 2023 Retail Buyer's Guide
Brand: Ocean Rodeo
Interviewee: Rich Mundell – General Manager, Ocean Rodeo
What is the current trend / biggest demand in kiteboarding?
It may be that our own focus on these attributes causes us to see things as we choose but 'lighter', 'stiffer', 'faster', 'easier to use' are all key trends we continually try to innovate on with our designs and the materials we use. It's what riders are asking for and for those that have experienced the difference new materials are making, it's hard to go back! 
Where do you expect the biggest growth in 2023?
Increased adoption of newer materials that provide the many benefits seen over dacron and other incumbent materials. The price is higher for these innovations but the benefits are increasingly accepted as being very real and unquestionable.
Which of your kites have sold well in the last 6 months and why?
The Rise has a super strong following due to Giel's incredible achievements, however, the Flite remains our biggest selling kite line in overall volume; particularly given that it has only been 3 sizes until this year. The existing version of the Flite is an outstanding all-rounder for any level of rider and the new 5-Strut versions, plus additional sizes (7m-12m), being rolled out will take the Flite to a whole new level! The HL Crave has also had a strong following with its hybrid Aluula/Dacron build and lower price point.
What are the industry trends in terms of kite design, construction and materials?
Innovation in materials dominate the trends we see out there but most are still focused on, or limited to, the airframe. The next big innovations will see exciting changes to canopies and even bladders as well as continued improvements to the airframe materials that have already changed the sport to such a degree. The weight and stiffness of these new materials will also lead to new opportunities in how a kite is designed and constructed which will further enhance the overall performance of the kites. There's lots more innovation to come!
Which of your boards have sold well in the last 6 months and why?
The Mako continues to have a really strong following even after all these years. The Tumbler has proven itself with Giel's amazing performances and the Creep inspires the surf/strapless freestyle disciplines.
What are the industry trends in terms of board design and construction?
To be honest, beyond ever lighter, stiffer, and stronger materials, and construction techniques, I'm not sure about the leading trends in kite board design and construction this year. Most of our attention has been on the kites, wings and the variety of cool new materials we're working with; some of which could be seen in our boards eventually! That's not say we've been completely idle on the board front but it's all I can say at this point! (wink!) Stay tuned! 
Have you introduced any new products / variations in-season? 
Most of our newest products won't be fully introduced until late spring. It will be smaller quantities to start but a lot of great innovations that are sure to make some noise! On the kite side of things, we think our new Flite is going to create quite a buzz. The feedback is exceptional from those that have tried it (names that everyone would know). 'Best kite ever!', kind of feedback! We're pretty excited about it. Our new Aluula Crave will also be very well-received as it takes an outstanding performance wave/freestyle kite and incorporates the proven benefits of an all Aluula composite airframe! All kites this year will introduce some new Aluula Composite materials, however, these will be along with the latest iteration of the Aluula Gold that's continued to improve and remains unbeatable for the leading edge of a kite airframe. The new Aluula Aeris materials will be used for kite struts and other small areas providing further weight to strength benefits in all our kites including our new 'H' (hybrid) Series Craves and Flites. Not meaning to distract too much from the kite focus here but Aluula Aeris and AerisX materials will be used to provide the first fully composite wings on the market. That's sure to make some noise in addition to providing a glimpse of some materials that could eventually make their way into kites as well! So, the new Flite, the A-Series Crave, and the first fully composite wing will likely lead the Ocean Rodeo train but with the Rise, Roam and our H-Series kites providing their own innovations as well!
Anything new in terms of sustainability?
On the materials side of things, through Aluula Composites, we've made incredible strides in the recyclability of kite/wing materials. We are getting closer and closer to having a fully recyclable kite! Our new AA-Series wing coming this spring WILL be fully recyclable! The airframe, canopy and even the bladders will be made of materials that can all be recycled. Another first from Ocean Rodeo!
How are you helping retailers sell your product?
We work with our retailers to deliver the highest performing products on the market; products that have literally changed what's possible in kiting. Ocean Rodeo differentiates itself as a brand with a long history of innovation and good customer care. A loyal Ocean Rodeo rider is a loyal shop customer, always looking for the leading edge of products. These long relationships are what we help our dealers foster with their customers to continue to sell Ocean Rodeo kites and wings. We believe a hands-on experience is important to brand exposure and we support our dealers in providing demo opportunities within their local kite communities. Many riders are sold after flying an Ocean Rodeo kite or wing for the first time! Our customer care is emphasized in our TRUST Program, which offers a 60 Day Satisfaction Guarantee, as well as an additional 6 months of Limited Warranty on a registered Ocean Rodeo product. Should the customer run into a problem, the dealer can rest assured that we are on the case, and will provide that next level of service!
What's your situation regarding stock and deliveries?
We're well aware of the conditions out there and the bit of craziness that may continue to exist until many brands move through their overstock situations. We're prepared to wait this out by focusing on the exceptional, unique, proven products we offer; both current and new in 2023! We are in a good position with our current kites and wings inventory wise. Most models and sizes are available for dealers and we'll be continuing to sell these, world champion proven, kites and wings through 2023. If need be, we can quickly replenish faster moving SKUs as needed. As stated, we'll also be introducing the limited quantities of the newer products this spring and early summer. Most of these complement and don't compete directly with the current products (e.g.: A-Series Crave kite and AA-Series wing are entirely new and the new A-Series Flite kite sizes didn't exist before).
 Best Sellers
A-Flite 9.0 Kite
BIG AIR / FREERIDE
Our biggest kite news in 2023! It's the lightest 5-strut kite in the world. A boosting machine and already a favourite! We have tuned the Flite to send you into the stratosphere! Predictable and direct steering will suit riders wanting to "send it" in all conditions – along with those who aren't!  
A-Crave 2.0 Kite 
PERFORMANCE WAVE / FREERIDE
Looking for an accessible all-round kite that shreds the surf? The NEW A-Crave is quick, nimble and yet easy to use for all levels. Advanced riders will push limits like a pro, while a stable airframe and easy water relaunch make it an ideal first performance kite for new riders too! 
A-Rise 2.0 Kite 
BIG AIR / FREESTYLE
The high aspect, 5-strut Rise delivers a new standard in precision control. It's appreciated by riders taking megaloop performances to new levels. The Rise's power to weight ratio and turn speed is next level! Fast vertical boost and precision kite loops make the Rise Giel's first choice for continued World Championship performances.