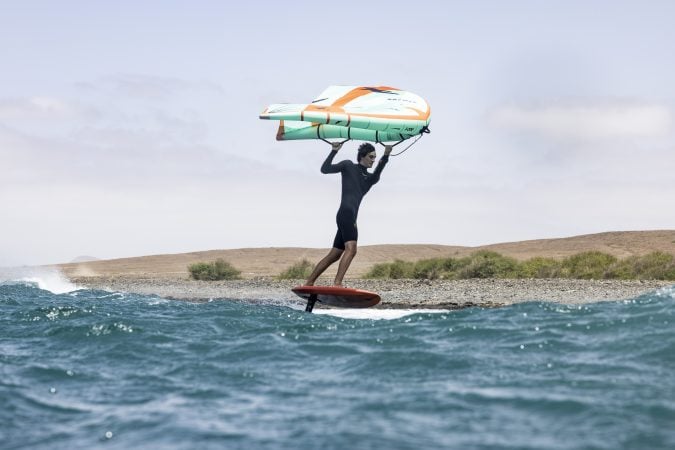 F-ONE 2024 Wing Brand Preview
Retail Buyers Guide: Wing SS24 Retail Buyer's Guide
Brand: F-ONE
Interviewee: N/A
What are the main trends in Wing construction, materials and design that the industry is progressing towards?
When most of the brands are going to Alula and really expensive materials but not always adapted to the design we preferred searching always more what is needing our design to find the best material. That's why we are really proud to show our Hi-Tex, high tenacity polyester. All brands are focusing on new material for the canopy, struts and Leading edge. From the beginning with the Swing we have a segmented leading edge and now on the Strike V3 we introduce two different Hi-Tex 158gr and 178 gr.
In terms of design and specially struts, it's really important to talk about the rigid handles VS soft handles, I'd said that's the most trend in terms oh development in the industry from nowadays
What customer profile is driving more product demand at the moment (newcomers/experienced, kite/wind riders/exclusive wingfoilers)?
The market is always on demand for beginner package and it's really funny to see that all the new comer are coming from all over the world, wing is not becoming mainstream but it's more affordable and accessible for more people than kiteboarding for example. I'd say 60% of new comer and 40% are coming from watersports: more and more surfers are looking at hydrofoil to keep on riding when the waves are not glassy or to improve their time spent in the water riding some different conditions. And they are more open to try a wing to go surfing when it's really windy. We are at the beginning of a new discipline with the downwinder (prone or SUP) and we have more and more demand on this specific product.
Which of your 2023 wings are selling well and why?
Strike V3 hundred per cent. The no brainer wing if you're looking for performances and versability. You can jump high and have your best freefly session in the waves with a good upwing ability to take more and more bumps.
How many wing designs will you offer in 2024 and which do you expect to grow the most?
For 2023 we have a range with 3 models as Strike – Swing and Strike CWC (light wind performance) We don't really plan to have more models for 2024. We think that each wingfoiler need the best wing for the discipline he likes the most so when we are working on all the model and not on a specific one.
What materials and construction techniques are you using for your 2024 range?
It's a secret but the trend is going to the lightest and durable material to improve the general performances of the wing. We believe that the profile design and specially the diameter of the leading edge is the key to get some high performances and more comfort. For that, we are using different Hi-Tex on it for a perfect segmentation of each strut. Hi-Tex 158g is used on the tips of the leading edge when Hi-Tex 178g is reserved for the main part of the leading edge. The tension of the canopy is really important and we are combining the best material with some sewing techniques to assembly the different panels.
Any standout graphics, artwork collaborations or pro models in your 2024 collection?
Too soon 😉
Have you implemented any new sustainable practices in your production and shipping processes?
We don't have any new process for 2024 as we have already changed the plastic for recycled carboard since years now. We are working hand in hand with our factory to improve their carbon footprint using some solar panel. About our shipping process, we try to use more boat shipping than airplane one.
How will you support retailers to sell your 2024 wings?
By doing the best product on the market and more communication support
What's your current situation regarding stock and deliveries? What's your forecast for your 2024 wings?
We don't have any feedback from our distributor as it's the beginning of the season
Best Sellers
The perfect combnation between high performances and and versability for all your different sessions in different conditions. The Strike V3 got the new high tenacity polyester (Hi-Tex) and Teijine TechnoForce. Freeride, surfing, freestyle or freefly just grab the handles and have fun.
Angry to spend your time waiting for wind? Strike CWC is the answer for light wind conditions with our specific design of 3 struts. It keeps you light in your arms while you are foiling when everybody is staying on the beach looking at you. Only available in 6 – 7 – 8 and now 9m2, you have the choice of your weapon for lake or ocean rides.