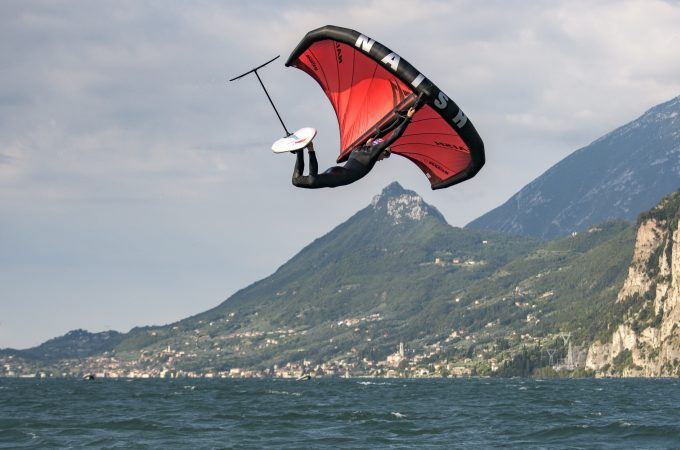 Naish 2024 Wing Brand Preview
Retail Buyers Guide: Wing SS24 Retail Buyer's Guide
Brand: Naish
Interviewee: Michi Schweiger, Product Manager
What are the main trends in Wing construction, materials and design that the industry is progressing towards?
The answer to this is strongly connected to the price point with 2 price levels developing through the market. One being dacron LE and strut with medium weight canopy weaves and higher priced constructions with Aluula (and similar) and laminate canopy versions hitting the market. In addition there is also the variety between handle designs from soft webbing handles to "hard" handles. Material development next to the directly connected shape development of the wings will stay an ongoing process moving forward.
What customer profile is driving more product demand at the moment (newcomers/experienced, kite/wind riders/exclusive wingfoilers)?
We feel that a broad spectrum is covering the demand. From beginners that are getting into the sport to riders who are looking for the next development to go along with their growing skillset.
Which of your 2023 wings are selling well and why?
Our highlights are the Matador LT and the newly released ADX. The Matador LT has a reputation as a power house in soft handle style while the ADX hits the mark when it comes to hard handle, tight canopy style with a more direct feel.
How many wing designs will you offer in 2024 and which do you expect to grow the most?
For 2024 we will keep offering a variety of wing styles that can accommodate different riding styles and price points. The line up consists of the ADX, an Aluula dual canopy cut version of the ADX which will be called the ADX Nvision, a new version of the Matador LT with interchangeable handles and the MK4
What materials and construction techniques are you using for your 2024 range?
Depending on the different wing performance targets we use a variety ranging from dual dacron canopy LE and strut, implementation of Aluula on some wings to a mix of standard canopy and partial laminated canopy materials.
Have you implemented any new sustainable practices in your production and shipping processes?
Here we are mainly focusing on packaging solutions to avoid plastics as much as possible while keeping the necessary protection for shipping in place
How will you support retailers to sell your 2024 wings?
All of our dealers will be trained to answer all questions possible and to be the expert in their field and will have the possibility to get TEST packages so it will be easy for consumers to go to a dealer or teststation for a personal comparison.
What's your current situation regarding stock and deliveries? What's your forecast for your 2024 wings?
Our 2022/2023 range is actual stock and Naish is able to deliver most of the wings, boards and foils within 24 hours. We see there a countries where Foiling and winging are taking off and are realy dominant, we also see that in more conservative countries the foiling scene is taking shape just now and will follow the leading countries of which the USA is certainly one of them.
Best Sellers</strong
ADX
The Wing-Surfer ADX is the culmination of five years of research and development, resulting in a wing that caters to all skill levels and riding styles. The perfect balance of wingspan, strut length, draft depth, and dihedral make the ADX a revolutionary wing in our product lineup. The high-tension canopy, combined with the shallow wing profile, provides power on demand. This design profile produces incredible get-up-and-go functionality, lifting even heavy riders onto the foil with ease and maintaining steadily balanced power once riding.
Matador LT
The Matador LT enters its second generation with several technical detail and shaping upgrades. The LT remains compact, light weight and powerful. It is still targeted towards wing-foilers that want to use as small a wing as possible for the prevailing wind conditions, with a focus on riding swells and waves. It maintains the same outline and dihedral as the original with its slightly pointed leading edge at center and pronounced dihedral across the wingspan. But the new LT has more pre-load in its windowless canopy than its predecessor, creating even better "sheet-in-and-go" power with a more balanced and linear power delivery, less front hand pressure and vastly improved top end stability.
MK4
Designed to "check all of the boxes" in terms of performance, features, and range, the future of winging is here with the Wing-Surfer MK4. This fourth-generation Wing-Surfer combines the perfect balance of low-end power, rigidity, and twist for optimum sheet-in-and-go power and speed. An increased diameter leading edge and strut adds to the MK4's stiffness, resulting in great stability and power. The Wing-Surfer MK4 has three long and ergonomic control handles for added comfort and control as well as an added 'power handle' for sheeting in hard and jumping.