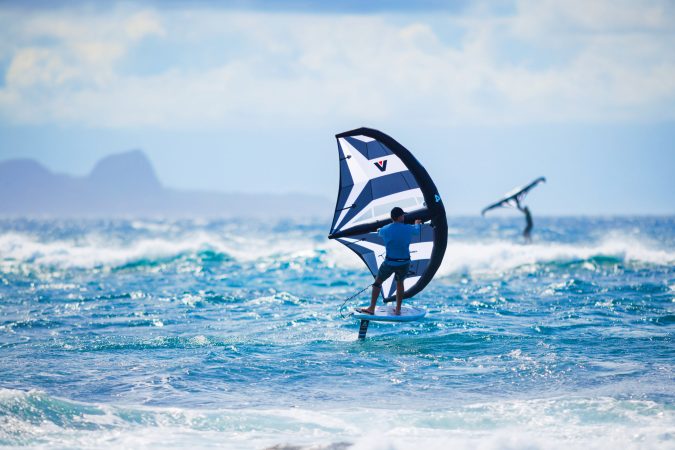 Armstrong Foil 2024 Wing Brand Preview
Retail Buyers Guide: Wing SS24 Retail Buyer's Guide
Brand: Armstrong
Interviewee: Kjell van Sice, Marketing Manager
What are the main trends in Wing construction, materials and design that the industry is progressing towards?
Wings are trending toward a wider performance band, lighter/stiffer/more durable construction and an overall more tailored and refined user experience. Proprietary cloths like Allula and Hookipa – some developed within brands and some externally – are also growing in popularity and are marketed for extreme lightwind or high performance riding. For the time being these materials, along with materials like X-ply that would be familiar to the windsurfing generation, are generally used in "high end" wings or as optional upper tier constructions. Like in all sail building, each of these alternative materials present pros and cons in weight, durability and price point. Tried and proven traditional materials such as Dacron are still prevalent for these reasons. Designs and constructions are, as always, aiming for better upwind performance, flutter mitigation, drift qualities when flagged out, and a wider overall power delivery band to expand the low and high end wind ranges for each size.
What customer profile is driving more product demand at the moment (newcomers/experienced, kite/wind riders/exclusive wingfoilers)?
The winging demographic certainly continues to expand, meaning we always have more newcomers. It's great to see more women and young riders continuing to explore wing foiling. At the same time, those already in the sport are gaining experience and looking for high performance, refined products to take them forward. In spite of what some are calling a slowdown in the sport's growth, we're confident in the ongoing demand of our key market segments.
Which of your 2023 wings are selling well and why?
The new A-Wing XPS is already proving a strong offering. It delivers the right combination of wide-ranging performance, an excellent feel and overall user friendliness with an accessible price point. As with all our products, we strive to put out a strong value proposition between performance and durability/longevity.
How many wing designs will you offer in 2024 and which do you expect to grow the most?
We will continue to offer the A-Wing XPS into next calendar year.
What materials and construction techniques are you using for your 2024 range?
The XPS is as advanced a wing as we're currently able to produce. We've specifically chosen to construct this wing with the latest Dacron fabrics reinforced with DLE. After testing a wide variety of different materials types and combinations such as Allula and Hookipa, our test team landed on this more traditional combination of materials as it proved to have the best all around feel in the everyday riding conditions our customers experience. All canopy materials – including the proprietary cloths mentioned previously – have pros and cons, our goal is to best cater to all around performance. Our sailing industry inspired construction technique is something we are confident represents the future.
Any standout graphics, artwork collaborations or pro models in your 2024 collection?
The XPS features a new graphic scheme inspired by our recognised black and white striped foils. With the goal of harmonising the appearance of our products across different ranges, we arrived at this black and white pattern which visually accentuates the defining cross panel sail layout from a distance. Our bold striped pattern, combined with the XPS's windows, also provides an extra element of visibility and mutual rider safety on the water.
Have you implemented any new sustainable practices in your production and shipping processes?
We continue to steer our product logistics in Europe toward sea freight and 3PL warehouse dispatch in order to move away from dependence on air freight delivery.
How will you support retailers to sell your 2024 wings?
We're moving more stock into our European warehouse to enable quick and cost efficient delivery of product to our retailer network. We're also growing our presence in Europe by sponsoring major events like the GWA and attending select trade shows and expos.
What's your current situation regarding stock and deliveries? What's your forecast for your 2024 wings?
Our core product, the XPS, is well stocked and is selling strongly and we forecast the strong stock numbers to continue into 2024.
Best Sellers
1. A-Wing XPS
Whether it's freeriding, wave riding or freestyle, the A-Wing XPS delivers next generation performance, power and control. We recruited the world's leading wing and kite designers to push this shape to the next level. Each aspect of the new A-Wing XPS was tirelessly thought out, tested and finely tuned in a wide range of riding conditions. The A-Wing XPS comes complete with a carry bag, wrist leash, extra battens and a patch kit.