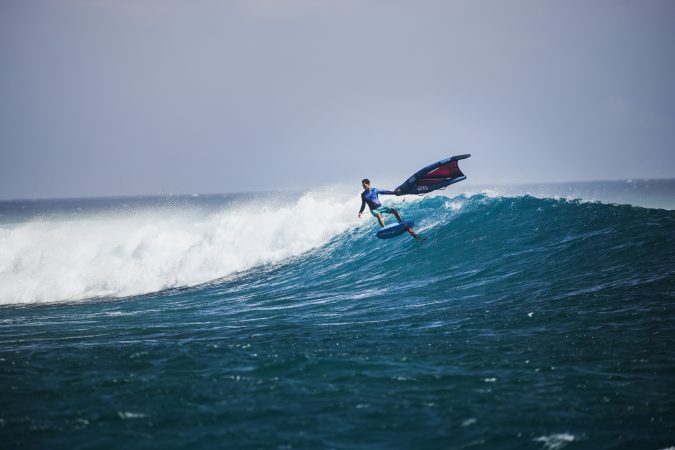 Freewing 2024 Wing Brand Preview
Retail Buyers Guide: Wing SS24 Retail Buyer's Guide
Brand: Freewing
Interviewee: Chris Couve, Marketing Manager
What are the main trends in Wing construction, materials and design that the industry is progressing towards?
The wing industry is still evolving rapidly, with big developments being made in both materials innovations and construction techniques, which then allows designers to radically enhance wing designs. This allows wing designers to progress further in making products that improce durability, stability and power delivery while offering riders great responsiveness and control.
What customer profile is driving more product demand at the moment (newcomers/experienced, kite/wind riders/exclusive wingfoilers)?
We're still seeing a good growth from new riders from outside of the traditional windsports background, largely driven by the appeal of the sport. At the same time there is still largely a crossover with riders have background in other wind/watersports like kite, windsurf & SUP, still entering the sport for the first time, however the main growth is been driven by those total new to windsports.
Which of your 2023 wings are selling well and why?
The new AIR v3 is doing really well. There has been a lot of interest in this wing from core wiongfoilers looking at high-performance freestyle, to the weekend enthusiast that simply wants a great wing that's easy to use.
We spent a lot of time and energy in developing this wing, creating new innovations like the Modualr Handle System, and a seam construction technique that is 30% stronger than previous generation. This has allowed the AIR v3 to unlock new levels of performance, and has podiumed in it's debuts on the GWA World Tour in both the Wave & Surf-Freestyle events.
Read more about those events:
● GWA Cape Verde (Wave event) >
● GWA Leucate(Freestyle event) >
How many wing designs will you offer in 2024 and which do you expect to grow the most?
We currently have 4 wing models, GO, AIR, AIR Team and the PRO, which we will continue to iterate. Each model has been design specifically to cater for the needs of the different segments in the market, which can be broken down into a simple matrix:
GO – Entry-level wing that makes learning to wingsurf easy, and progression to wingfoiling a fun experience. Great for schools and wigfoil centers.
AIR v3 – All-round performance wing, focusing on eas of use. Great for those that want a good quality wing to freestyle, wave ride and do downwinders with.
AIR Team – Ultra-lightweight wing for high-performance freestyle and the ultimate wave foiling experice. It's also super durable with the new innovative materials featuring a Ho'okipa airframe and Ultra X canopy material.
PRO v2 – Developed for wingfoil racing & going fast. The future of wing racing, bringing the next generation of high-speed performance to the market.
The idea is to keep our range simple and we do not plan to introduce any new models or variations beyond our current offering at this point. The AIR model is our top-seller and will continue to be the most sought after wing in the FreeWing range.
What materials and construction techniques are you using for your 2024 range?
For the next generation of FreeWings, we are expanding our use of Ultra PE. Ultra-PE fibres are 32x stronger than polyester at the same weight. This tensile strength allows us explore new possibilities that just aren't possible with traditional materials – creating wings that are more durable, lighter and more responsive than anything else on the market.
We are also expanding the use of our Modular Habndle System and adding more components, while we also introduce the Advanced Batten System – a new adjustbale center batten that greatly improves wing stability, low-end power and up wind capabilities. This will be featured on the new PRO v2.
Any standout graphics, artwork collaborations or pro models in your 2024 collection?
At FreeWing we are focused in pushing the boundaries of innovation and technology as primarily objectives. Additional artwork and graphics come at a compromise to lightweight and performance, which we prioristise.
While we absolutely do strive to create an astetically pleasing product, this means we keep a minimalist approach to artworks & print designs on our wings.
Have you implemented any new sustainable practices in your production and shipping processes?
Absolutely, sustainability is at the heart of everythingwe do. FreeWing is a brand of SESTAR, the holding company that owns brands like Starboard, Severne, Airsuh and AK Durable Supply. SESTAR is a Certified B-Corp, which means we're part of a global community of businesses that meet high standards of social and environmental impact.
We also run our Plastic Offset Program and 10X Climate Positive initiatives. For every wing sold, FreeWing plants 1 mangrove tree with Worldview International Foundation offsetting the wings carbon emissions, and our Plastic Offset Program crews collect 1.1 kg of beach/ ocean plastic trash – equivalent to the amount of plastic trash entering the ocean, per person, per year. FreeWing balances this amount for our customers.
We also do a host of other initiatives like offsetting our team riders carbon emissions for travel to events – 10X over, and we also run our local Trash Hero chapter at our HQ in Thailand, to name a few.
More specifically on production and shipping related to efficiencies, we are currently exploring opportunities to better consolidate production across our brands' wingfoil ranges, to deliver a competitive offering that is simplified, efficient and provides better value for dealers & customers. However this is not yet in effect, but we are definitely exploring this aggressively.
How will you support retailers to sell your 2024 wings?
High-performance is at the forefront of everything we do. We are working tirelessly to develop industry leading products together with our FreeWing Dream Team, to deliver exceptional results that positions FreeWing at the top of the podium. We see results as a definitive way of showcasing the core pillars of out FreeWing products: Innovation & Technology.
Together with our positioning the brand as an industry leader, the marketing strategy is mainly online and highly targeted to our consumer demographic and geolocalized around dealer's territories. It includes Google Ads, Google Display, Youtube video ads, Facebook and Instagram ads. We also have an industry-leading SEO strategy, whereby generating inbound leads through search, which we funnel to our products and onto dealers sites with the main purpose ultimately to bring people to dealers' shops where we know the conversion is a lot easier.
We have a full set of marketing material available for dealears to promote FreeWing in their shops. In additional we also have a suit of booth, demo tents, beach flags, Pop displays etc.
What's your current situation regarding stock and deliveries? What's your forecast for your 2024 wings?
Like many other brands, we have encountered an overstock issue as demand has been very volatile. Fortunately, we have worked well together with our distributors & delears and have brought this inventory holding down and are sitting in much better position. We're ready to bring out the next generation of wings.
Last season was tough as we pushed hard to innovate our materials technology program, while aslo accelerating product design, which made it difficult for factories to keep up with production, and inevitably lead to product launch delays. The new materials and production techniques have been learned, and now we are able to deliver orders timeously once again.
Best Sellers
AIR v3
The FreeWing AIR v3 has been fully upgraded for all-round performance and pro-level freestyle.
The medium-aspect wing ratio together with the short strut delivers a compact power balance making the wing more maneuverable in tacks & gybes, and minimizing wingtip contact with water. A firmer canopy tension provides consistent power delivery and excellent flagged-out stability, while also offering a wide wind range.
AIR Team
We introduce the Air Team, a key new product offered in the FreeWing range. This wing was developed with our Wave and Freestyle Dream Team, to introduce a completely new level in durability and maneuver-oriented performance. The Air Team features our exclusive Ultra X canopy as the most durable canopy in the marketplace, also combined with our proven high pressure Ho'okipa airframe.
PRO v2
The Pro V2 showcases the future of wing racing, bringing the next generation of high-speed performance to the market, with key new features being the Ultra Warp Canopy and the Advanced Batten System complimenting the industry leading high pressure Ho'okipa airframe.