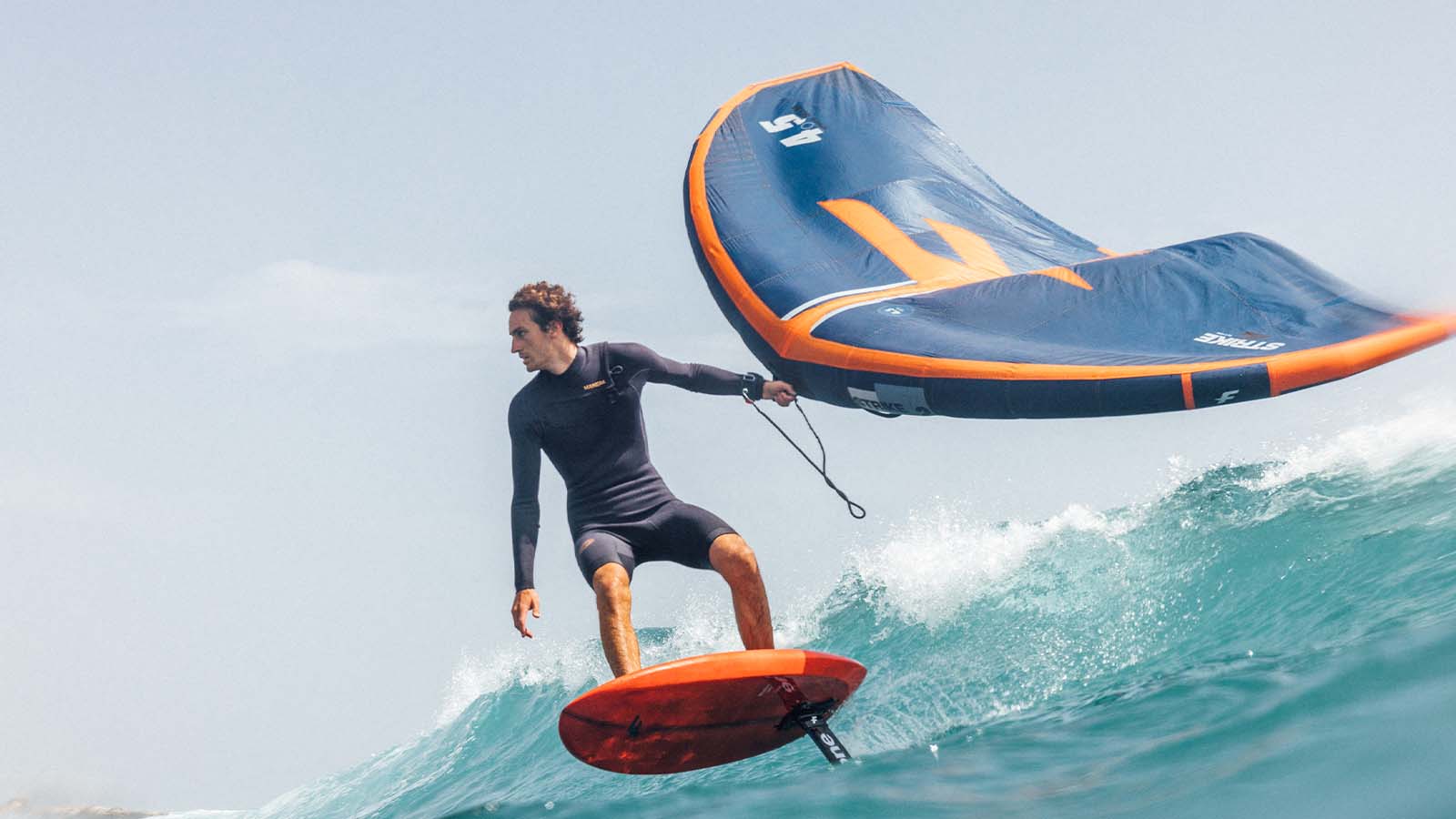 F-One Foils 2023 Wing Preview
Retail Buyers Guide: Wing 2023 Retail Buyer's Guide
Brand: F - ONE
Interviewee: N/A
What are the main trends in wing foiling, in terms of riding styles?
We are still in the early stages of the sport, many riders are yet learning or just starting to have fun freeriding. Now, it is certain that the GWA wingfoil tour – plays a significant role in influencing the trends, this is specially true for freestyle. On our side, we remain convinced that the ultimate goal of the wing and which will be sought by all at some point is the sensation of freedom felt while wave riding.
What customer profile is driving more product demand at the moment (newcomers/experienced, kite/wind riders/exclusive wingfoilers)?
According to the feedback we have received from our dealers, wing practitioners have very diverse backgrounds. Some come from windsurfing, others from kite, some continue to practice several disciplines, others become exclusive. It is only once we'll have exhausted the existing pool of watersports riders that the true potential of wingfoil will be revealed. We hope that the ease of use of the wing, its practicality and playfulness will contribute to the democratization of this sport, especially among children and women. To help the sport in that sense, we have created a young rider program : The F-ONE Wingfoil Next Generation Program.
In what market section do you expect the biggest growth?
We observe a growing trend of multidisciplinarity among riders, that is to say, people who practice a little bit of everything, who do skiing, paragliding, downhill biking, surfing, etc. These "outdoors" lovers are a guaranteed windfall of new riders and our wide range of products will meet their diverse and varied needs.
How popular are and will become land variants of the sport?
The practicality of the wing makes it an adaptable tool for multiple gliding sports, we have seen videos of people using it to skateboard, ice skate or even snowboard. For the moment, these land variants seem to remain in the state of viral buzz on socials. Only the future will tell us if one of these practices is really revolutionary.
Which of your wings are selling well and why?
The Strike is undeniably our best selling wing.The strength of the Strike V.2 lies in the fact that it is a perfect combination of performance and comfort and therefore, can suits perfectly everyone's skills level : from beginner to world champion.
How many wing designs will you offer this year?
We currently have 3 wing models for sale the Strike V.2 (available in 2.5, 3.0, 3.5, 4.0, 4.5, 5.0, 5.5 sqm) for freestyle and wave riding, the Strike CWC (available in 6.0, 7.0, 8.0 sqm) which is our light wind wing and finally the Swing V.2 (available in 2.4, 2.8, 3.5, 4.2, 5.0, 5.5 sqm), which is a perfect light weight and balanced wing for freeriding. All in all, with only three wings design, we offer a wide and comprehensive range of products that will satisfy everyone's level and needs, in any conditions.
What are the main trends in Wing construction, materials and design that the industry is progressing towards?
The industry seems to be turning to more and more rigid material, even if it looks good on paper, a stiff, handlheld wing can be difficult and uncomfortable to handle, especially in the high end. On the contrary, we found that a wing must be able to absorb that power just like the mast bend or the opening of the leech in windsurfing or the depower in kitesurfing.The Strike V.2 released in January stated our commitment in that direction as we've created the adaptive wing design.
What materials and construction techniques are you using this year? Will you launch any innovations for 2023?
The STRIKE V.2's Adaptive Wing Design transforms every gust into positive energy and enables a perfect control of the traction. It design adapt through a controlled deformation that allows the preservation of a high-performance profile and unprecedented stability throughout the entire range of use.To reach this result, we worked on the leading edge and modified the shape of the central strut. Its cut is now segmented, allowing for an improved control of its curve and its deformations. We also enhanced the wing's twist.
Standard materials like Dacron and Polyester are still perfectly suited for exploring the Adaptive Wing Design's world, and both offer a huge range of design possibilities. Our experience and the feedbacks received on our previous designs have allowed us to better analyze the structural and reinforcement needs of a wing. The STRIKE V.2 will be even more solid and durable.
Any standout graphics, artwork collaborations or pro models in your current collection?
As for our Kite collection, we have chosen this year strong and elegant colors combos for our wings, with a little racing side for the Strike V.2 and its vertical graphic lines in the center. We don't have a pro model in the wing range yet, but all our riders are always actively involved in the product development process.
Have you implemented any new sustainable practices in your production and shipping processes?
F-ONE's main goal is to produce durable products which offer the widest range of use. Sustainaility is more than ever a concern. As for our Kites, our wings are produced in Asia, it's where the know-how is found. In the meantime we could brag about the small but significant changes we make in our production, packaging and shipping processes but we don't see it as a marketing strategy.
How are you supporting retailers to sell this category?
Wings are no exception to our business model, retailers, distributors and ambassadors are at its core. In fact we do not sell online for the simple reason that we strongly believe that purchasing wing gear should be done through real passionate people and offer the true experience with the right advice customers deserve. And this is even more true for the wingfoil category. Since it is a relatively young sport, consumers have an even greater need to be educated about it. So we try to develop pedagogical means and tools in this sense.
In addition to all the global commercial support we provide them on a daily basis, we also organize meetings, test days, and in stores clinic.
Have you suffered any stock or delivery issues due to supply chain bottlenecks? If so, what solutions have you implemented?
Instead, try to find a company that has not suffered stock or delivery issue… I think we all did. Patience is the key word, for us as well as for our customer. It is in these difficult moments that customer service becomes crucial, we did and still do our best to satisfy everyone needs to the extent possible.
Best Sellers
STRIKE V.2
The STRIKE V.2 and its improved design will give you even stronger sensations, no matter your skill level. With its unparalleled upwind capabilities, the STRIKE V.2 will increase your free flying time or help you win races. Its speed performance also allows you to jump higher and to benefit from an excellent lift for landings. Its compact design, offers more possibilities for tricks and a more comfortable navigation.
STRIKE CWC
The patented light wind wing revolution. Lightweight, compact, and easy to use, this wing is a game changer for your light wind days. The Compact Wing Concept allows adding more surface into a given wingspan without compromising lightness and performances.
SWING V.2
Offering pure enjoyment is at the heart of this SWING's design. It is not a matter of pure performance nor the jumps' height. It has been designed to offer the lightest feeling possible and to generate efficient power to allow foiling in all conditions with maximum stability and ease-of-use.