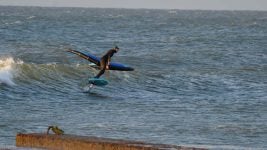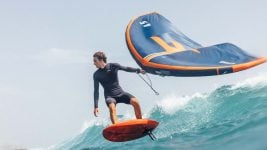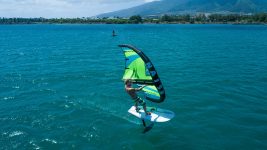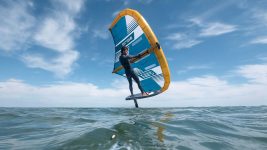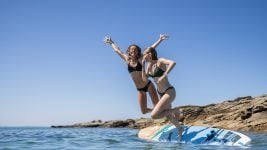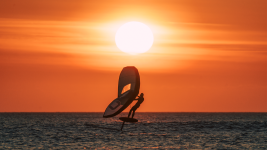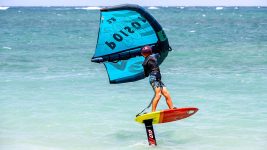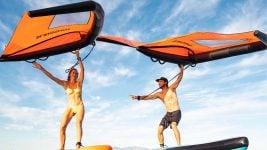 Wing 2023 Retail Buyer's Guide
Few sports have experienced as fast an evolution as Wing Foiling. Retailers and consumers wait with bated breath the innovations that brands will deliver. Brands are on it. By Rocio Enriquez.
It's been three summers since we first witnessed a few pioneers flapping their wings about at sea. Back then we wondered if it would stick. An established water sport already, today we wonder how far it will evolve. The appeal of cruising in low winds is still high, but riders have started taking the sport to the next level. "For such a young sport, an astonishing array of riding styles have already evolved", says Hannes Burher from Ozone. The rapid development of new riding styles influences product development. "Handles are a hot topic for 2023", says Richard Myerscough from Ocean Rodeo.
The largest part of the business is still driven by newcomers from other wind sports. They enjoy the possibility of gliding over water even on low-wind days. However, we start seeing riders who are aiming for jumps, waves, or speed. Product ranges are expanding their offering with designs tailored to intended use. Gin Kites will soon launch their new Alpha wing. "It's the perfect choice if you want to experience the rush of speed", says Tiana Laporte. Experienced watermen who were early adopters are now upgrading their initial purchases. On the other hand, because it is a relatively easy sport to pick up, the demand for entry level gear remains steady. F-One thinks that the ease of use and playfulness of the wing could lead to the democratisation of the sport, including children and women. "We have created a young rider programme: The F-One Wing foil Next Generation", says Chloe Scamps, Head of Marketing Communications. Konstantin Weier from Gaastra agrees: "More water sports schools are adding wing foiling to their programme".
So far, all-round designs top the best–seller charts. Duotone's Unit, F-One's Strike v2, Gin's Delta, Ozone's Wasp, Tahe's Alize, Slingshot's Sling v3, Gaastra's Cross and the HY v2 by Gun Sails all fall into this category. Naish is very confident about the sales performance of their new all-rounder, the MK4.
It is difficult to predict growth in such a fast-evolving sport. On one hand, we could see a rise on demand for wings designed for specific modalities. On the other, if the sport democratises as it's hoped, the demand for entry level wings could soar. Brands have already understood that they need to respond swiftly to the market's demands. Their product development teams stand ready to produce the wings that users are after.
Industry Trends
The current trend in product development is stiffness. R&D teams are busy trying to come up with the newest materials that can offer the best performance. "We are all paying special attention to leech tension control", says Jacques Freydrich from Tahe. The innovative Aluula can now be found in other brands apart from its precursor, Ocean Rodeo. However, state-of-the-art fabrics come at an increased cost and result in expensive wings. Experienced wing foilers will happily spend big money on the wing that best enables their progress. Newcomers, on the other hand, will have to be lured into the sport with more affordable gear. There are differences in performance too. The more rigid the wing, the more responsive and better performing it is. However, it can also be uncomfortable to handle sinceit's unable to absorb as much power. F-One created the Strike v2 with adaptive design. It emulates the depowering in kiteboarding or the mast bending in windsurfing. Handles and bars get attention. Brands are offering different designs for specific uses, such as wave, freestyle, or race. Beginners and wave riders will enjoy the lightness and comfort of a soft handle. Riders looking for a more direct handling will demand hard ones. Windows are being tweaked. Slingshot is working on a new window material. The existing PVC and TPU is too stretchy and heavy, and limits performance. Positioning is constantly re-thought, too.
Wing offer
Let's have a run through the materials we'll find on offer in 2023. Tahe focuses on the best strength to weight ratio for the design of their Alize. Its rigid canopy material with a classic panel layout simplifies the sailing and reduces flapping. Gaastra is using the new Dacron. "It provides an incredibly stiff skeleton and leading edge and strut, enhancing the overall performance", says Konstantin Weier. They are testing new materials, and we can expect an announcement later in the year. Ozone is also testing different materials, some of them with promising results. They test for load, UV stability, temperatures, and humidity for a minimum of six months. Gin Kiteboarding is introducing the latest high-quality materials in their new Alpha model. Naish uses the same Dacron and polyester that have proved successful in their kites' construction. F-One also relies on Dacron and polyester to explore their Adaptive Wing Design programme. Gun Sails uses a double diced Dacron that increases responsiveness and wind range. Ocean Rodeo keeps developing new fabrics using Aluula composites. They've announced two new ground-breaking technologies for 2023. Duotone is using the latest Aluula version in their premium Unit D/Lab. Seaflight works towards a fine balance of durability, lightweight and affordability. Slingshot announces innovations, although we'll have to wait a bit longer to learn about them.
Interesting things are happening in construction. F-One has innovated with the Adaptive Wing Design featured in their Strike v2. A controlled deformation of the wing preserves a high-performance profile and stability at all times. To achieve this, they worked on the leading edge and modified the shape of the central strut. The now segmented cut allows for an improved control of its curve and deformations. They also enhanced the wing's twist. Naish offers different constructions in their three wings. The Matador has a deeper draft and a larger diameter leading edge and strut. This makes it easy to manoeuvre in ocean swells. The Matador LT comes with a window-free canopy and no removable Y-handles. The adjusted strut shape and diameter increase the canopy tension and boost the overall power. The LT has three wide ergonomic grab handles, as opposed to the Matador which features five. Their MK4 has increased the diameter of the leading edge and struts. "It adds to its stiffness, resulting in great stability and power", says Scott Trudon. Tahe's Alize has an ergonomic centre batten that enables easy adjustment of power on the go. Its two wide-tube mini booms allow you to place your hands with precision to better control your wing. Gaastra is reworking their handle systems. They aim to equip different wings with the perfect handle for their intended use. Gun Sails has also tweaked their handles for a more rigid feeling. North introduces rigid griplock grid lockhandles in their Nova Freeride Wing. They offer more control over the wing, letting you micro-adjust with just one hand. Ozone crossbreeds with other products manufactured at their factory, such as paraglides or kites. This results in new constructions techniques.
Sustainability.
Wing performance relies heavily on the quality of the materials used. This makes sustainability challenging. Nevertheless, brands strive to find ways to promote it. It's hard to find plastic in packaging now. Duotone ships their wings without any plastic film, and they reuse all the packaging in their warehouse. Naish uses recyclable materials in their reduced packaging. Seaflight also ditches plastic, in favour of cardboard and paper. Ocean Rodeo claims to be very close to zero plastic use. Some wing bags are made with recycled fabrics. Duotone, Gun Sails and Seaflight make their wing bags with recycled plastic. Seaflight gives them a second life, as they can be re-used for dirty laundry, shopping or wetsuit storing, for example. Most brands monitor their factories for good practices. Gaastra reduces waste by making sure they only use the right amount of material needed. Ozone reuses the offcuts of their wing production to make bags. Their factory is powered by solar panels. Ocean Rodeo avoids air freight when possible. Duotone works with Climate Partner to calculate and compensate all the carbon emissions caused by the production and shipment of their products.
Retailer Support
Most wing foilers are beginners. Education is an important form of retailer support. F-One, Seaflightand Slingshot have some initiatives. Slingshot is about to launch a Wing Foiling guide with basic information. It will be supported by an in-depth instructional video programme through their Foil Academy. Communication about product development is also key. Demos and testing days are helpful this way. Ocean Rodeo and F-One organise a number of them. Good commercial support makes the daily grind easier for retailers. Gin has worked on a new B2B site that offers instant access to products. Ozone's order system makes tracking of shipments and delivery updates efficient and reliable. Overall, there is abundant online and social media presence. Duotone promotes sustainability through their campaign "Save our Playgrounds", that involves beach clean-ups.
 Not one brand has avoided stock and delivery issues. The pandemic's restrictions shut down factories. Lead times in production increased significantly. Raw materials are scarce, and the cost of shipping has increased substantially. This situation is affecting all industries worldwide, so both brands and retailers have learned to be patient. Brands focus on actions that can alleviate the situation. The key is to work closely with each supplier and each retailer. The goal is to secure raw material alternatives and to advance production planning. Slingshot shares an interesting insight. They have noticed that customers who see some products out of stock on their website give up on the purchase. They do not realise that their retailers have loads of it. "We have a dealer locator tool to point customers in the direction of where to make their purchase", says Wyatt Miller. Communication and collaboration between brands and retailers are the key to sail these stormy waters. With a steady offer of solutions, customers will adjust to the new climate too.