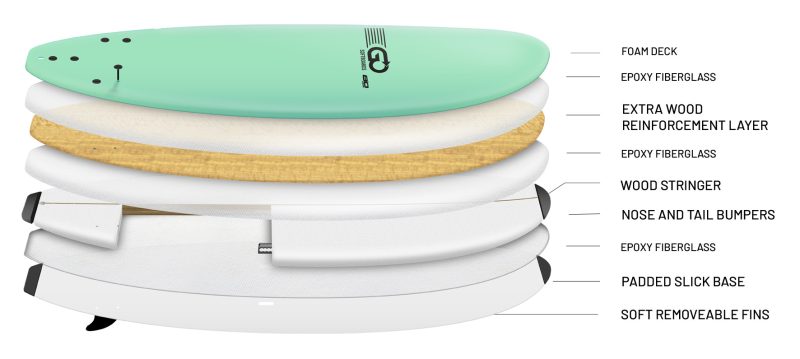 Go Softboards 2023 Softboards Preview
Retail Buyers Guide: Softboards 2023 Retail Buyer's Guide
Brand: Go Soft
Interviewee: Phil Bridges - Designer
Beginners basically have 2 options when it comes to buying their very first surfboard: go for the sturdy high impact molded tanker or chose a spongy yet more fragile soft top. The latter is the winner if we look at past years figures. Good or bad?
This isn't the case at all. There are many high quality vacuum bagged epoxy boards with a foam deck skin and/or slick bottom as well. The tankers suit the surf schools, the cheap softboards are for beach shops and discount stores. But there is a much larger, much better category offering foam skinned versions of normal shapes.Go Softboards are softboards designed to surf!
Construction wise, most softboard are made in Asia. How much of an issue is that on end prices due the rise of material/shipment costs?
Not really. Don't forget that a board made anywhere has shipping attached to it – EPS foam, resin, fiberglass cloth, fin boxes, fin plugs… it all has to be shipped from the supplier to the manufacturer, even if you're making boards in the EU. The difference is that Go Softboards are made near where the materials are made, then we ship only the finished surfboard. So our shipping footprint is actually lower in many cases.
Overstocks are the #1 threat for retailers at the moments. How can you help them filling in the order forms in terms of volume and model choices?
The trend driven market is always at risk of overstock and rapid demand changes. Go Softboards are function first – quality shapes, well made, good price. This approach tends to ride the up and downs of the market better.
The renewing rate of a fleet of boards in schools/rentals is crucial. How do you ensure your specific models will last?
All Go Softboards are EPS/Epoxy boards with foam and slick deck and base skins plus t-stringers and nose and tail bumpers. For our Surf School and XTR boards, we go the extra mile with wood stringered blanks and a wood layer sandwich on the deck.  It's a construction that we've tried and tested for over 10 years, it's built to last.
The signature performance softboard sort of steal the show on social media under the feet of elite riders. Even if they don't account for the bulk of sales, how important are those designs for softboard market?
All publicity is good publicity right? 
Do you implement/encourage recycling programs? EPS cores are relatively "easy" to recycle, what about slicks?
Currently we have 3 approaches to the sustainability issue – at source we make the boards as efficiently and waste free as possible. In the market, we make a board that lasts as long as possible with a lot of strength and longevity designed into the boards. For post consumer, we are actively looking for solutions, one promising innovation including biodegradable EPS cores.
Key Products
Surf Range 7'6 x 21 5/8" x 3 ¼" – 58ltr
Unlike most softboards, these are made like real surfboards. Underneath the soft foam exterior is a pedigree surfboard, with the shape, foil, rails and bottom contours of a high performing board, all built in a technology that feels responsive and lasts longer.
In sizes from 5'6 to 9'0
Surf School Range 7'6 x 23" x 3 5/8" – 77.1ltr
These are no ordinary surf school soft boards. The high bouyancy wide shapes are designed to give a stable platform to allow the fastest progression from catching whitewater waves and standing up to catching green waves. Inside the super durable construction is designed to withstand the heavy usage of a surf school or rental centre.
Sizes from 7'0 – 11'0
XTR Range 8'0 x 26" x 4" – 102.7ltr
These are XTR wide, XTR thick and XTR fun. With the maximum amount of stability built in, these boards give the best advantage to the first time surfer. Catch waves, stand up and Go surf.
Sizes 8'0 – 9'0