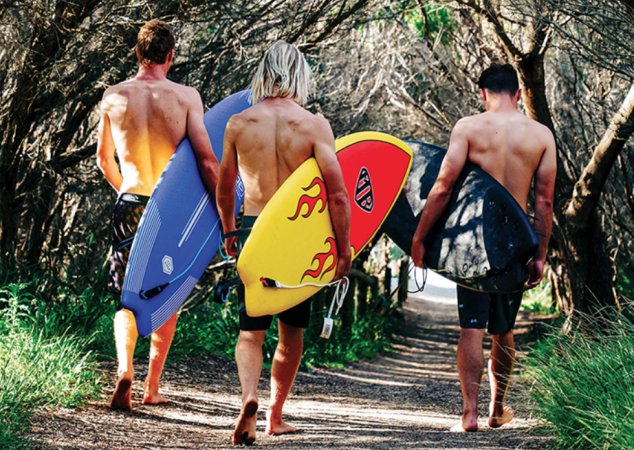 Ocean and Earth 2023 Softboards Preview
Retail Buyers Guide: Softboards 2023 Retail Buyer's Guide
Brand: Ocean & Earth
Interviewee: n/a
Beginners basically have 2 options when it comes to buying their very first surfboard: go for the sturdy high impact molded tanker or chose a spongy yet more fragile soft top. The latter is the winner if we look at past years figures. Good or bad?
The important thing is that everyone practices sports and in this specific case, surfing. We know there is always the doubt about what type of surfboard to choose, especially if you don't start with in a surf school. In fact, it is something we always advise our clients to do because the introduction to any sport has better results if accompanied by a teacher. Both types of surfboards have different qualities, although both are considered ideal for beginners. Whether they are 100% soft, or soft top, the important thing is that they guarantee the necessary stability so that the introduction to surfing is made in the most intuitive and easy way possible, also guaranteeing that beginners do it with maximum safety. At the end of the day, if beginners, in the different phases of this category, leave the water with the sensation that they have had fun and that they have spent a quality moment in communion with nature, then any of their choices have been good and then the question of good or bad ceases to arise.
Construction wise, most softboard are made in Asia. How much of an issue is that on end prices due the rise of material/shipment costs?
It has been a challenge for the whole surf industry to deal with this issue. Since COVID, the market has presented the increase in shipping costs and the increase in the cost of raw materials. In our case we have been careful not to fully reflect this price volatility on our customers.
Overstocks are the #1 threat for retailers at the moments. How can you help them filling in the order forms in terms of volume and model choices?
Our way of being present in the market has always been defined by the proximity we have with the majority of our clients at all times. This proximity means that we are aware of the needs and challenges of each one and together we try to find commercial solutions that are beneficial in the short and long term for our partners within our possibilities. We do not have a cannibalistic attitude in the market. On the contrary, we believe that it is important to support our customers and consider everyone's existence as a marathon rather than a sprint. The support given can include exceptional payment conditions, stock changes, support for sales or promotions and, above all, special advice when placing an order, considering the type and quantity of material that best suits their needs considering their target and location. The final decision obviously belongs to the customer.
The renewing rate of a fleet of boards in schools/rentals is crucial. How do you ensure your specific models will last?
We know that school boards are permanently subject to great wear due to impacts and erosion from the wear and tear caused by intensive use. Without any arrogance, we have the best school boards on the market and one of their characteristics is precisely that they have a longer life expectancy than the competition. Our boards are designed and produced with high performance and durability criteria and carefully tested in adverse conditions before being launched on the market. The high-quality materials used are highly resistant to water and impacts. Our customers know that when they buy an Ocean and Earth school board, they are buying a high-quality product.
The signature performance softboard sort of steal the show on social media under the feet of elite riders. Even if they don't account for the bulk of sales, how important are those designs for softboard market?
The idea that a softboard should only be used by beginners has been changing in the European mindset. In fact, a softboard can be a super fun to surf within shallow conditions or weaker waves. In Australia for example many people use softboards to surf in smaller conditions or to simply have a fun time. Signature performance softboards and their use by elite riders help to dispel preconceived ideas and to realize that having a softboard in the quiver can be something quite interesting and fun.
Do you implement/encourage recycling programs? EPS cores are relatively "easy" to recycle, what about slicks?
The commitment to the environment is something unavoidable and the surfing community, from the industry to the customer, has increased responsibilities. Ocean & Earth is aware of the need to recycle the materials used in the production of all articles, as well as the sustainability of raw materials. It is a great daily challenge that we all face to make this planet better and honor it and actively contribute for future generations to inherit a planet that is alive and well preserved.
Key Products:
SSB
Happy hour soft top
ezi rider