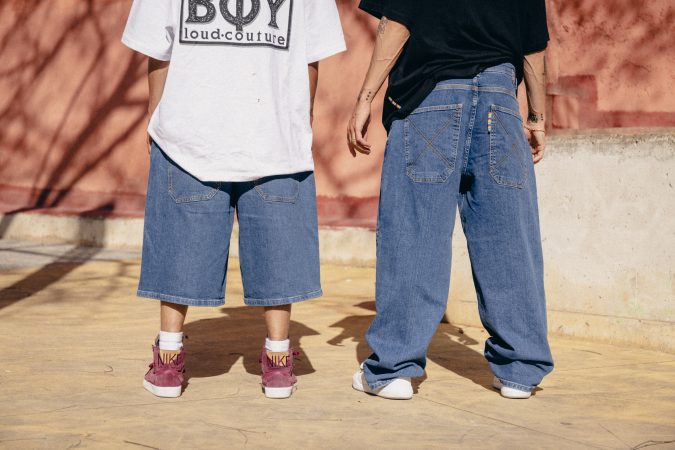 Homeboy 2024 Men's Streetwear Streetwear
Retail Buyers Guide: Mens Streetwear SS24 Retail Buyer's Guide
Brand: Homeboy
Interviewee: Jürgen Wolf, Co Founder
How is the European boardsports streetwear market performing right now?
We still see a problem with too much stock in hardgoods (hog cycle) and sales losses for T-Shirts and Sweatshirts. Suddenly everyone is selling baggy pants and shorts like crazy. That fills the coffers of the board sports stores in over 28 european countries plus overseas and will save some asses.
What are your main price points for next season?
Homeboy is an affordable brand. Pants are between 79,99 and 109,99 Euro. Shorts between 69,99 to 99,99 Euro. Why in the hell should someone pay mor for a Jeans? Especially for a skate jeans! Skater are not rich kids. We are not Luis Vuitton or Gucci.
If you skate, you bail. If you skate hard you bail often. What is the different between a skate jeans and a boardshort? It is a functional piece covering your ass and mullet. A skate jeans is, in my eyes, not a luxury piece of clothing. I never bought a jeans for more than 100 Euro. My son neither. It is not our world. That´s why our stuff is affordable.
What new themes/collections/collaborations are you stoked to be releasing in the coming season?
Our theme is BAGGY PANTS and SHORTS! We are the ORIGINAL BAGGY PANT COMPANY and we do what we do best: best fitting jeans on the market.
STYLE/MATERIALS
What are the trends you're seeing for SS24?
Baggy style pants and tops. Our new Monster Shirt will fit perfect to that trend. It is an 1:1 "copy" of on of our shirts from the 90´s. Same fit, same embroidery.
What styles are you pushing? I.e workwear/techwear
We started with workwear shirts, pants and jackets 2 years before the big US workwear players arrived in Europe. Since the very early 90s workwear styles are a part of the Homeboy DNA.
Sustainability is always important – what're your contributions to making the industry more sustaina-ble?
Our Pants/Shorts are from Turkey. We work with one of the best factories. They do a lot in regards of sustainability! They have the highest industry standard which is very important for us! A minimum on water for washing processes is a must….
What is the "must have" boardsports look (head-to-toe) for next season?
Baggy style!
Do you have a denim line? If so, what are you bringing to the table for next season?
We are a boardsport "Jeans Company". Our business are pants/shorts. We push that to another level in 2024.
Bestseller