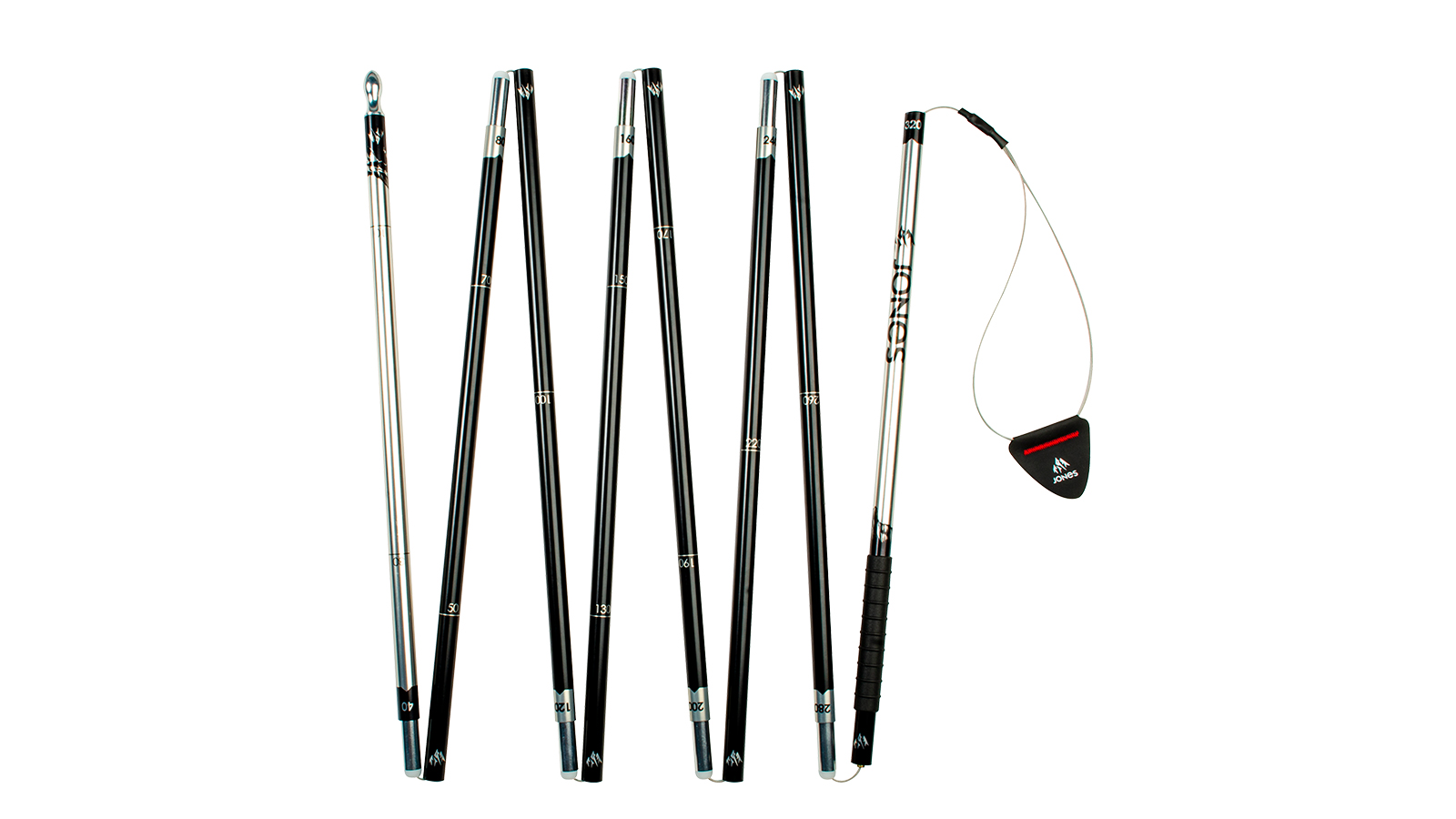 Jones FW20/21 Snow Safety Preview
Retail Buyers Guide: Snow Safety FW20/21
Brand: Jones
Interviewee: Seth Lightcap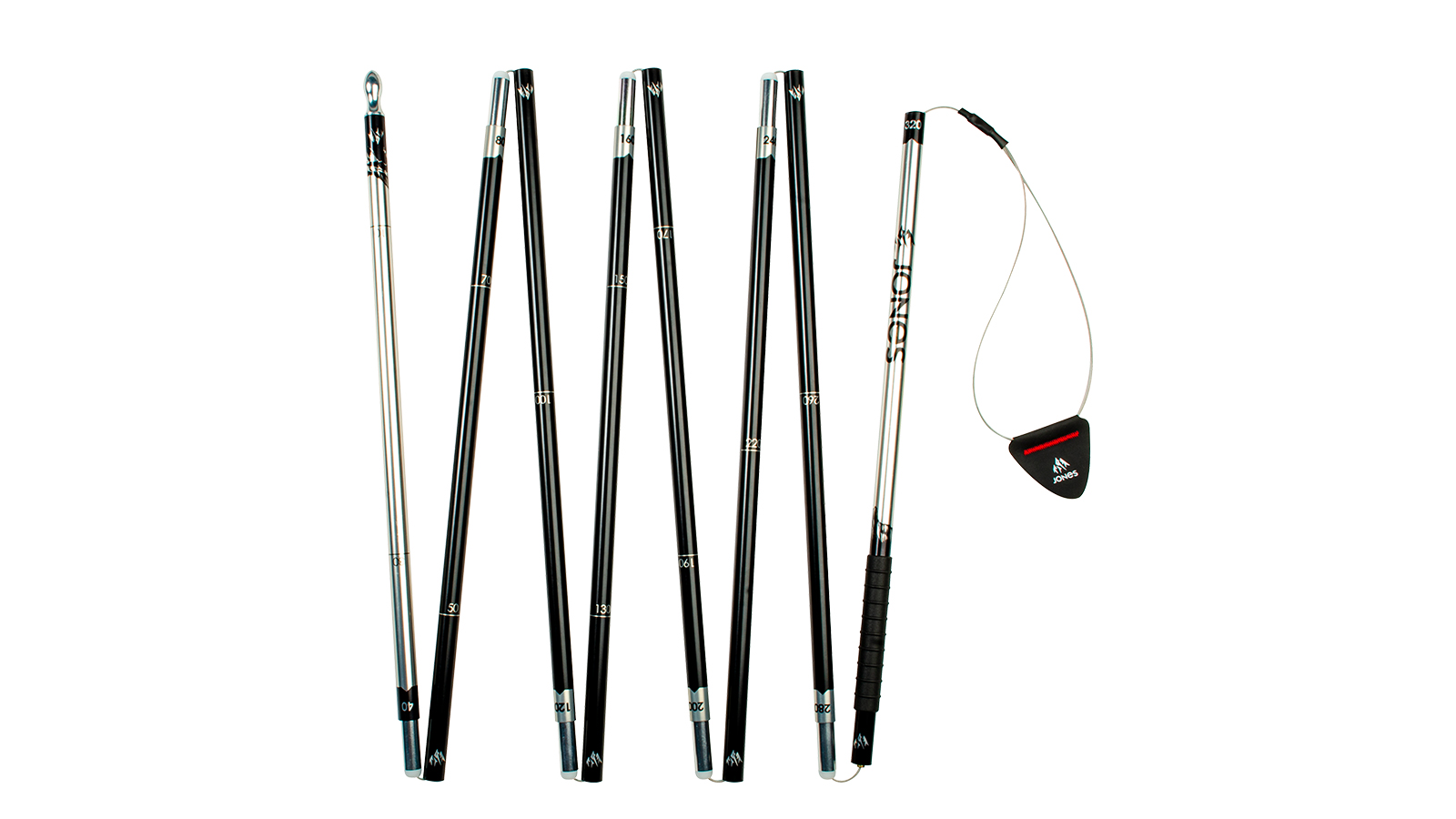 What do customers expect from their snow safety equipment?
Customers expect their safety gear to assemble quickly and perform when it counts in a real rescue scenario. Durability and weight are also critical to more advanced backcountry travelers.
How are you segmenting your snow safety products and what are the main price points in each segment?
We produce two avalanche shovels and two probes. Our shovels are segmented based on weight. Our standard shovel is made with an aluminum handle and our lightweight shovel is made with carbon handle. Our probes are segmented based on length. Our standard probe is a 280cm and has a narrower diameter. Our 320 probe is a thicker diameter for more durability used in deeper snowpacks. Our shovel price points are 65 and 75 euro and our probe price points are 60 and 85 euro.
AVALANCHE BACKPACKS
What are the most important technologies/features in your avalanche backpacks?
The Jones DSCNT 32L RAS is one of the only avalanche airbags built with robust snowboard carry straps and the perfect pockets for carrying splitboard gear. The DSCNT 32L RAS also features the Mammut RAS 3.0 system. This system is incredibly versatile as it allows you to travel with the air canister empty and remove the system if you want to use the bag without the airbag unit.
Please name and describe 3 highlight items from your FW 20/21 collection.
Excavator Carbon Shovel
The Excavator Carbon Shovel is an ultralight backcountry tool built for light and fast alpine missions. Featuring a streamlined yet high volume anodized aluminum blade and a single section carbon shaft, you'll barely notice the weight of the Excavator Carbon in your backcountry pack. The Excavator Carbon's 49cm long carbon shaft is a functional length for moving snow fast yet short enough to fit in any backpack. For unshakable grip or changing hand positions, the Excavator Carbon is outfitted with an ergonomic symmetrical T-handle.
Strike 320 Probe
The Strike 320 Probe is a robust backcountry safety tool designed for backcountry travelers who frequently tour in deep snowpacks or avalanche professionals. Featuring eight 13cm diameter aluminum sections and a Double Push Pin with wire cable locking system, the Strike 320 comes together in seconds. For unmatched grip when moving fast, the Strike has an ergonomic thermoplastic grip.
DSCNT 32L RAS
The DSCNT 32L RAS pack is the ultimate tour pack for technical backcountry terrain. It has all the features of the of a technical backcountry snowboarding pack plus the pockets that hold the MAMMUT Removable Airbag 3.0 system. The Removable Airbag 3.0 system allows you to use the pack with or without the airbag installed and utilizes compressed air instead of nitrogen so you can deploy the bag before a plane trip and then easily refill the canister at your destination (North American Canister Only). Removable Airbag 3.0 system and canister sold separately by MAMMUT.