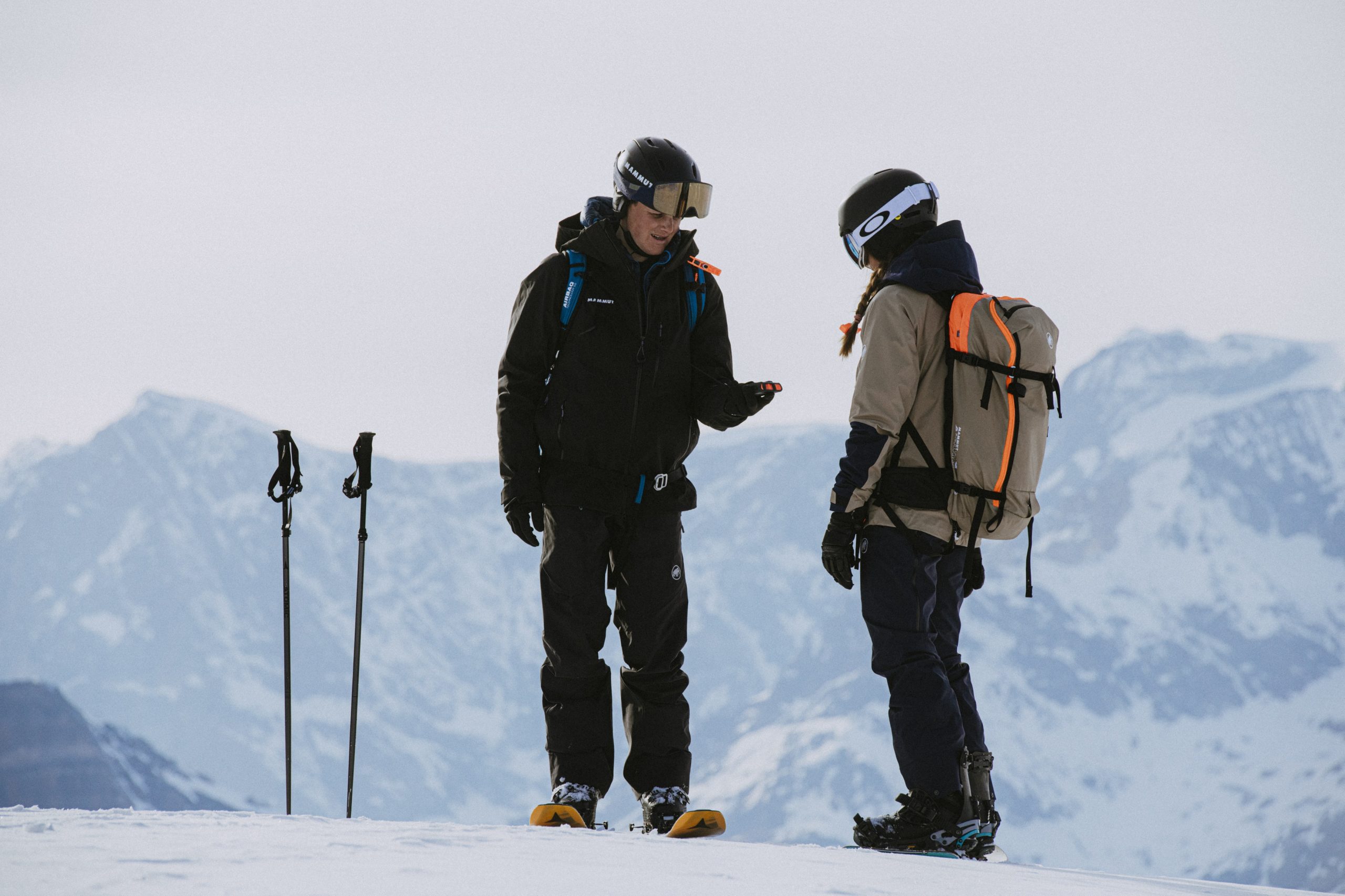 Mammut Snow Safety 2023/24 Preview
Retail Buyers Guide: Snow Safety 2023/24 Retail Buyer's Guide
Brand: Mammut
Interviewee: Alexander Weijnman, Head of Avalanche Safety Equipment
What are the key trends in the snow safety market?
First, there is a strong inclination towards certifications, leading to more ergonomic and more durable products. This means that products become even safer and more reliable. At Mammut all shovels have already been UIAA certified. With the newly released UIAA 157 standard for avalanche rescue probes, all Mammut probes will be certified too. 
Second, the airbag, as a relatively young product on the market, receives special attention due to its uniqueness and potential on the market. When caught in an avalanche, it is the only product able to reduce burial depth which can significantly increase the chance of survival.
What were your biggest sellers in 2022/23 and why?
Our biggest sellers are the Barryvox® and Barryvox S®, the leading products on the market due to outstanding quality and performance. The Barryvox® is made and engineered in Switzerland, is highly reliable, and offers pro-features most other providers can`t keep up with. Almost as important is our well-structured and versatile Airbag backpack line, followed by our UIAA certified shovels and probes. 
How are you segmenting your snow safety products and where do you expect your biggest growth? 
As mentioned before, we see great potential in the avalanche airbag due to the shift from what we call the basic 3 to the essential 4. We segment the different avalanche airbag backpacks according to use cases, enabling customers to choose a backpack tailored to their preferred way of exploring the outback. We offer shovels and probes for these different use cases as well.
What are the most important technologies/features in your 2023/24 avalanche backpacks? 
High visibility is key to ensuring a rider stays in sight longer in the mountains. This is a continuation of our existing safety orange features for intuitive handling under stress. Perfect fit is also essential. Our anatomically supportive 3D panels tailored to the wearer`s back. At the same time, the plain and simple base shape of the volume guarantees easy packing. Further, it is important to reimplement our proven features, like our simplistic and reliable mounting solutions for additional gear. 
Finally, the Removable Airbag System 3.0 is an avalanche airbag system based on brightly colored airbag that deploys within seconds. The system is highly reliable and easy to use. It is one of the lightest and smallest systems available and can be attached to all Removable Airbag 3.0 compatible backpacks.
What are the most important technologies/features in your other avalanche equipment (shovel, probe, transceiver) for 2023/24? 
In Winter 23/24 we are introducing the Alugator Ultra. Weighing just 395 grams, it is the lightest and only UIAA certified aerospace grade 7075 aluminum avalanche shovel with welded construction on the market. Like all our avalanche shovels, this vital piece of equipment is designed specifically to cut through avalanche debris. What sets it apart is its exceptionally light weight. In an emergency situation, every second counts, which is why our avalanche equipment meets the highest possible safety standards.
Additionally, we revised all our probes. Not only improving ergonomic handling, but also making them even more durable for a more efficient rescue. Our probes are UIAA certified, which makes them stiffer and more efficient due to less bending of the probe while penetrating the snow surface. Straight penetration of the snow leads to more precise locating of buried subjects. 
The Barryvox® S with its smart search function remains one of our most important products. Smart search interacts with the rescuer`s action during the search, making searching simpler, more reliable, and more efficient.
What are your marketing stories for 2023/24?
In Winter 23/24 we focus our communication on freeride skiing and riding. Showing what it takes to ski steep lines, we hope to highlight the efforts of our athletes to understand and practice rescue protocols, assess snowpack, and study terrain on their journey to approach and descend critical lines in high alpine zones.  Demonstrating that only when you put safety first, you can live for the moment, ski and ride freely.
From a product perspective, we highlight our new Alugator Ultra shovel as part of our "Essential 4: Barryvox®, probe, shovel, airbag backpack" promotional messaging. The key here is to show that the classic three in avalanche rescue equipment – beacon, probe, shovel – are just that, rescue equipment. To truly reduce deaths in the backcountry, first, we need to prevent the likelihood of people getting caught in avalanches by increasing access to education. Secondly, we need to reduce average burial depth and increase rescue visibility by encouraging people to ski and ride with airbag backpacks. 
How are you helping retailers to sell this category?
To make avalanche awareness education more accessible, Mammut is teaming up with retailers to offer avalanche education courses. Mammut will be promoting our Snow Safety Sessions and on-snow Workshops in Switzerland and Germany. The two-hour course curriculum covers essential avalanche equipment, terrain management, forecast resources, group dynamics, basic snow science and rescue techniques. They are intended to offer a strong introduction foundation or refresh at the beginning of the season. Of course, Mammut employees are on site to support with specific questions about Mammut avalanche equipment.
In North America, Mammut has partnered with the Utah Avalanche Center as the presenting partner for its Know Before You Go avalanche awareness curriculum. The course is available online and in-person at events organized through Mammut retail partners. The curriculum covers the same topics as Mammut's Snow Safety Sessions but is tailored for US and Canadian avalanche risk indicators, resources, and local terrain. 
Is your production impacted by raw material scarcity or cost increase? If so, what solutions have you put in place?
We have been affected by raw material shortages and higher lead time but could react quite quickly by reserving and booking materials and styles earlier. We also faced cost increases due to the higher raw material prices and higher transportation costs.
Please name and describe in about 60 words your 3 key products for 2023/24 collection. 
Barryvox® S
A digital/analog combo device with three antennas. The Barryvox® S has a large receiving bandwidth and an effective search strip width of 70 meters. It offers a large, simple interface and intuitive operation. The Smart Search function provides clear instructions thanks to a simple operating concept and quick, precise searching. The Barryvox® S includes the Rescue SEND function to protect non-searching rescuers while not impeding the search operation. In the event of a secondary avalanche, the device automatically switches to SEND to locate buried rescuers.
Alugator Ultra 
With its welded construction and a blade thickness of just 1mm of aerospace grade 7075 aluminum, the Alugator makes no compromises on weight or performance. It features a telescopic shaft for fast assembly and symmetrical T-grip for optimum transfer of energy when shoveling snow. The space-saving blade design also means the Alugator Ultra fits into a small backpack. All Mammut avalanche shovels are UIAA certified for efficient rescue and durability.
Free 22 Removable Airbag 3.0 
The Free 22 features our Airbag System 3.0. The practical and accessible volume carries all the essentials and offers an optimized design for the ultimate fit and performance. A broad hip belt, optimized silhouette, and 3D-molded back system offer a secure fit with comfort and flexibility. An external emergency pocket provides separate storage for avalanche equipment.