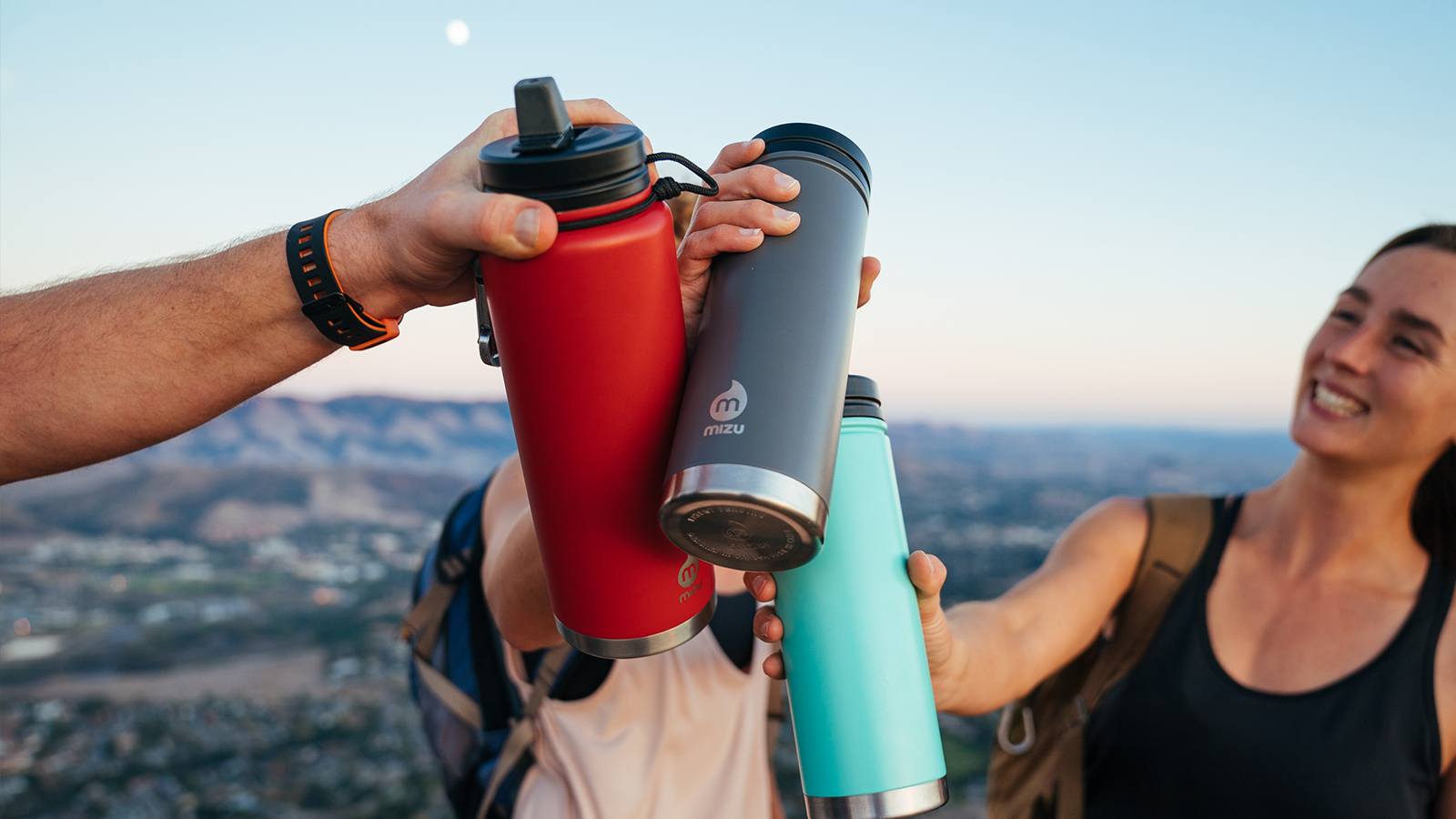 Mizu Flasks & Bottles 2019 Preview
Retail Buyers Guide: Bottles & Flasks 2019
Brand: Mizu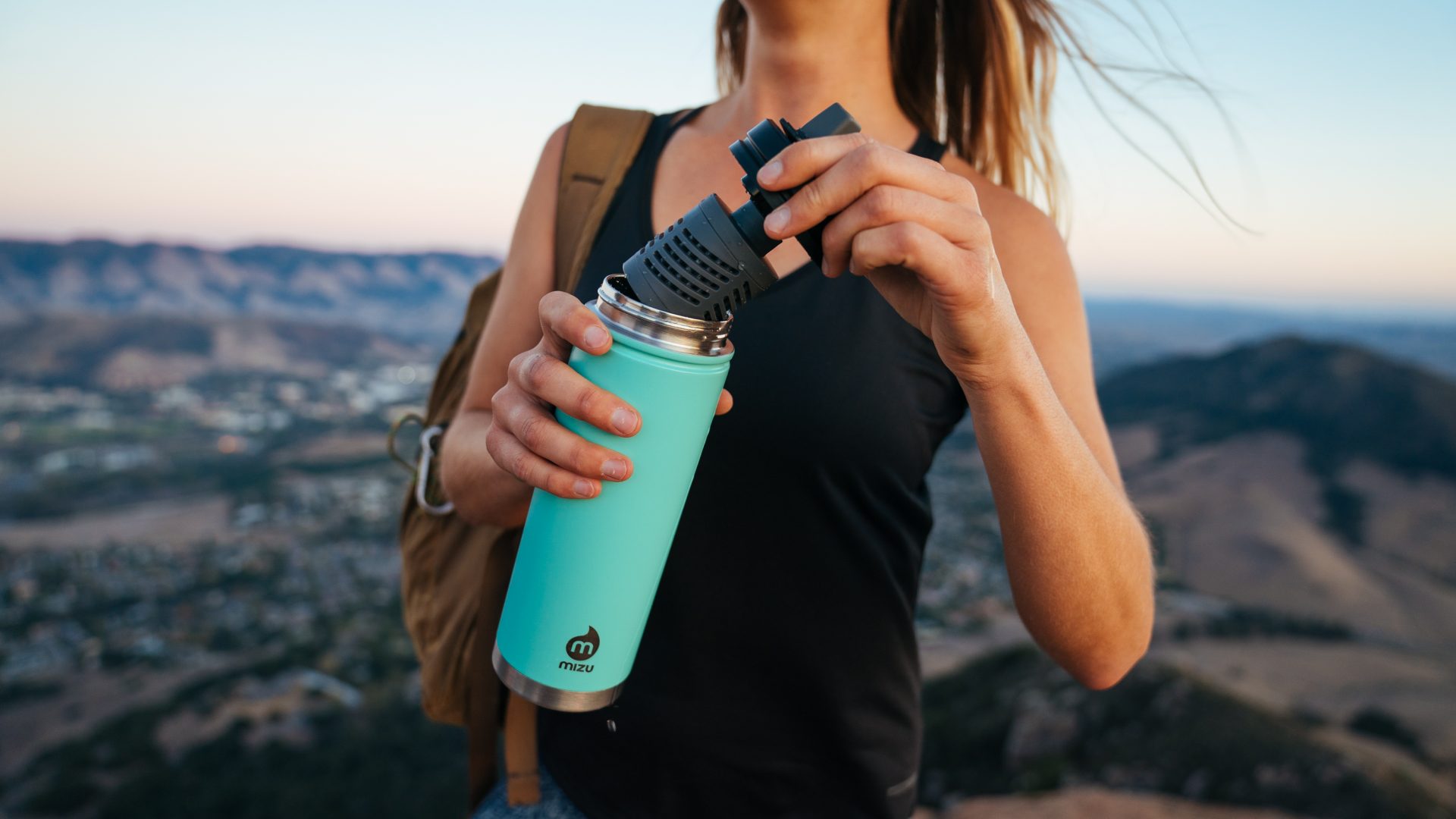 What's your philosophy behind producing reusable bottles & flasks?
MIZU was founded in 2008 by former pro snowboarder Jussi Oksanen. Seeing the pollution of our outdoors by single-use plastic bottles and knowing the feeling of carrying around empty water bottles while hiking or snowboarding in the outdoors, Jussi founded MIZU! MIZU offers reusable bottles made of 18/8 stainless steel, all bottles are 100% BPA free and recyclable. The brand wants to reduce the use of single-use plastic bottles in the long run – changing peoples way of using single-use plastics and supporting a mindset that supports a sustainable way of life – protecting our planet and future.
We just started with MIZU Certified, MIZU's Reusable Revolution program, a 15-day challenge for companies to change their habits and live a more conscious sustainable life. Using less disposable packaging such as single-use water bottles, coffee cups, aluminium cans and plastic cutlery!
For MIZU is about the option to "Choose to Reuse" by integrating the Big Three in your daily life and making a big change:
Reusable Water bottles
Reusable Coffee Cups
Reusable Cutlery
Why 15 Days? Cause it takes more or less 15 days to break or make habits! Looking at numbers, the use of single-use plastics is huge, alone in Germany people use 2,8 milliards of single-use coffee-to-go cups – that's 32.000 pieces an hour! (source: DUH).
Being part of this revolution is super easy: companies get the opportunity to customize their own MIZU product at a special price. With the delivery of their own MIZU products, they can be part of the 15-day challenge, being supported by MIZU receiving tips for a sustainable lifestyle.
We just started the MIZU certified program and are very happy about the positive feedback! We are sure this is a program that will change peoples habits and make a big change in the long run! "Choose to Reuse!"
How do you relate to the boardsports customers in this segment?
Our history is within the boardsports culture, this is where we come from and where we started. We have collaborated with a lot of brands within the boardsports sector such as Burton, Nixon, Volcom, Chocolate, Capita and more. We feel home here and are happy to say that a lot of brands have the same vision of protecting our planet. We hope to make a difference and make a sustainable lifestyle easily accessible for everyone. No matter if snowboarding, surfing, hiking, going to yoga, skateboarding, working or just chilling in the park – a reusable lifestyle is possible everywhere all day!
What are the main requirements for reusable drinking containers and how do you cater to them with your products?
Reliable and fun! We test all products ourselves. We all live an active life, coming from the boardsports industry as pros and non-pros all products need to fulfil our own requirements:
As adventurers and action sports related family, our products are tested during our daily routine but also during high-performance sports – only if a product meets our standards it is integrated into the line. Our products need to be reliable: scratches and dents from dropping should not affect the quality, use of safety the bottles, the bottles need to be easy to clean and should not leek – also for us it is important that the isolated bottles keep our drinks cold during long hikes or at the beach and warm during camping – this is a must for us! MIZU bottles keep drinks hot for 12 hours and cold for 24 hours. Fulfilling these needs, it is fun to know that you can always rely on your MIZU bottle!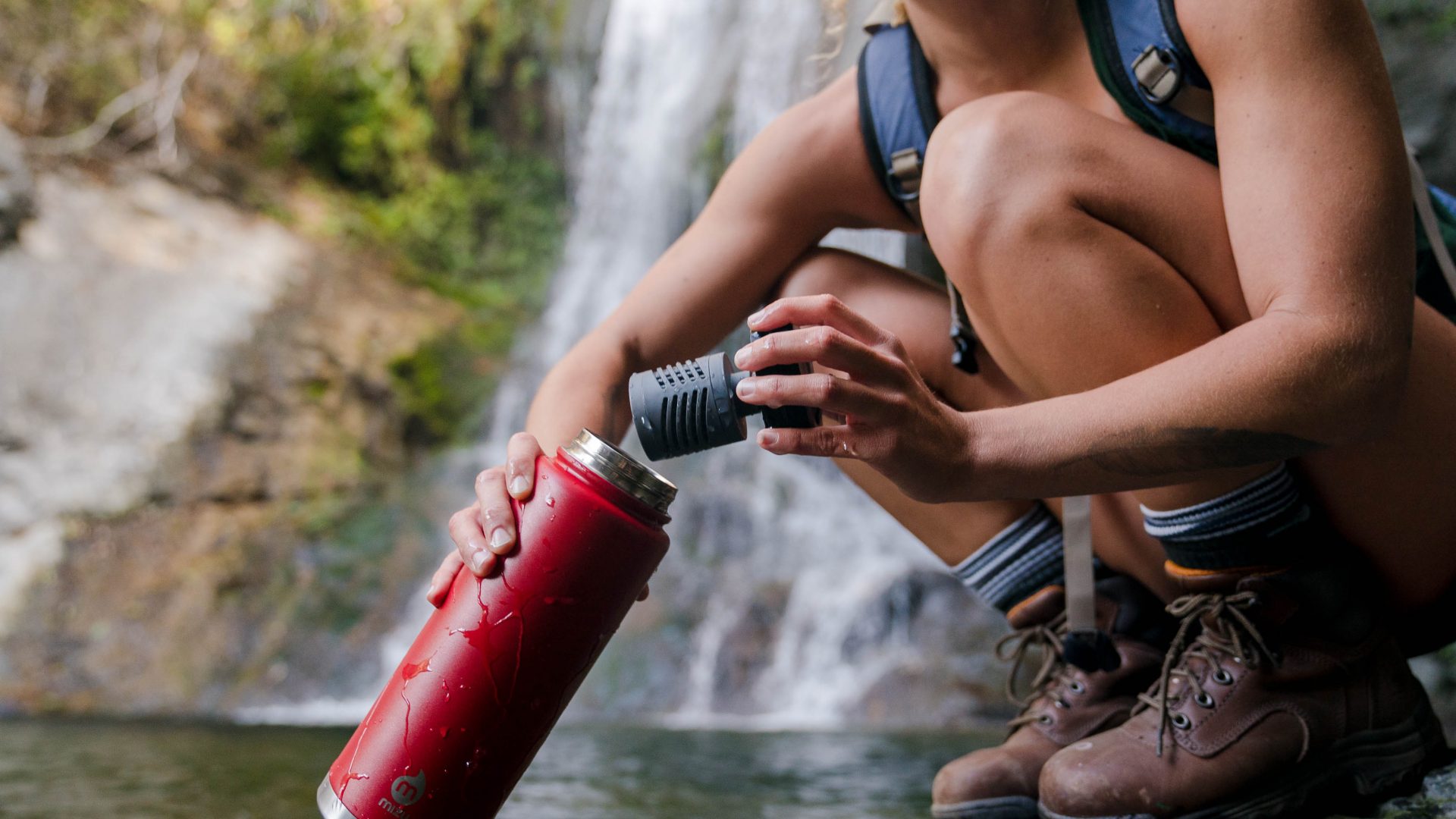 What about collaborations and customizing your bottles?
Customizing and collaboration is a big part of our brand. As mentioned before we have collaborated with like-minded brands and influencers from the very first day spreading the message of reusing instead of using!
We custom bottles for a lot of different brands worldwide such as Helly Hansen, Audi, Cinco, Burton, Surfrider Organisation, Verbier and more.
One of our assets is that we have very short lead times, we have a big product range and a wide variety of colours and coatings. We can either personalize the bottles by laser edge or screen print. We do all our customizing in-house. For more information visit: www.mizulife.eu/custom or write us an Email: [email protected]
Where do you see the development going in this segment?
For us, it will definitely be the integrated filter technology and multi-purpose use of products.
Products that easily adapt to your needs: change the lid for a straw or filter system, lightweight isolated bottles for hot and cold drinks – there is one product to be used for all your needs throughout the day, at home, at the gym or outdoors. In June our 360 filter system is launching into stores:
It's a new and game-changing filtration system. The Nano-Technology used for the MIZU filter was originally developed by NASA. This technology has been used by MIZU to integrate a filtration system to a 100 per cent BPA-free, 18/8 stainless steel drinking bottle – meaning it allows you to filter any water easily while drinking on the go. The lightweight and unobtrusive filter can be purchased as an "Every Day" or "Adventure" version. The personal filtration system sits inside your lid and it can easily be changed or removed depending on your needs. If you have access to clean water you trust you can use the straw easily, which also allows you to drink without lifting the bottle – so good while driving the car!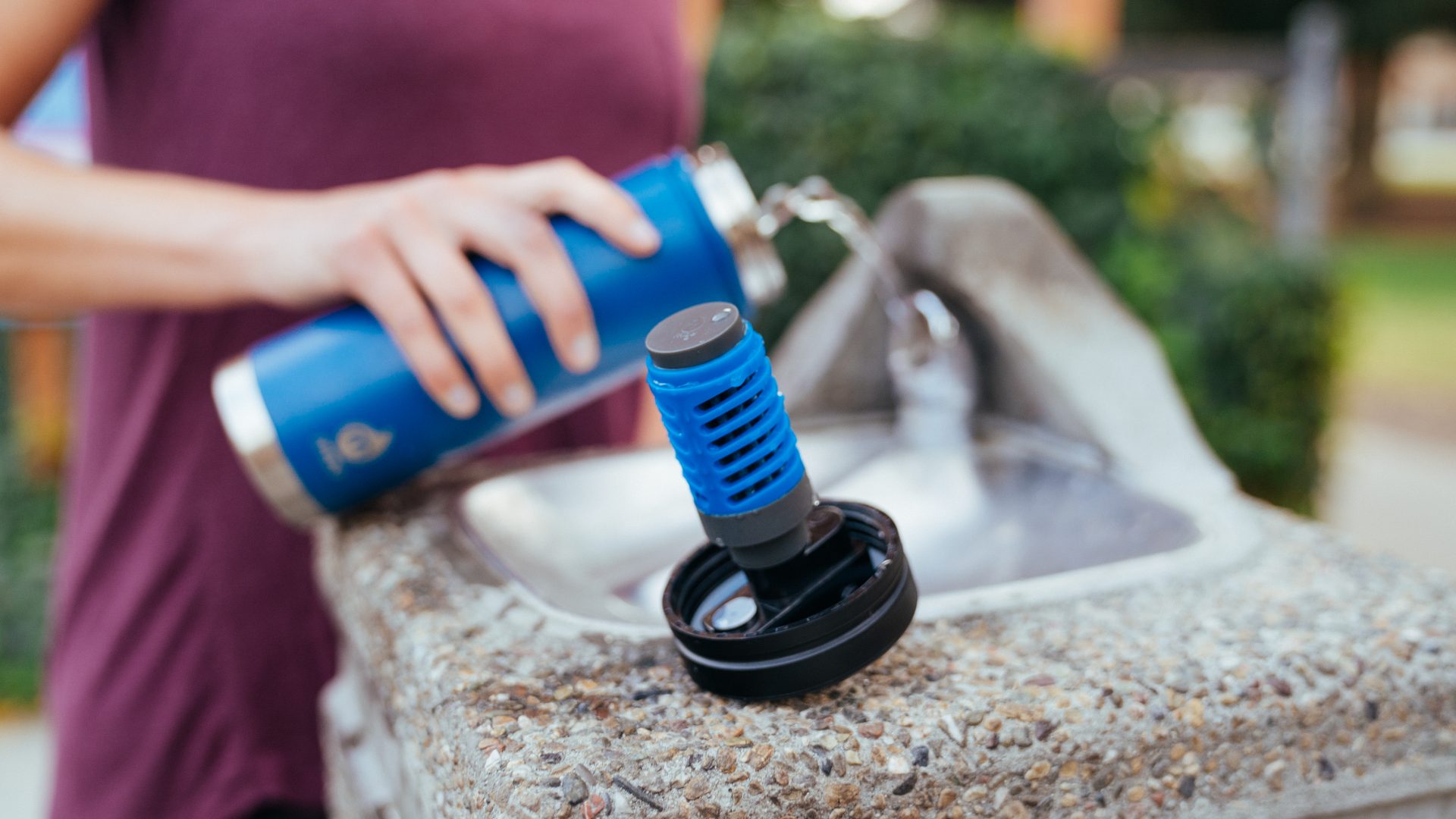 The everyday filter improves the taste of the water and removes harmful contaminants that are commonly found in tap water! Ideal while travelling or strolling around the city! With the Adventure Filter you can confidently fill up from nearly any water source – the perfect companion when hiking and doing long explorations – you don't need to carry around litres of water anymore! The new multipurpose lid fits all V-Wide MIZU products and the range is extended by a new single wall bottle as well – providing a super lightweight product while travelling
Jussi Oksanen, former pro Snowboarder and founder of MIZU explains: "With the new filtration system, specially designed for MIZU, we have developed an easy solution for the urban and sustainable open-minded city dweller for whom life in the city and the outdoors is no contrariety. For the life between city and adventure. No matter if travelling, working out or in the office – clean and pure water should be accessible everywhere. Especially for today's fast-moving times, we have created a product of value that adapts easily to our lifestyle, is constant with a conscious lifestyle and accompanies us on our adventures."
Please talk us through 3 key products for 2019:
Extension 360 Filter & multi-purpose lids.