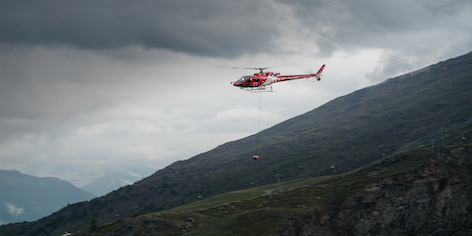 Recco 2022/23 Snow Safety
Retail Buyers Guide: Snow Safety 2022/23 Retail Buyer's Guide
Brand: Recco
Interviewee: Manuel Dürmoser, Global Brand & Marketing Manager
What are the major trends in the snow safety market?
Education and easy to use equipment. Due covid we saw in increase of people out in the backcountry that are novice to entering avalanche terrain, which means education will be and is even more crucial right now and also the demand for simple to use equipment at en entry price point.
What do customers expect from their snow safety equipment?
Simple to use and that it is fail proof.
Do you offer any other products in the snow safety category besides the traditional avalanche safety products?
The RECCO technology is a unique system. It is a rescue tool made for professional rescue. For them it is an additional tool to locate a buried person in snow or a person missing in the backcountry. To be found by the rescuers one needs to be equipped with a RECCO rescue reflector.
Our RECCO reflectors are quite small and do not need any power, which means they are easy to integrate for brands to integrate into gear such as jackets, pants or helmets. For the user itself this is a very simple way to provide rescuers an additional way to be found in case of an emergency. For those staying within the secured slopes it is a simple solution to be searchable to organized rescue in case of the unlikely event of an avalanche on the slopes. For those venturing into the backcountry and avalanche terrain it represents and additional tool to be searchable to organized rescue, besides their personal avalanche emergency kit (transceiver, probe and shovel) which is used for companion rescue. RECCO does not enable companion rescue and replace the use of transceiver, probe and shovel, but it will give organized rescue and additional method to locate a buried or missing person electronically.
How are you helping retailers to sell this category?
We are offering "The Plan" a small safety folder, developed together with our rescue partners from around the world. The idea is to provide basic safety information for the consumer, giving basic guidelines how to prepare, what to think of and how to behave while being out there. For Fall 2021 all our hangtags will come with a QR-Code that provides more information about how RECCO technology works and how it fits within the context of safety gear.
We also created a RECCO Academy for retailers, that should help retailers to learn more about RECCO and use it when selling products with integrated recco reflectors:
https://elearning.easygenerator.com/e939e0fb-aa85-4614-b319-c3a731c31ffc/
Link to "The Plan":
https://issuu.com/reccoab/docs/theplan_issuu
Please name and describe in about 60 words your 3 key products for FW 22/23 collection.
RECCO will continue to grow its RECCO SAR network, adding more countries and locations, to make people in the wilderness searchable to rescuers year-round.
Working on drone projects and having first prototypes in the testing right now we are planning to have rescue drones with RECCO technology operational within the next 2 years.
We also continue our direct-to-consumer product category with a helmet reflector, a backpack reflector and RECCO belt. Those products should not replace the integrated reflectors within gear, however should provide an opportunity for people to become searchable. Specially for all year-round use, where we don't have too many summer products yet with integrated reflectors on the market. We are working with more and more brands on summer products, but this process takes time. That's why we have these products available to give customers the chance to be searchable all year round in areas where we have a RECCO SAR in place.