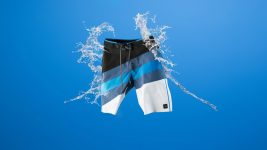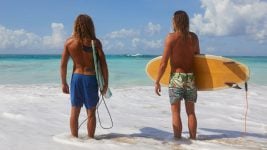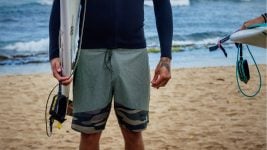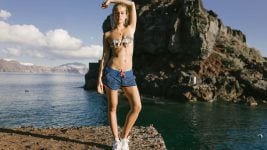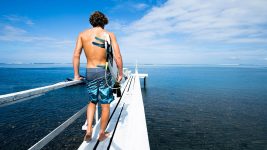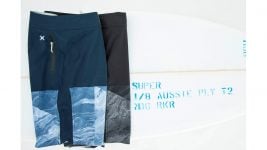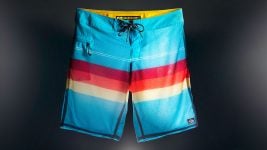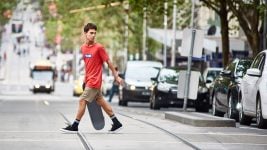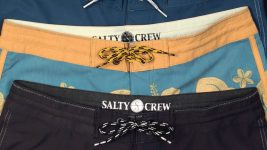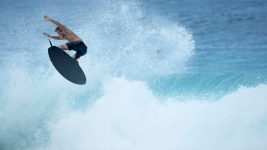 Reworked season after season, the boardshort sector is still the preserve of kings where each brand can express their technical and creative potential. Large general retailers try, here and there, to invest in this market where surf retro is flavour of the month but they are ultimately dwarfed by specialist brands whose level of expertise and identity have been refined over many years. Excellent designs with versatile, durable shorts with modern cuts suitable for all situations. A little taste of what's on the menu for summer 2018 by Denis Houillé.
MARKET
Right in line with the times, boardshorts take pride of place in the lives (and wardrobes) of 21st century individuals. Active lifestyle is visible on every street corner and the demand for technical products that are stylish is forever on the rise. Thanks to their versatility, boardshorts are complementary to this modern lifestyle, which requires us to switch between one environment and another, from one activity to another, without having to change our outfit.
It might even be the only item that provides such adaptability. You wouldn't go swimming in your running shorts, or go hiking in denim shorts. The boardshort ticks all boxes in all contexts and possesses real dynamism as Billabong's Men's Design Manager for Europe, Nicolas Perceval observes: "Boardshorts are heading in the right direction, the figures prove it." Protest are also citing a "fantastic year for boardshorts, especially thanks to the SUP range." Quiksilver are also talking about really good rates of sale all over the world right now and are identifying "great potential on beach type shorts (with lateral pockets)" of which they are expanding their range as Swimwear Product Manager, Maël Armellini explains.
Retailers are aware of the efforts in marketing and R&D that brands put into practice, like at Dakine for example for whom the surf category is booming as PJ Rueda, EMEA Marketing and Communication Manager states: "The arrival of John John Florence to the accessories team has had a levering effect on the brand in general and all surf products are benefitting from this phenomenal surge of energy."
The technical nature and high quality of products explains the rise in sales at Rip Curl who maintain their focus, true to their history, to "surpass technical demands each season to supply the ultimate product." The boardshort remains a product category that has the wind in its sails and not just in the summer and that's why Finisterre have decided to keep it in their catalogue all year-round and to add three extra styles.
In response to this spike in interest and growth, the staff from Salty Crew are expanding their range in order to appeal to and complement the way of life of the "mature soul-surfer who appreciates references to surf culture, as well as that of modern individuals seeking performances that give rhythm to their lives."
On the other side, the giants of "fast-fashion" have isolated the phenomenon and are trying to expand their range to take a piece of the pie; "we try and ignore the noise and focus on what relates to our brand ethos," the guys from Afends tell us.
INFLUENCES
It's impossible to ignore it: the 90s revival, very much alive in streetwear, is creeping into boardshorts. A "retro sport" touch here with a nod of nostalgia there translates into "strips and blocks of colour, bolder logos that hark back to an era when it was all about brands," reminisces Dan Preston from Design at Globe.
Billabong are also following an end-of-80s graphic design vector called "SURF THRASH" in which boardshorts have dark backgrounds with touches of fluoro. Lightning Bolt are incorporating faded tones and materials to plunge us back into the 90s as well as stronger, more 80s-style washes.
Monochrome is also proving to be a hit, inspired by simple, pared-down looks of present-day prêt-à-porter. "Plain", single colour models will continue to brighten up and structure boardshort racks, as long as the purchasing manager is prepared to play with all the colours of a single style.
Finally, the cross-over/hybrid appears to be a sure thing as it corresponds to the demands of contemporary lives that require frequent environment shifts. These "amphibious" hybrid shorts allow us "to use the technical fabrics of boardshorts in urban silhouettes," explains Maël Armellini from Quiksilver who are also envisaging strong growth in this sector in Europe.
In the design department at Pull-in, the "beachy" colourways on display can easily be tweaked to obtain a more street look. "There's been a real increase in the amount of elastic and all-day boardshorts we're selling," asserts Daniel Owens at Rusty, "the average consumer is chasing product that looks good and is comfortable enough to surf, swim and chill in…."
THEMES & PRINTS
Loyal to their stone icon, Volcom will offer an enhancement to black and white by injecting summery tones with hints of blues, oranges and yellows. At Lightning Bolt, "strong colours share supremacy together with pastel tones, burned by the sun and worn out by the salty water," declares Maria João Nogueria, European Communication Manager.
Different colours will also be a trend to follow at Rip Curl with a range of strong and poppy colours on one side and a contrasted mix of subdued colours on the other. For Afends, "the classics never go out of fashion" and black will undoubtedly be a strong theme next season. The influence of crossover will be clearly visible with darker grey palettes, black and denim as Julien from Picture describes.
As a quintessential motif, tropical has entered into the classics category, whether in collages, all-overs or miniatures. Brands such as Billabong are revisiting this with tribal features and stencils. Protest are developing their floral motifs with more natural botanicals based on plants. Retro Hawaiian style dominates the graphic direction at Lightning Bolt as well, accompanied by leafy and camouflage motifs that bring you into wild, exotic environments. Also, at Dakine, the palm tree print on their Kailua boardshort highlighting their Hawaiian heritage gives a bit of a vintage touch to their range. Meanwhile, at Pull-in, it's tropical flora and fauna that provides all the fun for their collection. At Globe, it's Asian flowers that stand out with hints of dark colours combined with mythical creatures. And finally, at Reef they're focusing on "Surfairs, Swimmers and Surfable Walkshorts. The bulk of our business focuses on the Surfairs, offering a range of 4-way stretch fabrics as well as vintage inspired cotton blends, all ranging from 18"-21" outseams."
At Salty Crew, "we are adopting an approach that looks towards the past but that retains a resonance with current-day culture," says Andrew Hartshorne from their design department. In terms of colours, we find a conservative side with nautical indigos and rusty reds in contrast to camouflage tones. Finally, at Brunotti, inspiration follows two complementary themes that make a striking ensemble; one from Morocco with typical colour pigments, nomadic mosaics, and golden and geometric details while the other is inspired by modern art from the 70s (the brand's beginnings) and refined, colourful revival styles and signed Keith Haring graffiti art.
TECH
Spending hours cooking in the sun and soaking in salty water, 100% nylon is not good enough. Only specialist surf products guarantee sufficient levels of durability and quality while offering a bang on-trend look. As Marketing Manager from Afends, Vanessa Angheleri reminds us: "Function is crucial but we do our best to blur the lines between fashion and function."
At Reef, they "will look to put a marketing focus on our top tier boardshorts, constructed from our newly developed, Perforated 4-Way Stretch, performance fit, high hip zippered pocket and stylish prints to match the performance look."
In the requirement spec for "performance", everyone agrees on four-way stretch, quick drying, U.V. protection and moisture wicking properties. Details contribute to the product's final overall quality, for example: laser cutting, solid pockets, waterproof zips, silicon lacing and seamless panelling.
ECO-DESIGN
Each season, our industry stands out in terms of making its products more ecologically sound through innovation and improvement. Using recycled fibres (coconut, polyester or cotton) has been a priority for hardened surf designers for years now.
The recycling process is totally controlled "with plastic bottles collected, converted to chips, then granules before being woven into polyester that can in turn be recycled again," explains Julien Durant at Picture. Finisterre are proud to integrate SS18 Econyl to their manufacturing; a material solely made from oceanic rubbish. Spurred on by their partnership with Repreve, last season Quiksilver reused 11 million plastic bottles.
For product packaging, we are now opting for potato or corn starch bags like at Afends; bio degradable and compostable materials as opposed to traditional plastic packaging. Another just as conscious approach at Lightning Bolt means that their manufacturing is now entirely carried out in Europe by specialised, certified workshops that follow strict European environmental regulations.
But efforts don't stop there. Washing techniques needed to get those retro "on trend" colours sometimes call upon chemical treatments that have an impact on the environment. To counter this, designers at Globe have found alternative ways of giving vintage looks without chemical treatments or powerful washing. A small change that makes a big difference long term.