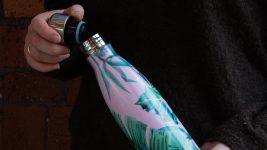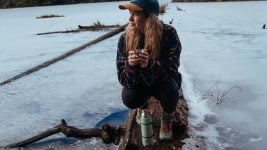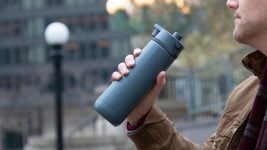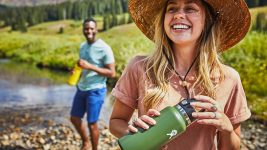 Reusable bottles have gained some serious traction in recent years and bottle and flask brands have really stepped up to the plate. No longer seen as just a tool for fighting single use plastic but they're now personalized, multifunctional accessories and as our consumers head into the outdoors more than ever to get away from it all, the one thing they'll always need is to stay hydrated. By Dana Miskulnig.
Innovation
Bottles and flasks are meant to replace single use plastic bottles meaning they're part of the daily checklist; wallet, phone, keys, water bottle. This has led brands in the space to accessorising their product categories, giving the consumer new ways to customise their hydration game. Founded by snowboarding legend Jussi Oksanen, Mizu offers lids, straws, tech purification filters (more on these later) for all their bottles and seasonal art collabs with action sports' hottest talent to keep the user on trend and able to drink anywhere, anyhow.
Hydro Flask are also offering accessories, explains Abbie Baynes, UK PR & Marketing, "Hydro Flask offer various accessories (such as the new Straw Flex Lid and Stainless Steel Flex Lid) as well as colours and designs including the limited edition Prism Pop collection and the limited edition Shave Ice collection."
Klean Kanteen are integrating multifunctionality into their products, allowing you to use the same bottle for different drinks/activities just by changing the cap. Historic brand Thermos are embracing tomorrow's technology: "Next to our premium insulating technology, we offer smart functionalities. For example, our GUARDIAN Insulated Bottle comes with a fluid intake tracker," says Katharina Mlynar, Marketing Manager & Florian Jankowski, Product Manager.
Stainless steel seems to be the material of choice across the board for sustainability and longevity reasons, Red Original take it to the next level as Catherine Morris, Commercial Director says, "We only use marine grade stainless steel in our bottles. A better-quality stainless steel than purely food grade – not only does it make it perfect for use even in marine environments, but we believe it helps make our bottles & travel cup even more insulating – hence why we can outperform our competition on hot/cold tests." Nolla are bringing out custom product ranges in collaboration with big brands to spice things up, one of these being Club Med where they have produced the 'Club Med by Nolla'. Keeping it classic, Pioneer Flasks have a handy removable clip that allows you to attach their bottles to your sports gear, rucksack or belt, so you can take it anywhere with you.
If you find yourself on an adventure (or city) where you are unsure of the water quality, Mizu have been offering the Mizu 360 filtration system for a few years now and are still one of the only major bottle brands with this system explains Funder Jussi: "When we launched the Mizu 360 filtration systems in 2017 it was to close the loop on any need for disposable water bottles. A reusable water bottle is great, but when you're out and about and concerned about the water quality you are refilling it with, our filters have you covered. The Mizu 360 filtrations system allows a Mizu user to go literally anywhere in the world and be able to drink water without having to purchase a disposable water bottle."
Sustainability
Sustainability and reusable bottles/flasks go hand in hand so let's dive deeper into what brands are doing to keep the standard high when it comes to protecting our planet. In recent years, Stanley have worked on transitioning their products and packaging to perform better within the circular economy, from recyclability to repair and reuse, "we have also made significant advances working in our supply chain to reuse water, better manage our production impacts, and source energy from renewables," according to Arne Erichsen, Director of Product & Marketing EMEA at Stanley. Klean Kanteen have become Climate Neutral certified and are now 100% Carbon Neutral and shifted production to facilities which focus more in reducing their carbon footprint. Thermos have spare parts available from Germany to avoid consumers needing to replace the full bottle and rather fix the one they already own to increase the products lifecycle. 
Effects of Covid-19
The bottle and flask segment seems to have weathered the Covid-19 pandemic rather well and are ready for a strong SS21 with more people finding an appreciation for the great outdoors and wanting to live more sustainably while staying hydrated. Brecq Benoit, Brand & Marketing Manager at Nolla states, "As with every brand, Covid-19 just delayed sales, but the 2020 sales during summer are really good. Regarding our collection for the SS21 range, it will be refreshed with some additional products. We will carry over a part of our best range sellers: the inox bottle & isotherm bottle." Not giving in to the pandemic on the other hand is Mizu who are still launching the products they had planned and on the same schedule they had intended. Bottle brands have had a relatively relaxed impression towards this turbulent phase of 2020, although workflows had to have a major adjustments during this time, sales didn't suffer but actually thrived explains Catherine Morris, Commercial Director at Red Original, "we have seen a significant surge in consumer demand during lockdown, our challenge is to get our new products to market quick enough. We have seen some supply chain delays, but with careful management, we are avoiding any impact on growth."