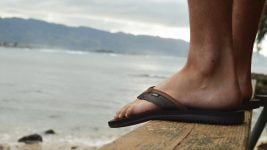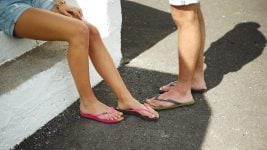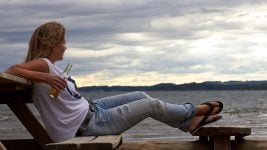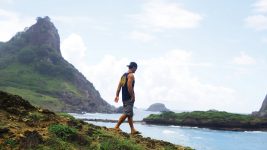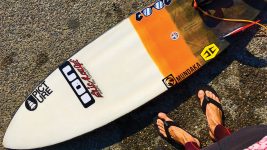 For SS19, the focus for many brands within the category of Hanging Shoes has most definitely been to cater to the customer's desire for uncomplicated comfortable designs, with a focus on producing quality products at exceptional value. The emergence of 'realistic dressing' has meant that some new developments and innovations have appeared which retailers can capitalise on this summer. Retail Buyer's Guide by Ruth Cutts.
Trends
For SS19 it seems that the current athleisure trend is set to continue with sliders working their way into most collections. Once shunned for having zero style appeal, this is a phenomenon that's no longer merely limited to the poolside. Mascha Pieterse, Product Manager at Sinner explains that their range of sliders feature "shapes and prints [that] are a nice mix of sport, fashion and beach life."
Cobian have echoed this sentiment by introducing two new slide styles to their line, one of which is based on the design of their most popular ARV2 sandal. "This style came about via popular demand of our customers loving the ARV2 and wanting a slide option to make a trend relevant option," Cobian Men's Product Manager, Chris Bence explains. The women's line at Cobian has also introduced new slide sandals – the Melrose, Bahia and Koloa – to cover this key trend, whilst footwear brand Gumbies are also bringing in slides for the first time within their 2019 range.
The aesthetic appears to be focused on simplicity and comfort, "as the customers appear to desire more minimalistic silhouettes though aren't willing to sacrifice the comfort," explains Craig Townsend, VP of Sales and Business Development at Flojos. Minimal single straps have seemingly replaced fussy designs to create a clean and contemporary look, with many brands choosing materials such as textile, suede or leather, as well as sporty looking PVC, in order to stay true to their outdoorsy roots.
Away from sandals, the same idea rings true. Footwear brand Freewaters are experiencing good growth season on season with their traditional closed toe offerings which feature seamless constructions, clean lines and no-fuss easy lace-up systems. David Goulding, Managing Director at Primer Europe Limited says: "the comfort aspects of all our products are at the forefront of the design process."
Materials
As previously mentioned, the modern customer's want for comfort is increasingly becoming a priority for most brands with cushioning EVA footbeds making their way into most designs in SS19. Customers are now wanting full arch support through sculpted footbeds and moulded constructions in favour of the old 'flat' basic sole. Cobian have introduced new EVA formulas into their footbeds that will reduce the unwanted 'pack out' that you see in many other soft sandals.
Many brands are opting for non-animal-based product materials in their designs with Sinner having cited products crafted from "soft PU suede and canvas insoles" as some of their most popular styles. Cobian single out materials "which have a rich leather look but that can get wet and are vegan friendly," as key to their SS19 range, and Flojos have taken this a step further by suggesting that they have invested in more synthetically engineered materials that offer better 'water resistance' properties after extensive customer research and insights.
Benjamin Steckermeier, Owner of Mayori explains how many factors influence their designs including; "sustainability, ever-increasing environmental pollution, vegetarian and vegan lifestyle, sports affinity, and the joy of travel." Mayori have tried to incorporate these themes in their SS19 collection mainly using leather, textile, linen, cork and also neoprene. Their best seller is the Levi model which puts a special emphasis on natural cork material, which not only looks great but also has a variety of special properties; anti-allergenic, sweat absorbing, and is a renewable material.
The team at Mayori also wanted to create a homogeneous overall picture for both men and women by using the same materials for both lines, therefore embossed leather, contrast stitching, natural materials and various textile patterns can be found throughout their entire product range.
The want for 'green' materials also continues to be a top priority for brands with O'Neill including sustainable TPU straps within their Summer 2019 range whilst introducing two new styles which feature recycled Plusfoam footbeds.
Knitted uppers are continuing to prove very popular across traditional closed toe options too due to their breathable and athletic nature, meaning that customers can easily pull on these shoes without the need for socks. Freewaters "will continue to work with various aspects of knitted uppers as well as our proven winning materials that we have worked with since we launched the brand," explains David Goulding.
Manufacturing
In terms of the actual manufacturing of many SS19 hanging shoes, the focus is most definitely on producing a quality product, with brands such as Gumbies and Cool Shoes still opting for handmade processes. Jeremy from Cool Shoes explains how, "each item is handmade in our factory and we make sure that everything is made to a high standard by incorporating really good and detailed quality control procedures."
Evidently, the mid-range option that strikes that fine balance between quality and value is the focus for many brands as Chris Bence from Cobian explains that the brand's "standards of quality and comfort make sure that the store can offer a comfort-focused footwear that is a great value at the same time." By avoiding ploughing too much money into their marketing Chris explains how Cobian direct their resources directly into the product.
Colours
Neutral based tones with splashes of colour are key for SS19. Earthy hues such as tan, clay and tobacco are great additions to classic colour palettes, which continue to be popular. Chris Bence from Cobian explains how their men's range will, "focus on making sure that the brown and black options are rich looking and work well with on-trend shades of grey, chocolate and charcoal."
Other colours that are set to accompany these classic tones are rustic reds, bottle greens, other neutrals such as beige and white and even some blue colours are appearing in many of the men's ranges too. Jeremy at Cool Shoes says: "our classic colour range is black, brown, grey and any hue of blue that reminds us of the ocean. We enhanced our line with flashes of colour, prints and original patterns and we also used a lot of natural colours that are close to the sand or earthy tones."
The SS19 summer collection at Mayori is also heavily focused on natural tones such as beige, brown and olive, not only to match the beach and summer lifestyle that the brand adheres to but also to provide a versatile option for their customers as they can be easily combined with a variety of outfits.
Flojos has a rich Mexican and southwest influence running through their SS19 range inspired by the sunny beaches of Mexico & California where the brand originated from. Many of these colours and patterns are apparent in their designs, "from rich earthy browns to vibrant Mexican blanket colours," these designs are crafted from advanced fabrications including fly knits and breathable mesh uppers alongside more traditional burnished faux leathers, soft nubuck, and summer suedes using a combination of core colours and bold colours.
For the women's ranges it is apparent that an injection of pastel colouring is making waves in SS19: "pastels and pop colours such as powder blue, dusty rose, lilac and matte aqua will be the key 'fashion' colours that will be used as an accent colour in SS19," explains Craig Townsend at Flojos.
The SS19 range at Gumbies reiterates this trend as Martyna from the Customer Service team says: "we always try to have something for everybody, so you will see that some of the designs are pastels and others are very vibrant prints," whilst Cobian Women's Product Manager Milla Camargo explains how the brand have "incorporated some fun accent colours, including coral and turquoise" to their range.
Point of Sale
Many brands are supplying retail spaces with some really great aids in a bid to capitalise even more on this relatively easy and rewarding product segment. Different kinds and sizes of display allow for presentation in different spots in and outside of the shop, to attract as many customers as possible. Gumbies provide stands (accompanied by eye-catching display card hangers) which have been made in their warehouse from recycled bike tyres and wood sourced from FSC certified suppliers providing a great story around the brand to capture the interest of the customer.
Cobian have innovated what they have called the 'hanger tie' which is the point of purchase marketing material that is hanging between sandals on the specialised hanger that they developed. "This allows us to communicate the key aspects of the product itself, instead of just having the same small hangtag over and over on all product," explains Chris from Cobian.
For SS19, Flojos have completely revamped their packing, including new boxes for each category of footwear that offer great POS material and vibrant/appealing graphics. Their new hangers feature a modern design which still highlights their heritage, and they have added helpful hangtags to their products which clearly tell the customer about the product's technology, comfort and lifestyle story e.g. Water Friendly, Hammock Comfort, Bottle Opener etc.