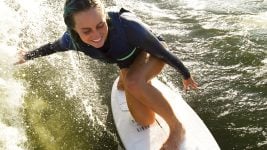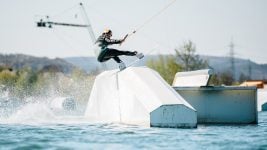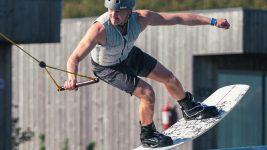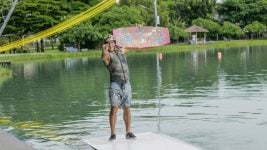 Impact Vests 2023 Retail Buyer's Guide
With foiling increasing across all sports, including wakeboarding, impact vests are more important than ever, even for cable and boat, offering up a wide spectrum of possibilities. Retail Buyer's Guide by Anna Langer.
TRENDS
Even though there are "many different preferences through boat, park, surf and skate" as O'Neill commentsand "customers are increasingly looking to be unique on the water" as Follow have found, there are two main trends Ride Engine suggests: "riders obviously love comfortable, slim but laced with buoyancy that are stylish."
"From the beginning, safety has been number one on our agenda and something we're not willing to compromise," says Dallas Morgan, Athlete & Sponsorship Manager at Jetpilot who pair fit and functionality with durability to ensure their impact vest designs are top quality, and designed for purpose. Slingshot agree that function comes first and "simplicity is key, after that, the rest is up to the individual," says Jeff Mckee. Sooruz focus on the fit of their vests, so customers feel freer in their movement while being protected.
Without compromising function, the market increasingly demands "thinner vests that keep the riders protected. The goal remains the same: have a vest that you almost don't feel but keeps you safe" explainsSooruz. Connelly answers this demand with its NCGA vests for high level surfing. Jetpilot team sleek style lines, functionality and comfort with nice colour variations, unique stitch patterns and stylised patches, andLiquid Surf have updated their offering with new patterns and material tweaks.
To achieve this and improve fit as well as function, Jetpilot have noticed more segmented vest designs are selling well. Connelly sport larger arm holes and a longer midsection while Liquid Force are focussing on closer fitting styles. "Fit and feel go hand and hand in our book. We still see that longer hems and deep arm scallops are the best to keep the vest in place. This also give a bit more area for protection. Materials impact fit, feel and protection greatly. Thinner higher density foam matched with high stretch neoprene allows for more articulation yet retains protective qualities" comments Gary Siskar, Marketing Director & Product Line Manger at Ride Engine.
MARKET GROWTH
"Cable and boating markets continue to be strong but foiling is the growth market for 2023. We see our customers learning to foil behind the boat, with hand wings and ocean surf foiling" says Wade Motawi, Director of Product Development at Liquid Force. Sooruz is also seeing the most growth in foiling sports,especially with wing, which has seen them produce their WING model vest which allows the rider to add a harness buckle when they want to go wing and remove the harness buckle when they want to go wakeboard.
Jetpilot add that "there has been a definite spike in the number of PWC outdoor adventurers and an evolution of board sports. That's why we've developed a range of crossover water gear to complement the vests we're known for, like vests that function more than just a buoyancy aid and can be used for foiling as much as throwing down the most tweaked out tricks."
TECHNOLOGY
As in most other board sports segments, sustainability is becoming important for customers, suggest Follow, which they have addressed with their Project One range that produces a sustainable neoprene that has all the stretch and comfort of any other Follow vests. Jetpilot will soon release environmentally friendly Ecoprene, that will be implemented across their 2024 range in both world champion performance pieces along withmore entry level designs. Ride Engine is also introducing a sustainable 4-way high stretch neoprene, whichhelps with everything from body movement to simply getting the vest on.
Other innovations in the market include a new 4 -way stretch neoprene from Liquid Force to improve the rebound stretch which keeps the vest close to your skin and Follow's Securaprene which has extra durability and gives the vest a textured feel, next to the Cord neo they're bringing back.
Finally, O'Neill are working with Nytrolite Foam that is lighter and provides more protection for its size compared to regular foams.
TEAM
Since many brands support strong teams, it's a no-brainer for them to work with the input of those on the ground. "We develop our product in close collaboration with our riders in order to have the most performance products on the market" state Sooruz. Jetpilot says: "Our wakeboarding team riders include world champions in boat & cable. Many have been with the Jetpilot family for years and have influenced their own Signature Series Vests as test pilots, design inspiration as much as part of the story-telling of the person behind the vest." Slingshot agree: "We put our product design expertise to work based on the input of our team, who are on the docks at cable parks around the world looking out for, and often setting the next big trend. And the results have been nothing but positive since the start!"