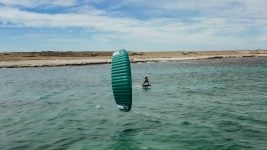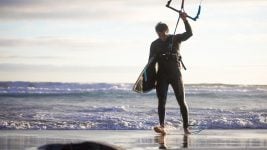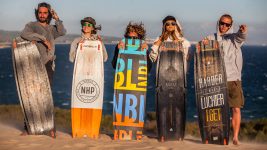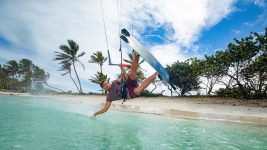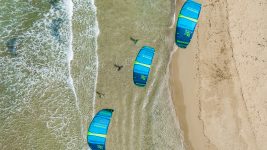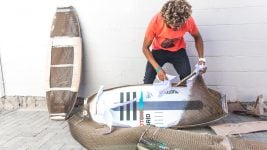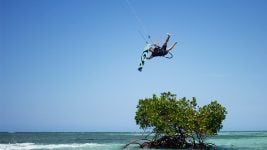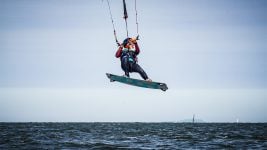 Born in the late 90s as an amalgamation of many sports, progression has been in the DNA of Kiteboarding all the way. The latest market analyses talk about significant growth to be expected in the coming years, fuelled by a growing fan base and a product development rhythm that doesn't seem to sleep. By Rocio Enriquez.
Kiteboarding developed in different disciplines from very early on. You can use a powered kite to get big air, surf waves or skim at speed over the water. It is no surprise that a sport that combines the thrills of windsurfing, wakeboarding and even paragliding would become popular. The first kiteboarders might have been immigrants from other sports but, by the time millennial thrill-seekers were hitting the beach, they went straight into kiteboarding. Natives have claimed the rightful spot of kiteboarding in the Olympus of sports (we'll see it debut in its hydrofoil discipline in Paris 2024 games) and welcome the ongoing updates in product technology.
Trends
The arrival of foiling in water sports has been a game changer, altering the mindset of kiters once limited by conditions. The possibility of riding in lighter winds and smaller waves has been so well-received that the industry is working to innovate the materials and shapes needed to get more hours in the water. Summer 2019 saw the number of foil riders significantly increase, gave birth to the Wing Surfer and set the trend for future innovations: lightweight kites and boards, smaller and easier to handle. Summer 2020 will bring about the evolution of foil, expanding the range of spots and conditions for every riding discipline.
Other categories well looked after by product development teams are Entry Level and Big Air. This is due to the increasing numbers of practitioners, especially younger ones, coming straight into kiteboarding and the race for the 40m jump that seems to be going on in Big Air. There are many ways to have fun with a kite and a board and kiteboarders want to enjoy them all. Making it easy for them has been key in the product design processes of many brands. Multisport foils, one kite for all and convertible directional boards have been in demand this summer. "Our XR kite range of user-friendliness is simply amazing. It is the first choice of kite for many people who are new into the sport, whilst at the same time it is the current world record holder for the highest jump. An absolute weapon that can be used by everyone" – assures Lutz Englert, at Core Marketing.
But, while many brands talk about versatility, Slingshot says that riders still want specialized kit for every riding style. "Now more than ever riders are looking for specific equipment tailored to the style of riding they love." – says Alex Fox, Slingshot Brand Manager. "To really progress in each discipline, riders can benefit from specialized gear".
Boards
Most brands agree that a foil board will be a must have in any kiter's quiver. "More riders will pick up on foiling and purchase their own board" – states Alex Fox – "while the ones that already have one will be looking to upgrade to smaller shapes". Early adopters of Wing Surfing will be seeking out these smaller and lighter boards to make the most out of this new riding style. F-One has developed a new range of specific wing boards. Chloe Scamps explains: "It makes it possible for most riders to stand-up easily as well as making sure that riding back to the shore is possible, even when the wind drops".
Some versatile designs are thought to help riders keep a manageable quiver size. Gaastra Marketing Director, Konstantin Weier, says: "directional boards that can be used in waves and with a foil should do well as it's always attractive to kiters to be able to do as much with as little gear as possible". Slingshot's foil board hybrids will take either fins or foil mount, making travelling much easier. Nobile brings this up a notch. "We offer multifunctional boards like Infinity Split Foil which can be used as wave board or hydrofoil board plus it splits into two pieces which fits into a standard check in bag together with hydrofoil, kites, and other kiteboarding necessities", says Gosia Rosiak.
As much as foiling's popularity is growing, most brands see it as an addition to the increasingly rich variety of styles in kiteboarding. Twin tips and surfboards are still being tweaked to offer the lightest possible high-performance boards. The increasing numbers of newcomers and the popularity of Big Air are driving innovations in twin tips. Goodboards had a great response to their youth and women's dedicated board "Phaphito" and will introduce the new "Snake" board with anti-chop technology in 2020. Slingshot's Misfit is a board that progresses along with the rider's skills that has incorporated a Koroyd tip and tail. "It reduces swing weight and increases the board's dampening, creating a smoother ride". Nobile´s combination of travel-friendliness and performance of their NHP Split has been rewarded by customers. "Rectangular channels on the tips guarantee super upwind performance and stability when riding and jumping and a perfectly designed Hydrodynamic rocker line improves the comfort, manoeuvrability and pop" – explains Rosiak.
This "ride in any conditions" mindset does not only apply to lighter winds but also to any wave size. Duotone is adding a "Pro Fish" to their surfboard range. "It just makes riding even the smallest and crappiest waves fun" – promises Philipp Becker. F-One's SHADOW is designed to surf any kind of waves. "This board is able to carve short turns as well as long and fast curves effortlessly" – affirms Scamps.
The challenge to make boards lighter, durable and high performing has been met by many brands with the incorporation of new materials, especially wood. In twin tips, wood cores are replacing foam ones, improving the feel and response of the board. "Our composite construction combines our Paulownia wood core with engineered E-glass laminate layups on the top and bottom which drives riding performance" – describes North's Ollie Murray. Some brands are using Bamboo for their surfboards. "The Hybrid Bamboo EPS construction makes it feel like a traditional surfboard that is built to withstand the forces that kiteboarding requires" – says Slingshot's Fox. Airush 2020 Surf Comp and Diamond boards will be available in their Reflex Bamboo Construction. Carbon is also present in many models, such as Core's own Cartan® Carbon, North's Carbon Series or Nobile's high performance NHP Carbon Split. "We are using a brand-new carbon weave for the new big air board for 2020" – announces CrazyFly's Juraj Bukovcak.
Sustainability
Most brands are carrying an awareness for environmental protection in their production materials and processes. Durability plays a big part in sustainability, as it reduces waste and increases resale value, promoting a second life of the product. Nobile's APS construction system (Added Pre-Stress) reduces 10% the material used in boards. They avoid the use of chemicals by eliminating lacquer on their boards. Similarly, Goodboards only uses water-based paints on theirs.
The use of Paulownia wood for cores contributes greatly to sustainability. "Paulownia trees can be cut down after three years and grow extremely fast. For every tree our supplier cuts down for us, they plant two" – says Bukovcak. Some efforts are found in the manufacturing processes too. "The heating of all factory processes, including pressing ones, is based on scobs which come from wood core production from our local vendors" – explains Nobile's Rosiak. CrazyFly uses clean electricity from a nearby waterpower plant. Duotone's twin tips come from an eco-friendly board production facility in Austria. Airush's Chereé says: "We have teamed up with Sustainable Surf to develop a full line of directional surf and foil kiteboards that comply and exceed the Ecoboard fundamentals of reduced carbon footprint, recycled and/or upcycled material input and reduction of toxicity during manufacturing".
Sustainability in kite materials is proving to be more challenging. It is very difficult to replace polyester based fabrics with greener alternatives that offer the same durability. "We experimented with recycled plastic canopy materials, unfortunately the material was more expensive and the durability less" – says Duotone's Becker. Making kites durable and sourcing their materials locally seems to be the way to do their part.
Dropping plastic packaging is a common goal. FlexiHex is the packaging material of choice for Duotone, Slingshot and Eleveight. Core and CrazyFly have chosen recycled paper and cardboard. Airush is using recycled PET for its kite bags. Core has managed to reduce its plastic packaging in 60% over the last six years, replacing it for recycled cardboard or compostable materials. Bags that don't suit these greener materials are designed to be reusable. "We print a suggestion on the plastic kite bag to use it for beach clean-ups" – says Lutz Englert – "and use reusable bags to package our accessories. They keep your gear neat and tidy in the car and also make great travel bags".
Retailer Support
Such a rich catalogue of riding possibilities requires strong retailer support from the brands, mainly in the form of education. Only fully understanding the product can a retailer guide a purchase decision that truly meets the riding preferences of the rider. Makers understand this and provide many options for retailers to test and learn about their products first-hand. Goodboards, Nobile, Slingshot and North organize demo tours. Eleveight offers product training at stores. Technical videos are great educational tools. North produces in-depth animations that demonstrate the use of products. Slingshot creates full time technical videos for support and provides early technical briefings on marquee products. There are other interesting retailer support initiatives. Duotone offers entry level packages and has set up a spare parts web shop. "Customers have the spare part sent to the shop so the shop can offer an incredible service, helping to assemble the spare part and hopefully creating new sales" – says Philipp Becker. New for Slingshot is the setup of a full in store Wing Rack for their foil retailers. "This displays our full Hover Glide wing suite and showcases the modularity and versatility of our foil system and how it applies to each of the 5 foiling sports: Kite/Wake/Wind/Surf/SUP" – describes Alex Fox.
Days of waiting and praying for wind seem to be something of the past. With a toy available for every condition of wind or waves and growing numbers of riders, retailers should reap the benefits of learning about all the new options and offering proper guidance for purchase.