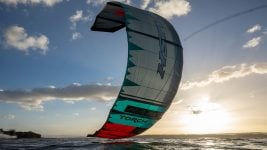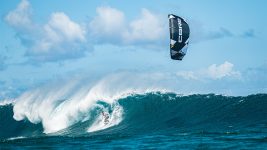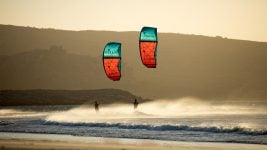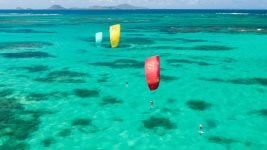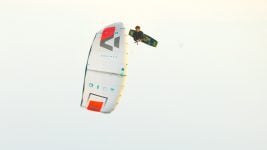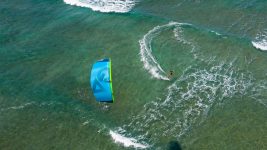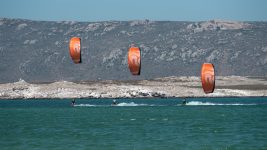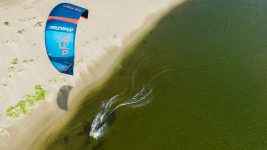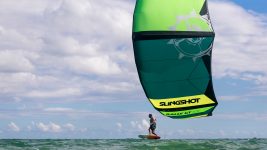 Born in the late 90s as an amalgamation of many sports, progression has been in the DNA of Kiteboarding all the way. The latest market analyses talk about significant growth to be expected in the coming years, fuelled by a growing fan base and a product development rhythm that doesn't seem to sleep. By Rocio Enriquez.
Kiteboarding developed in different disciplines from very early on. You can use a powered kite to get big air, surf waves or skim at speed over the water. It is no surprise that a sport that combines the thrills of windsurfing, wakeboarding and even paragliding would become popular. The first kiteboarders might have been immigrants from other sports but, by the time millennial thrill-seekers were hitting the beach, they went straight into kiteboarding. Natives have claimed the rightful spot of kiteboarding in the Olympus of sports (we'll see it debut in its hydrofoil discipline in Paris 2024 games) and welcome the ongoing updates in product technology.
Trends.
The arrival of foiling in water sports has been a game changer, altering the mindset of kiters once limited by conditions. The possibility of riding in lighter winds and smaller waves has been so well-received that the industry is working to innovate the materials and shapes needed to get more hours in the water. Summer 2019 saw the number of foil riders significantly increase, gave birth to the Wing Surfer and set the trend for future innovations: lightweight kites and boards, smaller and easier to handle. Summer 2020 will bring about the evolution of foil, expanding the range of spots and conditions for every riding discipline.
Other categories well looked after by product development teams are Entry Level and Big Air. This is due to the increasing numbers of practitioners, especially younger ones, coming straight into kiteboarding and the race for the 40m jump that seems to be going on in Big Air. There are many ways to have fun with a kite and a board and kiteboarders want to enjoy them all. Making it easy for them has been key in the product design processes of many brands. Multisport foils, one kite for all and convertible directional boards have been in demand this summer. "Our XR kite range of user-friendliness is simply amazing. It is the first choice of kite for many people who are new into the sport, whilst at the same time it is the current world record holder for the highest jump. An absolute weapon that can be used by everyone" – assures Lutz Englert, at Core Marketing.
But, while many brands talk about versatility, Slingshot says that riders still want specialized kit for every riding style. "Now more than ever riders are looking for specific equipment tailored to the style of riding they love." – says Alex Fox, Slingshot Brand Manager. "To really progress in each discipline, riders can benefit from specialized gear".
Kites.
R&D departments are fully invested in new materials. The result is that kites are getting much lighter. Core's Lutz Englert explains – "Our Exo Tex Light on the XLITE kite was a significant technological upgrade this year. It provides the same stability and rigidity but with 20% less weight". For 2020, they are incorporating a lower profile, adjusted bridle points and an optimized geometry of the five struts, making it faster and with better upwind abilities. Airush has focused on minimizing the use of Dacron on the frame and replacing it by high-modulus polyethylene web fibres to reduce the weight. "We make our kites lighter, without compromising the durability, by incorporating the Airush Load Frame system" – states Brand Coordinator Chereé Thomson. Rik Haenen, Marketing Manager at Peter Lynn Kiteboarding, says: "we focus on minimalizing the materials we use in our kites. We reduced every kite by at least 15 parts, increasing its durability and reducing its weight". Robert Bratz, Global Marketing Director at Eleveight, announces: "We are introducing the new High Tenacity Fabric, XT, for Summer 2020, along with a different bladder material that makes the kites lighter".
However, the race for lighter kites has not distracted brands from the essential goal of durability. "All our 2020 kites will come with our 4×4 Canopy tech which is the stiffest and strongest canopy material on the market, increasing not only performance but also the kite's resale value" – claims Slingshot's Fox. "Trinity TX, the canopy material unique and exclusive to Duotone, offers the best mix of dynamic and durability" – assures Philipp Becker, Marketing Manager at Duotone. Crazy Fly is keeping the Triplex fabric, a triple rip stop material they introduced this summer with a good market response.
With a growing entry level of participants, safety and ease of use are features that brands bear very much in mind. Airush has had a proper look at the control systems. "We have upgraded the lines and probably one of the most exciting new releases is our IQR, a completely redesigned single hand activation and reset Quick Release safety mechanism" – reveals Chereé. North's Ollie Murphy says: "All our kites use fixed-cascade bridals with no pulleys. Removing plastic pulleys from within the load bearing part of the kite improves the safety and your connection feel to the kite". Naish has developed a new one-point pump system with valve lock that makes inflation and deflation much easier. Gaastra's lines will stretch less and offer great performance and durability.
Sustainability.
Most brands are carrying an awareness for environmental protection in their production materials and processes. Durability plays a big part in sustainability, as it reduces waste and increases resale value, promoting a second life of the product. Nobile's APS construction system (Added Pre-Stress) reduces 10% the material used in boards. They avoid the use of chemicals by eliminating lacquer on their boards. Similarly, Goodboards only uses water-based paints on theirs.
The use of Paulownia wood for cores contributes greatly to sustainability. "Paulownia trees can be cut down after three years and grow extremely fast. For every tree our supplier cuts down for us, they plant two" – says Bukovcak. Some efforts are found in the manufacturing processes too. "The heating of all factory processes, including pressing ones, is based on scobs which come from wood core production from our local vendors" – explains Nobile's Rosiak. CrazyFly uses clean electricity from a nearby waterpower plant. Duotone's twin tips come from an eco-friendly board production facility in Austria. Airush's Chereé says: "We have teamed up with Sustainable Surf to develop a full line of directional surf and foil kiteboards that comply and exceed the Ecoboard fundamentals of reduced carbon footprint, recycled and/or upcycled material input and reduction of toxicity during manufacturing".
Sustainability in kite materials is proving to be more challenging. It is very difficult to replace polyester based fabrics with greener alternatives that offer the same durability. "We experimented with recycled plastic canopy materials, unfortunately the material was more expensive and the durability less" – says Duotone's Becker. Making kites durable and sourcing their materials locally seems to be the way to do their part.
Dropping plastic packaging is a common goal. FlexiHex is the packaging material of choice for Duotone, Slingshot and Eleveight. Core and CrazyFly have chosen recycled paper and cardboard. Airush is using recycled PET for its kite bags. Core has managed to reduce its plastic packaging in 60% over the last six years, replacing it for recycled cardboard or compostable materials. Bags that don't suit these greener materials are designed to be reusable. "We print a suggestion on the plastic kite bag to use it for beach clean-ups" – says Lutz Englert – "and use reusable bags to package our accessories. They keep your gear neat and tidy in the car and also make great travel bags".
Retailer Support.
 Such a rich catalogue of riding possibilities requires strong retailer support from the brands, mainly in the form of education. Only fully understanding the product can a retailer guide a purchase decision that truly meets the riding preferences of the rider. Makers understand this and provide many options for retailers to test and learn about their products first-hand. Goodboards, Nobile, Slingshot and North organize demo tours. Eleveight offers product training at stores. Technical videos are great educational tools. North produces in-depth animations that demonstrate the use of products. Slingshot creates full time technical videos for support and provides early technical briefings on marquee products. There are other interesting retailer support initiatives. Duotone offers entry level packages and has set up a spare parts web shop. "Customers have the spare part sent to the shop so the shop can offer an incredible service, helping to assemble the spare part and hopefully creating new sales" – says Philipp Becker. New for Slingshot is the setup of a full in store Wing Rack for their foil retailers. "This displays our full Hover Glide wing suite and showcases the modularity and versatility of our foil system and how it applies to each of the 5 foiling sports: Kite/Wake/Wind/Surf/SUP" – describes Alex Fox.
Days of waiting and praying for wind seem to be something of the past. With a toy available for every condition of wind or waves and growing numbers of riders, retailers should reap the benefits of learning about all the new options and offering proper guidance for purchase.