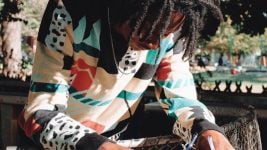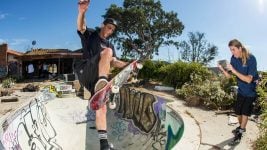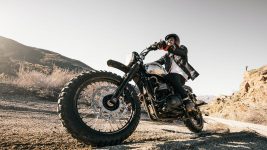 Let's face it: Streetwear has never been business as usual but always ready to surprise and adapt to any situation. So even amid the global pandemic, streetwear brands are bringing the stoke, as outlined in our SS21 Men's Streetwear Retail Buyer's Guide by Dirk Vogel.
How exactly do you dress for a global pandemic? In one word: Casual. As the majority of workers transitions to work-from-home schemes and video conferencing replaces on-site office meetings, dress codes are shifting to 'above the waist' outfits. In other words, business-ready button-up shirts on top paired with pyjama pants, which have increased sales by 144 percent since April (New Yorker Magazine), or plain old boxer shorts below. Then again, boardsports enthusiasts have been finding ways to leave the house and get active even during pandemic lockdowns, and of all people, very much care about what they wear below the waist.
In positive news, skate and surf have emerged as top trending activities during lockdown (see hardgoods reports in this issue), which has boosted sales despite adverse pandemic effects. "For us it has rebounded well post-lockdown. Obviously with retailers having to close their doors across Europe due to the pandemic, things slowed down, but for those that could maintain an online presence the sell-through was great. Long may it continue," said Joe Bourne, Brand Manager at Santa Cruz Skateboards. What's more, skateboarding is receiving more mainstream love than ever. High fashion continues to look at street skating for inspiration, most recently including a pro model shoe endorsed by Lucien Clarke for Louis Vuitton, whose Head Designer, Virgil Abloh, has certified skate skills himself. Plus, a remastered Tony Hawk's Pro Skateboarder video game brings skate lifestyle and dress codes to screens small and large across the globe, so it's safe to say we're on a roll.
MARKET SITUATION: FACING REALITY
Mainstream momentum is great, but if the Great Recession of 2008 has taught our industry one lesson, it's that apparel is always among the first categories impacted by economic turmoil. According to recent surveys on the effects of COVID-19 on private household spending, more than 70% of European and US consumers expect to cut back spending on apparel (McKinsey). Overall, experts forecast a 40 to 50 percent drop in global discretionary spending this year. In response, boardsport apparel brands are navigating the new reality with caution. "We are not taking big risks, but we are also not hiding from the situation. It's safe to say we are moving forward with new products and concepts but in a less aggressive manner than we would have normally planned," said the team at original California brand Sessions.
The situation is already affecting price points in the apparel segment. In April, apparel prices declined by nearly 12%, the largest drop in five years and more than fourfold the usual price drop between March and April of 2.9% (Adobe Digital Economy Index). As a silver lining, online sales of clothing have jumped 34%, despite much lower prices, and brands are expanding their digital capabilities to support retailers. At Berlin-based Iriedaily, Brand Marketing Manager Denise Graff said: "Digitalization is of course a big keyword! So for the current pre-order season we have created possibilities to have online showroom appointments." On a similar note, Protest Sportswear is shifting from a traditional sales book to using the online b2b tool Elastic Suite. "This makes viewing and ordering the collection possible without having to come to our showroom. It will make life a lot easier for our distributors and sales agents," said Ingrid Kalma, Head of Menswear design at Protest Sportswear, who despite the pandemic launched a new street label named NXG.
SEASON TREND: SUSTAINABILITY
Across all product categories, sustainability takes centre stage after the pandemic heightened consumer awareness of environmental issues. Whether it's recycled resources or synthetic materials replacing animal products, or organic sourcing and certified low environmental impact: Consumers want to know what went into creating the products they wear and demand brands to take a stand on social and environmental issues. This brand positioning is communicated on hang tags and collateral, but also factors into apparel designs. For instance, via "socio-political statements on T-shirts but without this lecturing high school teacher attitude," said Denise at Iriedaily.
Speaking from a manufacturing angle, Denise added: "The continuous pursuit of our goal to have Iriedaily products produced more and more from sustainable materials is already producing successful results." The brand implements recycled polyester from waste products of the textile industry as well as from old clothes in a "cradle-to-cradle principle" while banking on sustainable materials such as LENZING, ECOVERO, viscose, hemp, recycled nylon and cork. Most brands in the boardsports segment are expanding their use of eco materials, including Santa Cruz with the "Organics range alongside guest artist Bigfoot using only 100% organic cotton and OKEO-TEX approved prints." Meanwhile, longevity emerges as a countermovement to the planet-destroying effects of fast fashion (see 2. Hype Culture). The team at Session said: "The main difference is we use a heavy weight jersey so you can really feel the quality in our products."
FIVE STREETWEAR TRENDS TO WATCH IN THE NEW REALITY
COMFORT EVERYWHERE
Whether in the safety of their homes or out on urban adventures, consumers want to feel comfortable in their clothes. Look out for drawstring pants, flexible denim, above-the-knee shorts, looser tops and slouchier long-sleeves across the board. Protest has taken the time to pursue, "the quest to create the perfect T-shirt. This season sees new qualities, a heavier 220g cotton as well as more structured fabrics. We have improved the fit, lengthened the T-shirts and made them slightly looser."
THE END OF HYPE CULTURE?
In hindsight, the pre-pandemic cycle of hype after hype was wasteful and unsustainable. And consumers have had enough: According to research from Highsnobiety, values such as quality (60% of young consumers), durability (43%), and timeless brands (50%) are more important than hype and status pieces. From a collection standpoint, this means less seasonal product, more carryover of bestsellers and focus on brand-defining pieces. Santa Cruz Skateboards is banking on the Classic Collection, featuring "flagship theme containing variations of our most beloved graphics" next to the "Speed Wheels capsule celebrating the artwork of Jim Phillips during the golden era of the brand." Sessions is also, "focusing a lot on heritage style graphics."
BAGGY PANTS TAKE OVER
Watch any recent skate video, and it's obvious that pant silhouettes have ballooned. Leading the charge, German streetwear brand Homeboy has received an overwhelming response with its line of x-tra BAGGY pants available as denim, corduroy, cargo pant and shorts versions. "At first we weren't sure if our oversize pants might be 'too much'. But as part of the whole 1990s revival, it was amazing to see how much positive energy and feedback our baggies received among the cool kids and those at the forefront of setting today's trends," said Julian Wolf, Marketing Manager at Homeboy.
FUNCTION OVER FASHION?
Formalwear is down, but athletic and outdoor gear is thriving. Sales of tracksuits and sweatpants are up 70% and 80% respectively since April (New Yorker Magazine). Consumers also demand functionality that transitions from active to leisure time without the need to change outfits. Iriedaily responds with the Urban Nomad collection, "the urban transformation of outdoor looks. Characteristic materials are organic cotton, hemp, cork, recycled polyester, recycled nylon and various types of jacquard materials, also made from organic cotton." Protest's new line is called NXG, which "stands for 'Next Generation' and is the fusion of street edge with quality details. Our designers have created a line of innovative shapes; garments that are unique, flattering and eye catching. The prints are minimalistic, the colours are on-trend." Denim label SA1NT serves the trend with "fashionable product but with hardcore tech function. We make jeans for anyone who rides a bike so that if you fall off at a high speed, we offer protection. But you can still wear our product into the office and not feel like the Michelin Man," said Eden Palm, European Sales.
LOUD STATEMENT PIECES
Timeless quality is a sound strategy, but boardsports brands also know how to make a loud statement. Whether it's full prints on pants and shirts or massive slogans on tops, summer season is the right time to stand out from the crowd. Iriedaily recommends the Vintachi Hood Jacket, a light cotton shell jacket with an ethno pattern developed in-house and the Modern Vintage collection as "a homage to the most famous looks and patterns of the '60s, '70s, '80s and '90s. Miami Vice meets crazy knitting patterns of the 80s." Protest kills it with the Dudley beach style T-shirt and Farlam Hawaiian shirt: "We've been inspired by the perfect summer, by beach parties with their sunshine, inflatables and carefree vibe." SA1NT reported that, "T-shirt sales are smashing it, and I talk to a lot of these people, so I know that they do not own a bike or watch MX or MotoGP."
In the bigger picture, accessories like protective face masks from boardsports brands offer a welcome opportunity to accessorize summer outfits, while last season's trend towards dad hats and hip packs/side bags stays hot in 2021. Looking ahead, all brands agree that cooperation between retailers and brands is key to survival. As Ingrid at Protest said: "Together with our retailers, we have been doing all we can to make it work. There has been co-operation and compromise. With the help of flexible and extended payment terms that we have introduced, we have managed to retain most of our FW20/21 orders and helped our retailers through this trying time."