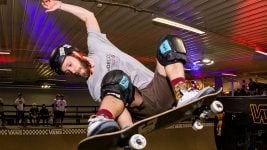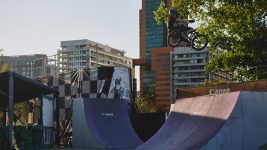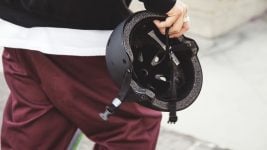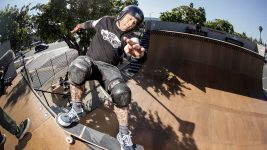 Skate Helmets & Protection SS20
There's never been a better time for retailers to get serious about selling protective gear. 2020 Skate Helmets & Protection Retail Buyers Guide by SOURCE Skateboard Editor Dirk Vogel.
"With the Olympics coming up and skateboarding becoming more mainstream and inclusive, the number of new skaters is definitely on the rise. Having the right protection gives someone just starting out the confidence they need to get rolling," says Yana Farrally-Plourde, Director of Marketing & Product Development at Triple Eight and 187 Killer Pads. "Speaking with a local core shop today they recently brought in helmets for the first time and within two weeks they're sold out," said R.P. Bess Global Brand Director at Pro-Tec. The main price window for a certified, pro-level helmet is trending towards €49.99 right now, but brands like Bern and Pro-Tec are offering solid beginners' helmets around €34.99. A decent combo of knee and elbow pads retails at €29.99 while premium pads by 187 Killer Pads and TSG models featuring smart ACF impact foam can run from €79.99 to €119.99.
Preparing for the 2020 season, retailers need to watch the following 3 Major Trends in Pads and Helmets:
CERTIFIED PERFORMANCE
Consumers are becoming more educated about certified protective gear. And Nadja Herger, Marketing/Communication at TSG pointed out: "With the new PPE Regulation (EU) 2016/425 dealers are responsible to prove that the protective gear they sell is tested and certified." Brands are supporting retailers with the necessary documentation and by adding certified versions of best selling models to their 2020 collections. Triple 8 introduces the Certified Sweatsaver helmet, while Pro-Tec has achieved CE-certification for the new Old School Cert model. Watch out for safety seals such as EN1078, CE, ASTM, AS/NZS 2063:2008, and CPSC.
LIGHTWEIGHT PROTECTION
"We've seen the market trending a lot more towards lighter, less bulky protection," said Tobias Dray, Brand Manager at REKD pointing out the Ultralite In-Mold Helmet. Yana at 187 Killer Pads, who perfected 2020's Slim Knee pads over the past three years, confirmed: "Keeping things to a minimum is definitely trending at the moment. Our new Stealth Hardcap Elbow pads have a hard cap fitted under a Kevlar exterior that doesn't slip down."
GROWTH AMONG KIDS AND WOMEN
Young shredders need protection. REKD sell a kid-specific Heavy Duty Double Pad Set for €23.95. Meanwhile, TSG is offering big protection for little shredders with, "the Force III vert kneepads in a Youth version. These are by far the most protective skate knee pads for kids on the market." Pointing out the second major growth market in skate, R.P. Bess at Pro-Tec said: "We're really loving the growth of women in skateboarding. They're ripping harder than ever!"
HELMET DESIGNS: SOMETHING FOR EVERYONE
From downhill helmets to classic skate helmets, consumers have never had more helmet choices. Despite all the variety in terms of shapes, next season's biggest seller remains the classic half-shell helmet with models such as the Old School Cert (Pro-Tec), Macon (Bern) Evolution and Meta (TSG), Certified Sweatsaver (Triple 8), Ultralite In-Mold Helmet (REKD), and Classic 2.0 (Sandbox). And to make skate helmets last all year, Bern has added "cold weather liners to be worn on colder days allowing enthusiasts to stay out there longer!"
HELMET TECHNOLOGIES: BRAIN PROTECTION
Brands such as Bern and Pro-Tec are bullish on Multidirectional Impact Protection System (MIPS), while Triple 8 implements MIPS and, "Conehead foam that crumbles on impact and reduces the force." Over at REKD, the In-Mold process fuses high density protective EPS with an extremely lightweight, durable PC outer shell, creating helmets weighing in at a mere 290 grams. At Sandbox, Max Jenke said: "We continue to provide best in class protection with an ABS shell combined with an EPS liner. Our undercover venting on our Classic 2.0 model is a unique, patented air flow system."
HELMET STYLING: BACK IN BLACK
Much like skateboard shoes, the dominant colour for helmets will always and forever remain black as night. At Pro-Tec, matte black is the biggest seller, but R.P. Bess is also stoked on flashier models like the Hosoi Black Flace Full Cut Cert, Skeleton Key Old School Collab, and the Volcom Collab. While REKD is seeing success with earthy colours, Triple 8 has some popping colourways like the red glossy Certified Sweatsaver and a Tony Hawk pro model with minimal graphics, while Sandbox sells a killer black-on-black camo pattern.
PAD DESIGNS: FREEDOM OF MOVEMENT
Protective pads follow the overall trend toward lighter safety gear, yet without compromising on performance. Many brands implement viscoelastic foams in their pro range pads, including TSG's Arti-Lage soft foam that adapts to the wearer's anatomy. Also at TSG, Nadja Herger announced a new product specifically for the current Surf Skate trend (see Special Report in this issue): The Wavesk8 Kneepad. Triple 8 decided to address the question of how to lug all that safety gear to the session with the Triple 8 Mesh Backpack.
Highlights
Growth in kids & women's
Lightweight protection
Mandatory certification
MIPS helmets
Surf skate kneepads