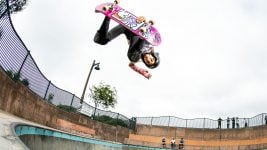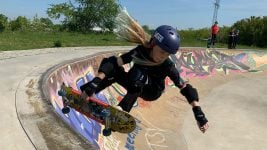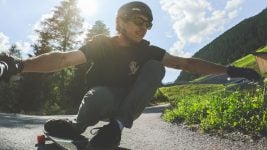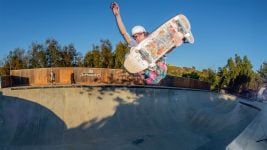 Skate Helmets & Protection SS21
Instead of suffering whiplash from coronavirus, skateboard participation is booming. Here's how to keep all those newcomers rolling safely in our Skate Helmets & Protection Retail Buyers Guide 2020 by SOURCE Skateboard Editor Dirk Vogel.
The year 2020 keeps dishing out surprises left and right. After skateboarding's Olympics debut was cancelled due to the global coronavirus pandemic, industry insiders feared for the worst. But as it turns out, the outbreak has actually triggered a new boom period for skate participation. "We were already seeing a growth in the category, but with coronavirus and the rush to get outdoor sports equipment to keep kids and families active while quarantined, there's been a spike," said R.P. Bess, Global Brand Director Pro-Tec. While team sports and gyms remain shut down, skateboarding offers some much-needed escape. "With enthusiasts making the most of the limited exercise time during the lockdown and looking to get out on their boards, bikes and other sports, we've seen an increase in the demand for protection gear," said REKD Protection's Toby Dray.
In contrast to previous boom periods – like 1999's Tony Hawk's Pro Skater videogame effect – this time it's not just young kids getting on board. Hip and fashion-minded tweens and entire families are (re)discovering skateboarding. According to John Phaneuf, Director of Global Sales at Bern Helmets, families are looking to "get back outside and ride to stay in shape but also as a healthy and safe way to navigate through the pandemic." Speaking of safety, quarantine measures have also sensitized consumers not to strain their healthcare systems. "Nobody wants to go to the ER for a sport related injury, so people seem to be wearing helmets and pads at an increased rate these days," said Noah Todaro, Marketing Coordinator at Triple Eight Helmets/187 Killer Pads.
MARKET & PRICE POINTS
Brands in the helmet and protector segment are already noticing the effects on their order sheets. "After initial uncertainty, we were surprised by a real boom. April and May were top months for the sale of helmets and protectors," said Rudolf Herger, CEO at TSG. But keeping in mind the current drought in skateboard hardware, will retailers be able to meet surging demand? For now, the good news is that supply levels appear secure. Although many leading brands reported supply chain squeezes earlier this year when China first shut down, everyone has been strategic about creating extra inventory. This includes increased manufacturing, but also carryovers of last season's bestsellers; which is not inherently bad and perhaps a welcome break from the pre-crisis obsession with newer-better-faster refreshes. Brands are also shifting their sales support for retailers online, and Sandbox Brand Manager Joel Giddings said: "We won't be doing any tradeshows or road travel for SS21 sell-in, so the majority will be via email, zoom, and phone."
Despite strained supply chains, price points remain stable. "We're continuing with the same pricing we've had for years, €40-50 in bike and skate helmets," said R.P. Bess at Pro-Tec. While full-feature helmets can retail for up to €100 and pro-engineered knee pads command similar price points, beginners have access to certified helmets and pads at comparatively low prices. As Noah at Triple Eight said: "Our top-of-the-line helmet, The Certified Sweatsaver, retails for $59.99 and our most popular padding 3-pack for $34.99, meaning you can get fully protected for under $100." When it comes to making a strong sales argument, here are three things for retailers to keep in mind:
Fit is everything. Retailers need to know how sizes run for each brand. Perhaps also encourage customers to measure head sizes at home before try-ons in store (less gear to disinfect). And always focus on fit. This is where core retailers have a big advantage over chain stores, which for Nadja Herger, Marketing Manager at TSG, are the reason "people believe a poor fitting helmet is how these helmets should fit. This is a huge misbelief and at the same time a great sales argument for skateboard shops. If they offer good helmets, they can easily convince their customers, why they should not buy PPE at discounters."
Understand personal needs. Skateboarding is a broad church these days, from cruising to vert to street and downhill. Shops need to assess every customer's individual skill level and goals before recommending protectors – all the way to the pro rider. "187 Killer Pads are typically for the more experienced rider, and you can wear the same exact knee pad most pros use for $99.95," said Noah at Triple Eight. Nadja at TSG is on the same page: "All our Pro Skateboarders ride exactly the same products that are available in the shops. There is no better sales argument than to say: 'You can actually buy (pro rider's name) knee pad.'"
Think combos. Protection never stops with helmets. And while combination sets of wrist guards, elbow and knee pads used to be the domain of young grommets, brands are increasingly offering adult protector sets (also at cool prices). Adults understand that a single Mr. Wilson – the kind of slam where the board shoots out underneath your feet – is all it takes to sideline a wrist or elbow (and their keyboard typing capacities) for weeks. "Protection is very important, especially for new riders. They're the most susceptible to taking those spills as they learn to ride a piece of wood with four wheels under it. It's also good habit to get used to, wearing a helmet while participating in the new sport," said R.P. Bess at Pro-Tec.
HELMETS: CERTIFIED PROTECTION
First things first, core retailers need to lead by example and carry only certified, quality helmets. In 2020, brands featured in this Buyer's Guide comply with certificates such as EN 1078, EN 1077B, CPSC, CE, ASTM, and AS/NZS 2063:2008. As Joel at Sandbox said: "Safety certification is a must have for us. This can possibly lead to a higher cost versus some brands who sell helmets without certification to hit a low price point, but we feel it's important." Also demand helmets featuring ABS (Acrylonitrile Butadiene Styrene) in the outer shell with high density EPS (Expanded Polystyrene) for the inner mould and keep an eye out for advanced impact protection tech such as MIPS. Triple Eight is proud of the Certified Sweatsaver helmet, which is actually dual-certified (U.S. CPSC Bike and ASTM Skate safety standards). TSG just dropped the Nipper Maxi, a light In-mould helmet for kids featuring secure, adjustable fit options.
HELMET DESIGNS: LIGHTWEIGHT AND COOL
Brands are stepping into 2020 with reengineered takes on proven helmet models. Updates include less weight, like the 15% lighter Macon 2.0 model from Bern. The Macon 2.0 also features twelve vents to keep cool, which is the second big trend for summer helmets this year, including the Legend model from Sandbox and new Sweatsaver-equipped Tony Hawk model from Triple Eight. For the latest in head protection, choose models such as Macon 2.0 (Bern), Meta and Evolution (TSG) Classic 2.0 and Legend Street (Sandbox), Certified Sweatsaver and Tony Hawk Pro (888), Elite 2.0 Helmet (REKD), as well as Classic and Full Cut (Pro-Tec). In terms of cuts, low profiles like the street-ready Sandbox models are on the rise. Visors are disappearing from core skate helmets, but full-cut helmets with ear protection continue to trend, including Pro-Tec's flashy Mark Gonzales Flames model and Signature Full Cut for 12-year old skate phenom Sky Brown.
HELMET STYLING: BRING IN THE COLOURS
Speaking on colour trends, Pro-Tec's R.P. Bess said: "Black, Black, Black are the three bestselling colours still. But we've added some pop colours for Spring." Standouts at Pro-Tec include tie-dye patterns and a collab with '90s skate brand The New Deal. TSG offers the Evolution model in a number of cool finishes from psychedelic, to firecracker and luxe metallic finishes. S1 Helmets teamed up with Girl is NOT a 4-Letter Word to recreate a 1970s helmet colourway worn by pioneer Cindy Whitehead in the S1 Lifer model.
PADS: ENGINEERED FOR MORE PROTECTION
The attitude towards pads us changing, and brands are using R&D to evolve their collections. "Padding is making a comeback – beyond learning to knee-slide and needing beefy quality pads to skate transitions, it's not viewed as uncool anymore to wear wrist guards or keep some coverage on your elbows," said Noah at Triple Eight pointing out the brand's new Kevlar-coated Stealth Hardcap Elbow pads initially made for derby athletes. Toby at REKD is stoked on the introduction of a new material in Ramp Knee Pads and Pro Ramp Knee Pads: "Energy Foam is a non-Newtonian material that stiffens and becomes rigid during an impact but is flexible in its natural state. Our Energy foam disperses up to 75% more impact energy during compared our standard high-density impact foam." At TSG, Nadja points out the performance of ACF foam, that is "flexible and soft in the normal state but when met with impact the molecules form a hard, protective shell." TSG also implements Arti-Lage soft foam that absorbs up to 95% of impact energy and a double amount of foam in the Kneeguard Force V Pro, "the safest Mega Ramp pad ever."
PAD DESIGNS: BETTER FIT, MORE COLOURS
Skateboarders today come in many shapes and sizes, and the pad offering is finally becoming more diverse in terms of fit. After three years of development, 187 Killer Pads is launching Slim Knee Pads for, "the perfect balance of mid-weight protection, flawless fit, advanced features, and a low-profile design" including a Fusion groove Channel with Memory Foam System. Several brands also offer flexible soft protectors for low-impact riding styles like surf skate. On the other side of the spectrum, hardcore scenarios like downhill longboarding call for extreme protection, answered by pads like the TSG downhill pads Kneepad Sk8 DHP. Another aspect that's becoming more diverse: Pads are no longer limited to drab black-and-gray colorways, with splashes of colour and cool patterns hitting shelves across the board.