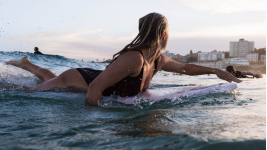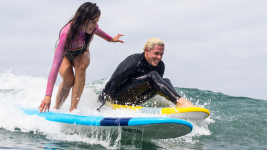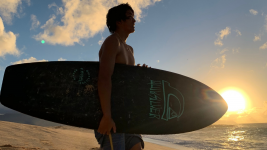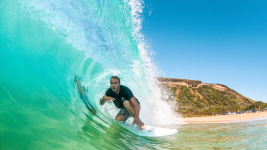 Who would have thought that a "softening up" of the surfboard sector would actually be good news? In record time, the new generation of softboards have captivated all audiences, from beginners to top pros, united under the same simplistic 'fun factor' concept. With this very first Softboards Buying Guide, Boardsports SOURCE will help you serve up the perfect foams at your counters. By David Bianic.
Long-since associated with beginners and surf schools, foam boards called soft-tops or softboards, were always looked down upon by core surfers. Going from the ultimate kook board to a must-have for everyone's quiver, this flexible board has opened up the scope of the discipline for customers, and for businesses. For the boss of Euroglass, Darren Broadbridge, who produces the Foamrider Collection for Quiksilver Europe and Roxy, "the sport is still enticing people into the water at an alarming rate!"
Split into two distinct sub markets – beginners/schools and good surfers – the softboard categories feed off of each other, as is the case for example for Softech who show to be both "absolute leader with surf schools (beginner boards) and retail (performance boards)," says Hannah Craig, Marketing Assistant at Surf Hardware International (FCS, Gorilla, Softech). Not a month goes by now without a new brand popping up and, after the astronomic rise of the sector, a skimming phase is sure to follow, predicts Sharen Alcock and Thomas Konen from Spooked Kooks Australia: "In any market segment where rapid growth is noted, a logical response is a massive attack and input of competitors. Between all that debris comes forth the best and most innovative. It's a logical and natural leap forward in an emerging business." Care must also be taken to avoid paying the price for any mistakes made, warns Caren Forbes from NSP to "not repeat the damage that the cheap inflatables did," making a comparison to the SUP market.
BOARD DESIGN
As mentioned above, the softboard market is divided into two main categories: mid-sized boards between 7 and 8ft with really mini mal type shapes aimed mostly at beginners and surfers who are learning, the other being radical micro shortboards that require a decent standard of surfing. "There is a market for every size from under 3ft to over 12ft and beyond," assures Andrew Mencinsky, Brand Manager at the Americans Boardworks. But for the core retailers, beginner softboards are not actually the most interesting category, except perhaps to offer rentals and/or to have a surf school. Purchases of these mini-mals are driven by a floor price that is on offer either at the big box sport shops (Decathlon with Olaian) or from the "pseudo-brands" with somewhat foggy ancestry. No, the real lever for surfshops centres on high-performance shortboards. "Short, fat fishes are the real movers," affirms Darren from Euroglass because "they suit the conditions that the foamy excels in," while sometimes it's a case of "image over functionality" adds Caren from NSP.
One of the keys to the success of softboards "for good surfers" resides in the choice of fin systems. Underpinning your brand with a reputable system, such as FCS or Future Fins, is both buying into authenticity and validating the technical dimension of these foamies as well as offering customisation to clients like you would on a classic "hardboard". At Softech, offering an FCS system as standard is a massive plus with all boards being mounted with FCS Softboard fin boxes that can hold any FCS II or FCS I fins (with adaptor). Another example comes from Boardworks whose boards have Future Fins fin boxes, "which automatically gives our boards a performance edge," assures Andrew Mencinsky. Targeting a niche at the foamie top-of-the-range, Mick Fanning Softboards are offering both FCS and Future Fins, relates distributor Xavier Barjou (Surf Odyssey-Rip Curl Surfboards). The same goes for the French guys at Notox who are taking it even further, able to equip their Korko cork Softboards with any existing system since "this is the advantage of manufacturing custom boards with our own patented processes." But many others prefer to talk about 'compatibility' without signing an exclusive partnership with one of the two big guns of the fin market, which would add to the price. "We have created our own fin box system from recycled plastics that hold both FCS I and FCS II fins," say Spooked Kooks Australia.
CONSTRUCTIONS
Under their tangy candy coating, what are softboards hiding? This is often a mystery but behind the EVA skin common to all brands there can be pretty advanced technologies. So what makes a good quality construction? "That the board is stiff and easy to ride", responds Alain Riou, ambassador for Catch Surf. Yes but what else? "A board that doesn't take water, that floats well and doesn't over flex," explains Darren from Euroglass. More technically, the best constructions are made up of "EPS Core, wood composite layer and epoxy fibreglass covered by a soft deck and slick, the perfect mix between durability and performance in terms of softboards," expands Benoît Brecq at Madness Softboards about the HD Core construction. This technology is common in the bodyboarding world, a sector that Napco Global (softboards Mullet and Softlite) master to perfection as Lionel Franssen, World Commercial Director demonstrates: "It's like bodyboards, you have different kinds of core, some are softer, some are harder, some are for cold water, some are for warm water. Stringers have a big role. You don't want your board to flex. Then the slick is super important too, you have High Density Polyethylene slick, you can add "mesh" under it (carbon), which makes it stronger. Decks are mainly in IXLPE."
PRO-MODELS & DECOS
By applying the recipes inherited from skateboarding and snowboarding, some softboard brands have hit the jackpot – partnering with renowned surfers for their pro models and/or offering innovative graphics has proved to be an enormous lift to the explosion of the softboard market. Catch Surf set the tone and are still full steam ahead: "JOB, Kalani Robb, Taj Burrow, Blair Conklin, Johnny Redmond, Tyler Stanaland, Julian Wilson, Noa Deane, Sierra Lerback, Harry Bryant, Beau Cram… do you want us to go on?" rejoices pro-catcher Alain Riou. "Colour is our weapon," continues Darren Broadbridge about the Foamrider Collection at Quiksilver and Roxy, leaning towards zebra prints and flashy pinks combined with black. These aesthetic biases sometimes also have a practical use, as Hannah from Softech points out: "Every size has a different colour to be able to identify sizes in both retails and surf schools."
Conversely, Catch Surf are also offering a series of models called Blank, all white or all black, to customise yourself, or not!
Collaborations don't just stop at pro surfers though, an international-level shaper has signed a partnership with Mick Fanning Softboards in the form of triple world championship winning shaper, Darren Handley with the DHD Twin and DHD Black Diamond models. It's the same idea at Catch Surf and their collab with …Lost, who are releasing a soft version of the RNF (Round Nose Fish) model.
DISPOSABLE BOARDS?
Already not brilliant when it comes to classic "hardboards" (despite all the best efforts), the environmental impact of softboards is at first glance pretty mediocre, they are seen as disposable, ending up in the bin after being smashed up by the shore break. Wrong? "Yes it is, which is funny as the soft is way less disposable than a standard shortboard. The foamie can be used for 10 years each summer for all the family," asserts Darren from Euroglass, putting forward the equation "Price x Manufacturing Quality." Andy Wirtz, CEO of Norden Surfboards in Germany, is on the same page and assure foamies can be "very durable: they last most rental places for at least 3 seasons and pretty much surf like a normal surfboard." As far as constructions are concerned, he doesn't see either that much of a difference between a softboard and a regular "hard" surfboard, teasing their new softboard construction: "Not to tell all the details but we basically wrap an eps/epoxy surfboards in a full eva deck with a slick bottom with built in nose- and tail pumpers."
Brands such as NSP are proudly displaying their Ecoboard label granted by the Sustainable Surf organisation thanks to their EPS moulding technology, a waste reduction policy and their use of bio resin: "NSP Softboards are built to last 3-5 times the lifespan of the average foamie, this comes at a premium price, but it's still cheaper than replacing 3-5 foamies," explains Caren Forbes. There's even an Ecoboard Gold label bestowed on Notox's Korko range, "making the Korko the only softboard to reach such a high level in the world," proclaims Pierre Pomier, CEO and Co-founder. At Spooked Kooks Australia, all the plastic materials in the board come from recycled sources and so in turn are recyclable themselves: "we offer a 10% discount on your next spooked kooks board purchase if you return your old and used board to us. The best way forward is to maximise the lifespan of these boards, in the same vein as the programme set up by Softech in the United Kingdom with the Surfers Not Street Children association, bequeathing boards that are used but still surfable to the cause.
For retailers, the disposable nature of softboards is a commercial windfall on one side and a moral dilemma on the other. To create sustainable commerce, the surfing community has to make actions tally to its words. It's up to brands to make the punk-fun image of these boards combine well with eco-conscious manufacturing: Live Fast, Die Young Old!