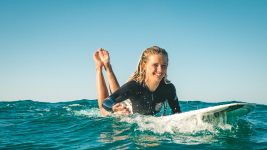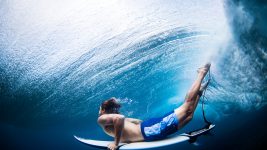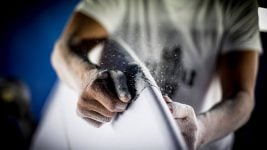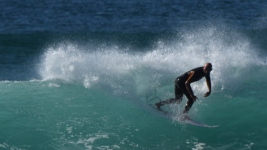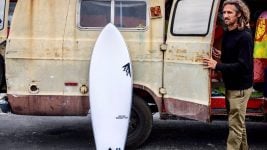 Now that the spring has arrived, surfers are coming out of hibernation and suffering from an irrepressible longing for new board(s). Historical brands, labels from champions, underground shapers, traditional and avant-garde technologies: there's a hell of a choice, and even more so for retailers. By David Bianic.
With our heads firmly stuck inside the resin, it's sometimes hard for us to describe the European market as it really is. Seen from the southern tip of Africa: "Europe on the whole seems to be split across many different segments", reckons Craig from Hurricane Surf. A throng of board families, as well as segment players is what Nuno Viegas from Glassing Monkey in Portugal points to: "Too many brands are appearing in the market so we need to focus on the ones that really made history."
In addition to low-cost boards from Asia, Johnny Cabianca and Mikel Agote from Basque Country Surf Company highlight a new trend in Europe and that's "garage surfboards": "There are more and more small workshops popping up all over, even in landlocked countries like Austria, Germany etc." So it's not so much a case of the market showing signs of weakness but more of an increasing expansion in players, which is a logical progression given the growing number of participants and demand for alternative shapes, subscribing to the philosophy of being able to ride anything.
SHAPE TRENDS
An undisputed best seller in recent years, the hybrid shortboard now has competition with the new wave of performance twin fins: "We have seen a twin fin madness in 2018, ridiculous", states Jaime Azpiroz, Product Manager at Olatu (Pukas, Channel Islands, …Lost, Bob McTavish, Christenson Surfboards, Indio Surfboards). Even labels already associated with high-performance such as Basque Country Surf Co. have kneeled to the demand with the Uber Twin (Cabinaca) and the Txitxarro Twin (Agote). Firewire have also been taken by surprise by the growth in demand from within their range and Mark Price admits to having "completely underestimated the demand for the Tomo Hydronaut Step Up because historically it's been a relatively small niche in the overall market." The brand has also noted great success with alternative models such as Cymatic, Go Fish, Seaside and Helium Evo.
This simplified surfing also finds a free means of expression within softboards (read our Softboard Buyer's Guide on page??), where one of the keys to success resides in the unrestrained approach to graphics. This artwork isn't just reserved for them though, with Jonathan Bunel from Surf Designs & SilkOnBoard offering customised graphics on their "hardboards" through prints (up to 600dpi) on woven silk fabrics inserted between the foam and the glass or even on stickers.
But let's not count out the good old high-performance shortboard right away. For some shapers, it's even formed a philosophy: "It's our world. We will maintain in 2019 our bet on the high performance boards", assures Nuno Matta whose three best sellers are testament to this (pro-models J5 from Jadson Andre, TLX from Travis Logie and SMP2 from young Sam Piter). Pyzel are also associated with high-performance shapes through the results of a certain JJF and the brand are taking care to adjust them to suit different countries: "We are a high performance company but our Ghost family (Ghost, Phantom Gremlin and now Shadow) are unique in that they are high performance boards tuned to different waves." At UWL in France they can confirm this "return to the performance shortboard adjusted for European waves: a little wider and more accessible but using high-performance materials (carbon, resin, fins)", says Thomas Cardinal.
In contrast to these fireballs, we can see a return of 9 footers and over onto shaper racks, supported most notably by the WSL circuit's new investment in longboarding: "I am sure with the audience the WSL has online it will be good for longboarding", surmises Andy Wirtz, Director of Norden Surfboards in Germany. This return to force is confirmed by Surftech, as revealed by Kerry Powell, Brand Manger at Jorcani Sports, distributor of the US brands since the end of 2018: "Longboards are taking us by storm currently but we know with the new Gerry Lopez offering about to hit that's going to take off."
No surprise then that the Heritage longboard of Phil Grace features in the top 3 sellers at Euroglass, alongside a shortboard, namely the One from Bradley, surfed by Leonardo Fioravanti on the WCT. Also amongst the best sellers at Venon, the Longsoul longboard owes its success to its versatility, affirms Benoît Brecq in marketing.
After the success of performance twin-fins, we are seeing a certain number of shapers getting their '80s shortboard templates back out, having been revised for today's tastes. This is the case for the Heritage Series signed by Simon Anderson, "retro style '80s inspired with flyer or double flyer featuring flatter rocker, vee bottom, thicker nose and tail with a flatter deck", describes the master shaper.
CONSTRUCTIONS & ECO-CONSTRUCTIONS
To our great surprise, this year there are many who are breaking a taboo, that of boards Made in China: "To make a tech EPS board that is commercially competitive in Europe is virtually impossible", affirms Euroglass Manager Darren Broadbridge. This is a reality that Mark Price from Firewire joins him on: "As more and more surfboard brands offer increasingly technical surfboards, and also find themselves locked in to the fairly static retail price points, most of them are going offshore to fit within that narrow business construct." Andy at Norden has had enough of people hating on Asian manufacturers and stresses that if you ensure production "at the right factories you can make some incredible surfboards in all kinds of constructions." There are also many who share manufacturing between local production for experienced surfers and then distribute Asian boards for retailers who "need price point products with 1.8 mark up", reveals Xavier Barjou from Surf Odyssey.
The alternative solution is to open your own production unit, a choice that isn't within everyone's means… "We decided to sign with the new French factory One-Kin which developed an original construction based on recycled and eco-friendly products (EPS core is 40% recycled and the Epoxy resin is 60% organic based)". Explains Sylvain Aurenche from O'Neill Boards who are selling an eco-friendly performance board in epoxy for €599. Olatu are also investing in a spanking new factory in Zarautz (after the fire in their factory in June 2017). Finally Firewire are hitting the top level by announcing a Fair Trade award for their factory in 2020, the first one in the world, surpassing the ISO9000 and ISO9001 standards already in place. The brand are also stating their zero waste objective for 2020 after having reduced their waste by 95% per board in the last two years. Impressive.
While EPS continues to gain ground, it's still pretty marginal in relation to overall sales volumes dominated by PU boards. Nevertheless, it's actually still EPS that is boosting innovation while "one of the keys remains flex and torsion" says Thomas from UWL. And so this is the goal for the new Injection-Tech construction from Surf Tech whose parabolic basalt reinforcements go through the foam from the hull to the deck, reducing resistance into torsion for "more flow through the turns with a more drawn out turning arch", explains Kerry Powell.
Among the other innovations, we should mention the carbon strips on the front of the One model from Christian Bradley (Euroglass), designed mostly to suit modern surfers where they often find themselves with the tail above the lip, pushing on the front foot. At Chemistry, the Flextronic technology isn't going unnoticed with its big X across the board: the idea is to insert a vinyl slat with shape retaining memory within a PU foam (two flex ratings to choose from) and glassed in epoxy in order to preserve the "pop" of the board over time.
Also highly anticipated is the Woolight technology from Firewire that allows fibreglass to be replaced by a wool fabric from a sustainable source in New Zealand. At Simon Boards, flax fibre stratification makes its appearance alongside CR-Flex II technology (double carbon stringer to manage the flex/torsion combo). At Olatu, INN-CA (Pukas) and Spine-Tek (Channel Islands) technologies have found a choice promoter in Mick Fanning. The newly retired surfer from the CT selected these constructions as n°1 and n°2 in the latest "blind test" contest, Stab in The Dark. Venon are rejigging their epoxy construction into carbon-bamboo, which is on offer in their performance best sellers, much like NSP who are releasing their CocoFlax technology onto one of their most successful models, the Hooligan longboard. As a reminder, this construction combines layers of bio coconut fibres (CocoMat) and flax fibre reinforcements on the rails (CocoFlax). Finally, Torq are making a significant leap forward in the EPS/Epoxy manufacturing process with their ACT construction. The innovation resides in materials called "Pre-Pregs", fabrics that are mechanically pre-impregnated with resin applied by heat under pressure: "They have the weight of a light glassed PU but exceptional strength to weight," assures Sebastian Wenzel, General Director, before adding that this is "a super clean low waste process" given the absence of any surplus resin and a "Re-flex" effect, a return of energy that ensures a bounce back when pushed, reinforced by unidirectional carbon strips.
With all this great diversity of design and construction, one fact for retailers to remember is an obvious one: the best "head of purchasing" is still the customer. Surfshops have to stay in tune with the local environment, i.e. wave conditions and standard of surfer, and sometimes they need to turn their back on boards that are really appealing on paper. A choice selection of major international labels and local newcomers is a good way of offering shapes and prices that cover the mainstay of demand. For the good weather, we can always pray.