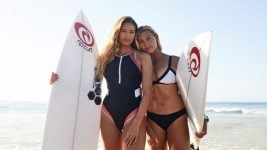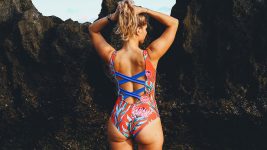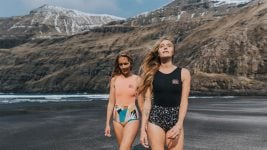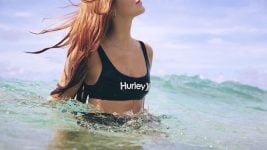 The recent boom of the fitness industry, affordable international travel and increased body positivity has had a major impact on the women's swimwear market. Report by Ruth Cutts.
We're seeing an increasingly inclusive offering from the major swimwear brands with more plus size options and diverse textures and shapes than ever before. The notion of the 'ideal beach body' is on the way out, the notion that the beach is for everybody is well and truly in for SS20. The seasonality of the women's swimwear market also appears to be a thing of the past with consumers seeking out warmer climates throughout the year.
MATERIALS & DESIGN
SS20 is all about textures and thoughtful details as a point of difference. For Zealous, it's the inclusion of a stylish textured, black knit fabric in their 2020 summer offering which ensures that they're tapping into this trend. Body Glove have included a ribbed fabric in their Ibiza Group collection and Billabong are including a contemporary wavy fabric, chunky rib, ruffles and a one-piece option with a fashionable belt in their SS20 range. O'Neill are bringing a feminine charm to their collection with intricate lace detailing and a mini floral print to evoke a 70's Californian charm.
Volcom are including thoughtful details that elevate the familiar swim silhouette including ruffles, braiding and tunnels/casings and for Brunotti it's all about lace, jacquard, luxury textures, velvet and rib fabrics. Roxy's SS20 swim collection is a celebration of all things beach culture with the use of premium fabrics and lush textures alongside a range of matching go-to accessories to make every day at the beach a practical one.
Protest are going crazy for fabrication techniques like seersucker (that has a ruched appearance) and smocking where embroidery is used to gather the fabric together which makes it stretchy and creates a flattering look – having a thicker fabric makes the skin look smoother and means there is less of a need for bust cups which is a popular option for consumers.
Subtle details and diverse fabric textures can provide a welcome difference from the traditional Lycra options that have dominated the swimwear industry for years.
COLOURS & PRINTS
Many brands are turning to nature for their colour palettes with earthy tones taking centre stage for Billabong and Boardies. Hurley have chosen to collaborate with a number of sources in their swimwear offering to create a dynamic and exciting range that crosses over with their wider apparel collection and links to their heritage as an American brand. For their 'Lava' collaboration they worked with renowned water photographer Clark Little to depict the beauty and power of Hawaiian nature and they worked with Hawaiian designer Sig Zane on certain products who helped design fresh, colourful and floral prints paying tribute to the Hawaiian culture. In addition, they partnered with Pendleton Woollen Mills to celebrate America's national parks. Through the collection, Pendleton and Hurley proudly support the work of the National Park Foundation to protect and enhance America's treasured places. This season, the collection is dedicated to the Crater Lake National Park in Oregon.
Hurley aren't the only brand taking inspiration from their surroundings. Bower recently moved from their base in South-West France, and on their way to their new home they spent some time in Cavalaire-sur-Mer on the East coast of France. The kitsch and colourful vibes of this classic seaside resort inspired their SS20 collection so expect lots of loud colours and bold prints.
Similarly, Zealous have always been inspired by their home base of Bali and its surrounding islands and therefore try to integrate tropical artworks such as their hand painted Monstera pattern and vibrant fauna prints.
The big inspiration for Body Glove's SS20 line was bold colours. Having the chance to travel around the world is integral for the brand so fruits, palm trees, tropical leaves and florals are a big part of their aesthetic.
For Protest, prints are taking their place front and centre this season. The front print is in! Loud and proud, you'll be seeing placed prints all over their collection with text also being used to add some quirky fun to their designs.
O'Neill are also choosing to be bold in SS20 with animal prints (leopard, zebra) and bold multi-colour stripes making an impact. Volcom are bringing a stylish tie dye print sitting alongside their conversational tropical print and Rip Curl are channelling retro vibes with their Beach Nomadic range which takes inspiration from the liberty floral print of the 70s. This theme is a subtle mix of the abstract Matisse style, with the mini floral print working well alongside the new and on trend spritz orange hue.
SHAPES
Consumers are looking for crossover products to enjoy the great outdoors in and the popularity of hybrid pieces such as surf suits, neoprene bikinis, surf leggings and rash vest swimsuits all signify the influence of the booming fitness industry today. They are also a versatile option for consumers allowing them to wear the same garment on the SUP and in the yoga class without it looking out of place.
Although the watersports market is still dominated by participation from the male segment, female participation is on the rise thanks to the increase in overall water-sports popularity and awareness of its health-benefits. More women than ever before are partaking in activity excursions with surf holidays, yoga retreats and SUP trips on the up. Women are therefore needing swimwear that provides support and assists these sporty pursuits. Picture used their expertise in wetsuits to build a crossover product that sits somewhere between swimwear and a swimsuit. Marie Cadars highlights that the brand's goal was to "combine surfing and the adventurous spirit for those seeking the perfect wave, looking to share the authenticity of travel, or diving fully into nature's wonder".
For Zealous, their Cowabunga and Signature Tops are ideal for surfing and work perfectly for yoga and the gym at the same time. These versatile, sports bra style tops have been the preferred choice for active women throughout the previous seasons and will feature heavily in SS20. Zealous use a lot of bar tacks in their bikini tops to ensure that they last as long as possible, even under heavy usage. Their Mermazing and Kahuna Tops, which are available up to cup size G, have increasing underbust band widths and a third layer of fabric for even more support for bigger sizes.
The SS20 Roxy Sister Collection is all about athletics. It features modern pop colours on sporty cuts, with bold logos on premium fabrics. As Influencer and Partnership Manager Alena Jeangrand explains, "the collection celebrates the bold contemporary ROXY girl."
O'Neill's most popular bottoms shape is their Maoi range which feels like a second skin in the water and even provides a flattering 'butt lift' effect for the wearer.
In 2020, Hurley will present a new collection which will offer different levels of support and compression making it easy to find the perfect piece of swimwear adapted to a range of activities. The entire line is also made of a quick-drying fabric making it ideal to go from the beach to the street in a flash.
The humble one-piece continues to make waves in the swimwear industry in SS20; Patagonia's selection of Nanogrip swimsuits offers great function in the water whilst Rip Curl and Bower also both stated that one-pieces were a big focus for them next season. Other popular shapes include sporty crop tops (Boardies) and high-waisted bottoms (Boardies, Protest) that create a flattering silhouette and provide enough coverage for the wearer to feel confident in the water.
SUSTAINABILITY
As eco-conscious millennials continue to increase their spending power, and issues like climate change, plastic pollution and unethical fashion processes continue to dominate the headlines and public campaign efforts, it's likely that the demand for 'greener' products, will continue to grow. Brands simply can't afford to ignore the inclusion of sustainable practices within their products with four fifths of consumers across the globe believing that companies should help improve the environment, according to a recent survey by Nielsen, and brands are responding with progressive policies and bold commitments.
Swimwear brands want to protect the very environments that they're designed to be enjoyed in so pushing sustainable practices is a key focus for most. Boardies, Billabong, Roxy, Bower, Picture, Patagonia, Rip Curl, Volcom and Body Glove are all using innovative, recycled fabrics within their offering in a bid to offset their carbon footprint and reduce the use of polluting materials. And Zealous have committed to only using biodegradable and plastic-free packaging whilst continuing their self-organised beach clean-ups in Bali.
HIGHLIGHTS
Sustainability on the up
One piece continues upward trend
Swim / gym crossover pieces
Earthy tones big for SS20