Picture Organic Clothing SS20 Women's Swimwear Preview
Retail Buyers Guide: Women's Swimwear SS20
Brand:  Picture Organic Clothing 
Interviewee: Julien Durant, Co-founder 
What are the key trends in this segment for 2020 and how are you serving this in your SS20 collection?
People are looking for crossover products to enjoy their great outdoor adventures. That's why we took advantage of our expertise in wetsuits to build a crossover product, between a swimwear & swimsuit to surf: technical & resistant products, design & small thickness.
Since materials play a big role in a product's lifecycle, we have also improved quality while reducing our environmental impact by opting for alternatives such as eicoprene, recycled polyester, etc.
We have also improved construction, ergonomics, and design to enhance performance and increase confidence in the water
Finally and especially in the women's line, what makes our success is our original prints that we kept again this season!
What have been the major inspirations behind the designs in the SS20 range? 
We were looking to offer an eco-friendly swimsuit surf range for responsible adventurers! Our goal is to combine surfing and the adventurous spirit: seeking the perfect wave, looking to share the authenticity of travel, diving fully into nature's wonder. That's why our team designed a full range swimsuit for surfing, every design thanks to strong prints & without compromise on technicity, keeping also sustainability as our #1 priority.
What style/shape of swimwear is most popular in your range? 
The Diana long sleeve swimsuit is the most popular thanks to its versatility.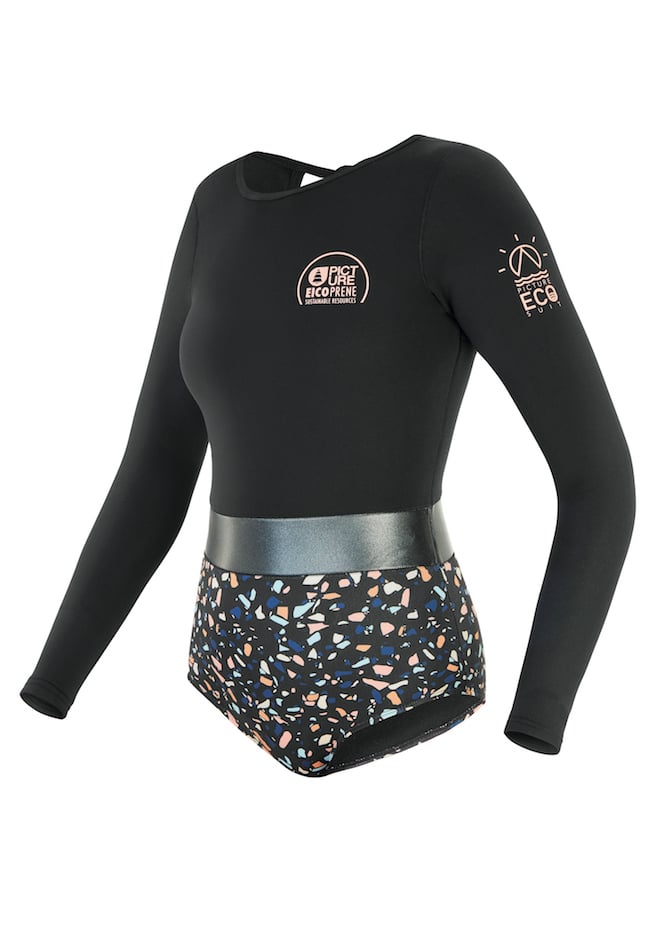 What manufacturing techniques are you working with?
We worked on our Swimsuit line using the best wetsuit features to adapt it into the swimsuit design. For example, we manufactured this line with Picture EicoPrene. We add b-stitched anti-irritation seams which provide ample stretch and are watertight. Several features which provide comfort & freedom of movement!
What materials are you using? Any innovations to talk about?
Since the beginning we are offering eco-alternatives to polluting materials. Along with other surf-industry brands committed to the cause, we would like these "alternative" materials to become more mainstream and contribute to making surfing a much cleaner activity for the environment. Even if Picture is still relatively new to the wetsuit market, we have to show that solutions do exist and evolve over time.
Picture introduces EicoPrene, a foam material that has the same technical features & profile as conventional neoprene. However, there is nothing conventional about the origins of this new material. Whereas neoprene is petroleum-based, eicoprene is made from a mix of limestone (70%) and recycled tires (30%).
Also, we are using polyamide linings made from recycled fishing nets, recycled polyester for the exterior & an eco-friendly water based aquaglue.
What about colour palettes and prints? Any crossovers from other parts of your range?
Concerning colors, we kept the Picture DNA design using original prints & bold colors: Abstral print, with kaki, black & blue colors & the Terrazzo print for women using pastel colors.
Now we are always working with the merchandizing theme to facilitate the products highlighting in shops. We propose full silhouettes using many accessories for each print.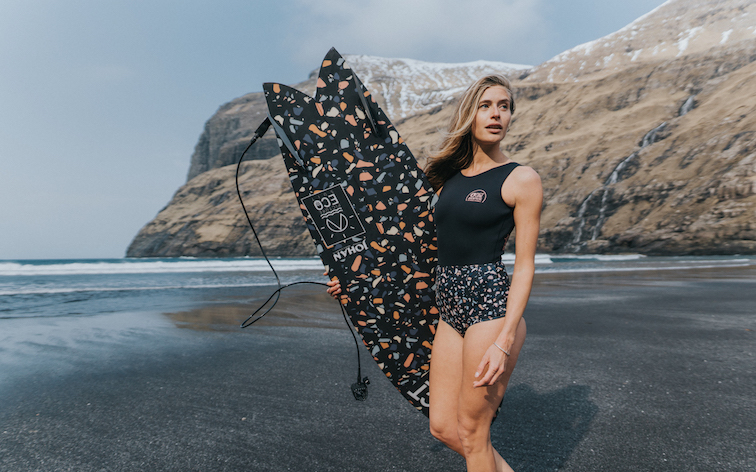 Any exciting marketing campaigns for your SS20 collection?
We are happy to have Pauline Ado in the Picture Family since SS19!
BEST SELLERS
CURVING SWIMSUIT
80% EicoPrene, 10% Recycled polyester, 10% polyamid
Manufactured with Picture Eicoprene Sustainable Resources and waterbased Aqua-a™ glue lamination, the Curving swimsuit is perfect for summer sessions. High bottom and chafe-free lycra provide comfort and freedom of movement.
DIANA SWIMSUIT
80% EicoPrene 10% Recycled polyester, 10% Polyamid
Manufactured with Picture Eicoprene Sustainable Resources and waterbased Aqua-a™ glue lamination, the Diana swimsuit is perfect for your summer sessions and will protect you from the sun thanks to it long sleeves. High bottom, b-stiched anti irritation seams and chafe-free lycra provide comfort and freedom of movement.