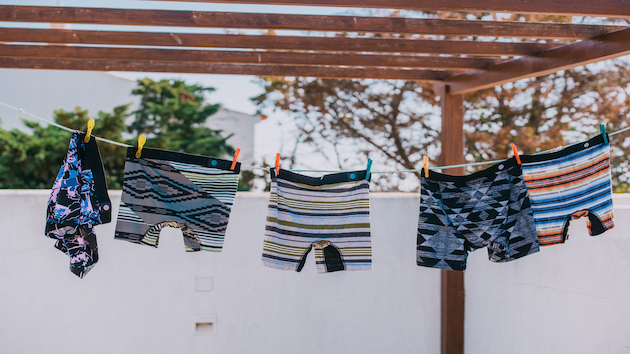 Stance S/S 22 Men's Underwear Preview
Retail Buyers Guide: Men's Underwear S/S 22 Retail Buyer's Guide
Brand: Stance
Interviewee: Rich Philip, Marketing Director
What are the key trends in Men's Underwear?
We're continuing to see some incredible momentum in underwear, our second largest category outside of socks. Covid helped fuel this traction, as we found that our consumers invested more in their everyday basics and those that delivered fit and comfort whilst they were stuck at home.
At Stance we're known for boundless creativity and our underwear programme is one of the best places to see this in full colour! Customers rely on us to bring energy and personality to underwear and we continue to offer a broad range of graphics and on-trend prints and collaborations to our seasonal collection. Whilst this injection of design sits firmly within our brand DNA, we've seen a huge move into our premium basics styles, what we call our Staples collection. These styles are for our purists. Those who like clean lines, understated styles and like the 'Less is More' from a styling perspective.
How are you segmenting your SS22 collection and what are the price points?
We've focused on design, fit and comfort and whilst price is an important factor to our customer base, we've moved away from chasing this and focused more on highlighting features that generate loyalty to the category.
In Q3 2021, we surveyed over 1000 customers around our underwear and we asked them what was the most important factor was when buying new underwear. The number one answer our consumers gave us was "Trust in a brand that has extended their offering to underwear"
We believe in long term growth within this category, offering underwear that last longer, fits better and feels great. The three most important factors our customers tell us they want from their underwear.
What materials are you using? What manufacturing techniques are you working with?
Our standout, hero technology within our range is Butter Blend™. This is a proprietary fabric which we developed and rolled out across our socks and apparel categories here at Stance. It's also one that we will continue to invest in and build equity around in the future. For those of you that know Stance and have tried our underwear, this is the secret sauce that give our underwear that silky softness and comfort.
Describe your POS materials and/or any other kind of support for retailers.
We're continuing to invest heavily into this category. We ran a research project in Q3 2022 and found that consumers wanted more information around underwear before making a purchase. We then went out to some of the biggest ecommerce brands outside of our industry to gain insight on what works best for their customers from an online shopping perspective. From this we've built a programme that will bring far richer product marketing assets and campaigns to retailers over the coming seasons to help them showcase the collection and the technology in the best possible way.
Describe your top 3 products
Helquist Boxer Brief with Wholester and Feel360:
Our patented Wholester™ gives you the right level of support to keep everything in place, no matter the pace. Our exclusive Feel360™ technology provides total climate control: Moisture wicking, anti-odor and 100% pro-comfort. Keep your focus on your work-out, while your underwear minimizes bunching and chafing with mid grade compression. Performance mesh promotes air flow to keep you fresh from warm up to cool down. In between sizes? Order one size up for the best fit. 
Drake Boxer Brief:
Our classic 6″ fitted boxer brief with fly features Feather-Seam™ construction, proprietary Butter Blend™, and an exposed elastic Core-flex™ waistband to ensure maximum comfort.
Marston Boxer Brief with Wholester:
You may put your underwear on just like everyone else, but what you're wearing is a little different. These beauties are made with our supremely soft Butter Blend™ and patented Wholester™ construction to give your VIP its own section with maximum support. In between sizes? Order one size up for the best fit.