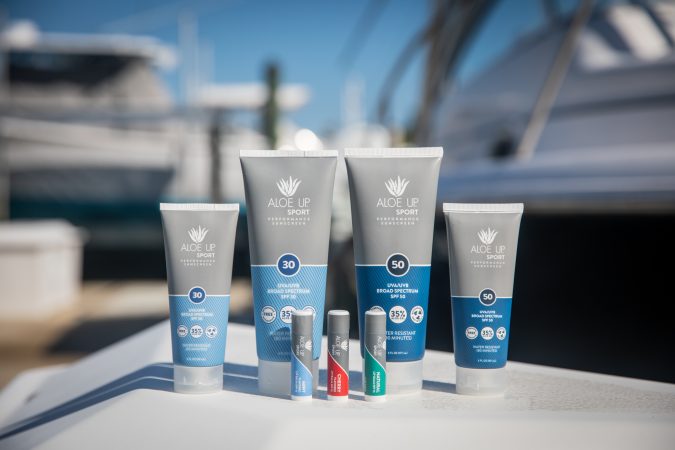 Aloe Up 2023 Sun Cream Preview
Retail Buyers Guide: Sun Cream 2023 Retail Buyer's Guide
Brand: Aloe Up
Interviewee: Kjell Ellefson, Director of Marketing
How do you target the action sports client?
We strive to provide the most comfortable and effective product to our customers. We want them to apply sunscreen and not have to think about it afterwards, that way they are enjoying their sport or activity.
What ingredients are you using? Any innovations to talk about?
We walk the fine line of natural and effective. Our products have what is called a non-water soluble emulsifier. This means that after the product is fully absorbed (15-20mins), if you sweat or get wet, the product isn't going to "un-absorb" and run into your eyes. They are non-greasy so your hands can stay clean and dry when you are handling or adjusting your gear.
How do you address sustainability/eco friendliness in your products?
All of our products are made with organically grown Aloe Vera, are never tested on ani-mals, are reef safe, biodegradable, and have recyclable packaging. We also offer a car-bon offset program that allows our customers to offset their shipping emissions for a small fee, and we are currently redesigning our shipping materials and boxes to be 100% recy-clable.
Any exciting marketing campaigns coming up for your product line?
We are launching an extensive ambassador, affiliate, and influencer program to help spread the good word about our products. These athletes and alike will join our current sports staff in the snow, beach, and outdoor industries that have been preaching the ben-efits of our products for over 40 years.
What other benefits, apart from sun protection, does your product offer?
All of our products are based with 35% or more aloe vera where most of our competitors add a drop or two. This means they are moisturizing your skin while protecting it. Also, aloe molecules are smaller than your skin pores, so our product absorbs quickly, is very sheer, light, and comfortable, and is hypoallergenic.
Why should retailers stock your brand & your latest collection?
Our products pack a punch for their cost. We have been perfecting our high-quality for-mula for 40 years, and the price is always better than those with an equally great formula. Our returning customer rate is way above the industry average, which means once they try our product once, they want to come back for more.
What POS are you helping retailers out with?
We feature high end racks and displays built with real wood, metal, and quality materials. Our sales programs have these displays included free with the purchase of the product to fill them, helping our retailers catch the eye of their customer for their suncare needs.
Best Sellers
Sport SPF 30 Lotion- Our absolute best seller! This non-greasy formula absorbs quickly after application, making it the easiest, most convenient and comfortable sunscreen for your active lifestyle. Sport SPF 30 Lotion goes on light leaving no greasy residue on hands, skin or gear. All Sport Lotions are stain free, unscented, certified biodegradable, and reef friendly.
Sport SPF 50 Spray- Our spray sunscreens are easy to apply and absorb quickly for a con-venient and non-greasy application. Built to protect your skin even in the harshest of envi-ronments, this paraben-free sunscreen spray is a great solution for re-application throughout the day.
Sport Lip Balm- Aloe Up Sport SPF Lip Balms glide on smoothly leaving your lips replen-ished, hydrated and protected. Our lipcare products offer a unique blend of natural moisturiz-ing oils and antioxidants. Available in Natural (SPF 15), Cherry (SPF 15), Mint (SPF 15) and Medicated (SPF 30).