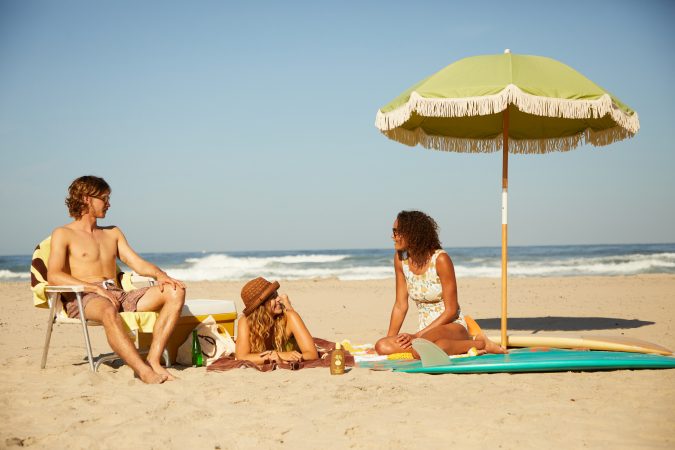 Sun Bum 2023 Sun Cream Preview
Retail Buyers Guide: Sun Cream 2023 Retail Buyer's Guide
Brand: Sun Bum
Interviewee: Jamie Shohat, Director of International Business
How do you target the action sports client?
We have an incredible team of distributors and reps throughout Europe that run local events, or partner with retailers on activations and engage with their local communities the same way Sun Bum has been doing it since the beginning. By bringing the fun, creating a brand presence, and educating on sun safety, we are able to drive sales at our local shops.
What ingredients are you using? Any innovations to talk about?
Our products are Vegan, Cruelty Free, Gluten Free, Paraben Free, Oxybenzone & Octinoxate Free, Broad Spectrum Protection, Oil Free, PABA Free. We have 2 new innovations for 2022 – Our moisturizing Glow SPF 30 Sunscreen Face Lotion is made to provide daily hydration and UV protection from the sun while giving us a dewy, radiant glow all year-round. Made with antioxidant rich Kakadu Plume, a super fruit containing high levels of vitamin C, to help combat free radicals and boost our skin's natural luminosity. This is my daily go-to, of course! Our ultra-moisturizing SPF 15 Browning Lotion is one of our favs for golden, glowy skin. Made with Organic Coconut Oil, Kona Coffee extract and Aloe Vera, this special blend is designed to optimize tanning results with Broad Spectrum protection during sun exposure.
How do you address sustainability/eco friendliness in your products?
We are very proud to say that all of our sunscreen products throughout the U.S. are made without Oxybenzone and Octinoxate, and meet the requirements of Hawaii's regulation.
Any exciting marketing campaigns coming up for your product line?
We will have some traditional campaigns surrounding our newest products, our Glow SPF 30 Face Lotion and SPF 15 Browning Lotion, but the majority of how we will be showing up will be at the local mountains, beaches and lakes around the EU. We are a main sponsor of the Spring Classic in the UK in June, and will be at various other store activations and events throughout summer into next winter.
What other benefits, apart from sun protection, does your product offer?
Our sunscreen literally Smells Like Summer, which people love and contains vitamin E, an antioxidant that helps to neutralize free radicals, which are the main cause of premature skin ageing. We also have lip balm, after sun lotion and spray, and hair care products in the range that carry the same scent story as our original sunscreens and very popular with repeat Sun Bum customers.
Why should retailers stock your brand & your latest collection?
Sun Bum is a lifestyle brand with products people trust. We all need to be protected from the sun, so it's really important that shops carry sunscreen to support the active lifestyles of their community. So why Sun Bum? Consumers today are looking for purpose driven brands that are intentional, clean and trustworthy, which is what we embody as a brand. It is a top priority for us that we support our local independent shops, and we have been do-ing this since the beginning: showing up, educating on sun safety, supporting the community that is closest to them, and helping protect people from the harmful rays of the sun. What this means ultimately for the opportunity to have Sun Bum in your shops is that it is a recognizable brand, a consumable product that everyone needs, can be sold year-round, and will drive sales through repeat customers that need a refill on sunscreen or that want to try the other categories we sell.
What POS are you helping retailers out with?
We provide a full assormtent of premium wood displays for our reps to choose from to pick the best-in-class Merchandising option for each store.
Best Sellers
Sun Bum Original SPF 50 Sunscreen Lotion – this is our top-selling sku in Europe and is the moisturizing sunscreen formula that started it all. This moisturizing sunscreen formula will protect your skin from harmful UVA/UVB rays while enriching your skin with vitamin E, an antioxidant that helps to neutralize free radicals, which are the main cause of premature skin ageing.
Sun Bum Original SPF 30 Face Stick – this sku holds the top 1 or 2 spot in most retailers throughout Europe. Our Broad Spectrum UVA/UVB protection with vitamin E is available in a convenient and easy to use Face Stick that helps when you're dealing with squirming kids, sandy hands, or just need a quick swipe of sunscreen across your face.
Sun Bum Day Tripper Kit – currently the top-selling sku at Bever stores in Benelux. The kit contains premium travel-sized sun care essentials for those lazy days in the sun. SPF 30 Sunscreen Lotion / 3.0 OZ, SPF 30 Sunscreen Lip Balm / 0.15 OZ, Cool Down Aloe Lotion / 3.0 OZ.