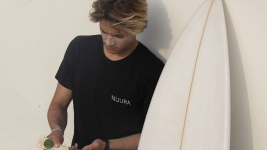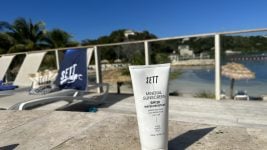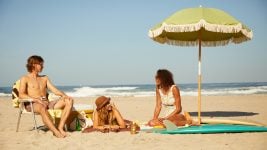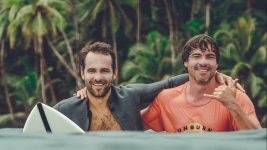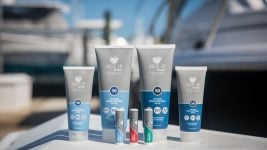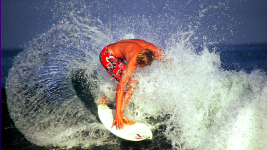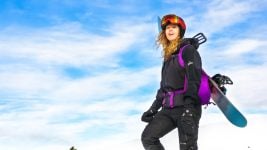 Sun Cream 2023 Retail Buyer's Guide
Sun screen is one of the most hype product categories in the boardsports industry today. All brands are pushing the envelope with their sustainability approach, doing their very best to deliver a product that harms the environment as little as possible, all while keeping the user shielded from the sun's harmful UV rays. Report by Anna Langer.
High performing and long-lasting protection is the pivotal feature you want in sunscreen for action sports and the main focus point of all brands presented here. "We want our customers to apply sunscreen and not have to think about it afterwards, that way they are enjoying their sport or activity," states Kjell Ellefson, Director of Marketing at Aloe Up Sun & Skin Care. Himaya are deeply rooted in action sports through their founder Stuart Knowles: "We get involved in the sports ourselves and help to promote them. With my own participation background from Olympics to instructing and guiding this provides a good background on how to target this market."
Suntribe team up with surf instructors to fine tune their products, SeventyOne Percent is created by surfers and Sun Bum "have an incredible team of distributors and reps throughout Europe that run local events, or partner with retailers on activations and engage with their local communities the same way Sun Bum has been doing it since the beginning. By bringing the fun, creating a brand presence, and educating on sun safety, we are able to drive sales at our local shops," says Jamie Shohat, Director of International Business.
INGREDIENTS
When it comes to their ingredients, Aloe Up Sun & Skin Care "walk the fine line of natural and effective. Our products have what is called a non-water soluble emulsifier. This means that after the product is fully absorbed (15-20mins), if you sweat or get wet, the product isn't going to 'un-absorb' and run into your eyes," explains Kjell. Himaya's products are also especially easy to apply, as they use a water phase to create a cream instead of a lotion: "This is why with non-nano zinc it rubs in transparent when correctly applied. We believe this is the best way to protect the user as 99% never apply enough sunscreen anyway and a lotion will exacerbate this behavioural issue even more," says Stuart.
With the knowledge in dermatological formulation acquired during four generations of pharmacists and following their philosophy "there are only two places you can't leave: your body and the planet", Nuuraoffer a high quality product that guarantees the highest levels of sun protection even in the most extreme conditions, while being completely respectful towards our health and the planet and is certified by the European Certification Bodies of Eco and Organic products.  
Greenbush pair mineral filters that have a minimal impact on the environment with ingredients from organic agriculture and sport the "Bio Cosmos" certification by Ecocert. Sett Surf use 100% mineral UV filters (zinc oxide and titanium dioxide), Sun Bum's products are Vegan, Cruelty Free, Gluten Free, Paraben Free, Oxybenzone & Octinoxate free, Oil Free, PABA Free and offer Broad Spectrum Protection. "Consumers today are looking for purpose driven brands that are intentional, clean and trustworthy which is what we embody as a brand. It is a top priority for us that we support our local independent shops, and we have been doing this since the beginning: showing up, educating on sun safety, supporting the community that is closest to them, and helping protect people from the harmful rays of the sun," says Jamie.
SUSTAINABILITY
Since the hazards sun cream poses for reefs and other ocean habitants are widely and commonly known, environmentally friendly ingredients are already a staple in the action sports oriented producers. But of course there is a lot more a brand can do to lessen its impact. "Sustainability is at the core of everything we do. This starts with the ingredients – we exclusively use ingredients that are reef-safe and completely natural to make sure that our sunscreens don't pollute the environment. In addition the majority of our packaging is completely plastic-free. And the sugar cane tubes we use have a positive carbon footprint!" says Karl Roos, Co-Founder of SunTribe.
"All of our products are made with organically grown Aloe Vera, are never tested on animals, are reef safe, biodegradable, and have recyclable packaging. We also offer a carbon offset program that allows our customers to offset their shipping emissions for a small fee, and we are currently redesigning our shipping materials and boxes to be 100% recyclable," Kjell sums up Aloe's efforts. Nuura conceive end-to-end sustainability/eco friendliness in their products, including all the ingredients, the manufacturing process, packaging materials and POS materials. "For packaging we use cardboard, aluminium and 'I'm green-bioplastic' which is made of renewable organic sugarcane; meaning that our packaging is biodegradable, reusable and/or recycled and recyclable."
Sett Surf focus on recycling by partnering with Enval to fully recycle their pouches and tubes. Himaya don't use tubes for packaging but HDPE, which is recycled everywhere in the world locally and uses less energy than aluminium. And since it's a refillable system, the impact of their packaging is almost zero. "But we also offset our packaging by removing a bottle from the ocean for every bottle we sell. We then change this bottle back into diesel and give it to the fishermen who collect the plastic for use, so a circle offset system," says Stuart. "We have also had social policies and CO2 offsetting for years, planting mangrove trees in Kenya (where I grew up) to protect the shoreline and fish and help sustainable fishing and biodiversity by employing locals." SeventyOne donate 1% of their annual turnover to approved associations to preserve the future of our planet.
ADDITIONAL BENEFITS
By using organic sun cream, you won't only protect yourself and your environment, but also nourish your largest organ, as almost all products offer additional skin care effects. Aloe Up Sun & Skin Care obviously use aloe vera, at least 35% or more. "This means our products are moisturizing your skin while protecting it. Also, aloe molecules are smaller than your skin pores, so our product absorbs quickly, is very sheer, light, and comfortable, and is hypoallergenic," says Kjell. Also SunTribe advocate that their sunscreens not only protect you from the sun, but also gently moisturise and nourish your skin – without causing any irritation since they're completely natural and free from allergens.
Himaya enrich their products with seaweed and high alpine flower oils which help to retain moisture in the skin, especially when exposed to harsh environments for long periods. "Apart from sun protection, our formulas are enriched with a good amount of active ingredients that provide a good dose of skin care, such as: vitamin F, vitamin E, for additional sun protection while also having an antioxidant effect and helping to regenerate the skin. Shea butter, Carnauba wax and Sunflower oil, Aloe vera, which all come from organic farming, provide an anti-inflammatory, hydrating and protective effect" explain Nuura.
SunBum offer a moisturizing Glow SPF 30 Sunscreen Face Lotion that is made to provide daily hydration and UV protection from the sun while giving you a dewy, radiant glow all year-round. Made with antioxidant rich Kakadu Plume, a super fruit containing high levels of Vitamin C, to help combat free radicals and boost our skin's natural luminosity. Their ultra-moisturizing SPF 15 Browning Lotion with Organic Coconut Oil, Kona Coffee extract and Aloe Vera is designed to optimize tanning results with Broad Spectrum protection during sun exposure. In addition to that, they also produce lip balm, after sun lotion and spray, and hair care products in the range that carry the same scent story as their original sunscreens and are very popular with repeat Sun Bum customers. Hence they offer a consumable product that everyone needs, can be sold year-round, and will drive sales through repeat customers that need a refill on sunscreen or that want to try the other categories we sell.
Greenbush also have a range of after-sun care products, including a nourishing oil, a moisturizing lotion, and a vegan solid soap. And they will launch a lip solar stick, which is a highly requested product, especially in the mountains.
"If you have sensitive skin, our mineral sunscreen won't cause skin irritation which is common with chemical sunscreens," says Sett Surf Managing Director Jane Belcher. "It won't sink into the deeper layers of your skin and get into the blood stream like chemical UV filters can. We use nano so the sunscreen stays on top of your skin." They also have an Anti-chafe rash cream called ACTIVE that not only prevents painful chafing for surfers, runners and cyclists (or anyone who suffers from chafing) but is soothing to the skin and promotes rapid skin repair if skin does chafe.