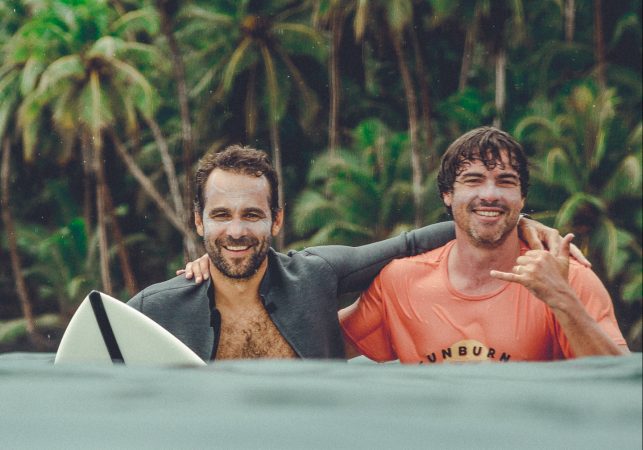 SeventyOne Percent 2023 Sun Cream Preview
Retail Buyers Guide: Sun Cream 2023 Retail Buyer's Guide
Brand: SeventyOne Percent
Interviewee: Co-Founder - CMO
How do you target the action sports client?
SeventyOne Percent is born from the love of the Ocean and surfing. By keeping our focus on efficacy and respect of our DNA, Skin and Ocean Respect, we are faithful to our core target. Our original range is named GO WILD, concentrated formulas that have been thought and built for the demanding action sports' needs. Seeding some products to our community, pro riders, life stylers, backpackers, photographers is a basic for us.
What ingredients are you using? Any innovations to talk about?
We have a Major innovation this year as we have been collaborating and investing in R&D with an independent French ecotoxicological lab to create the new generation of sun sticks. The INVISIBLE SPF50 Sun Stick is very Water-resistant, non-greasy, clean for your health and scientifically proven to have a minimum impact on biodiversity and marine system. This hero product is 80% natural and comes in a 100% recyclable packaging made with 80% recycled plastic.
How do you address sustainability/eco friendliness in your products?
Our products are developed to provide very high performance whilst only using clean ingredients, good for the skin and the planet. As clearly committed in our name, we donate 1% of the annual turnover to the approved associations of our choice to preserve the future of our planet. We always choose natural ingredients first, but will consider alternatives if better for our consumers and/or the environment. We are committed to transparency in the product we make and the way we operate. No nasties for consumers or the environment in our formulas: No parabens, No Sulfate, No Silicone, No Nanoparticule… and many others as research evolves. Our Eco responsible pack is 100% Recyclable and has minimum of 50% recycled material – Always trying to reduce further.
Any exciting marketing campaigns coming up for your product line?
In 2023 to get rid of the traditional gift with purchase or single use products, we decided to create the Beach Pong Campaign ! A simple, good-looking game to have fun or share and enjoy sunset drinks ! Our goal is to boost the sell out and give some cool marketing tools for our retailers to increase the average basket. A TikTok and IG campaign will promote the game, and hopefully it will go viral. #beachpong71. We are planning to create a retail and BtC competition : The best shots on social networks will get a fantastic reward !
What other benefits, apart from sun protection, does your product offer?
Our brand proposition is : High performance skincare to best answer consumer needs. Created by surfers and always improving. We have the platforms to provide our expertise all year long. Adventure Care : GO WILD. The original platform of the brand, offering products for surfers but also suitable for any outdoor sport; Highly concentrated formulas specifically developed for sport and sensitive skin. Sun protection, Sore Muscles, anti rashes, nourishing balm, you will find everything you need. Sun Care : SUNKISSED. Sun protection for the whole family providing efficacy, pleasure and ocean respect. Natural sun protection without compromise for the skin or the planet. Daily Care : FEELGOOD. Daily face and body care to feel the « summer effect » all year long Opportunity to grow further to reduce seasonality.
Why should retailers stock your brand & your latest collection?
Beside the fact that retailers will offer to their customers a committed and efficient specialized French brand for outdoor lovers, we are used to working with a different typology of shops and have been one of the leading brand in Europe for 13 years. We will offer our retailers a smooth communication with the marketing and commercial team.
What POS are you helping retailers out with?
We developed a range of display to accommodate your choice of product: small tower display to present the full range and educate consumers. It will find its place in every store, even a small one. The wood display for a premium selection – beauty or adventure. A small counter display with the bestsellers sticks or sunkissed. Each retailer will also receive a quantity of Beach Pong to offer to their consumers: Free Beach Pong for 3 SeventyOne Percent products.
BEST SELLERS
ECO SUN SPRAY : What is the ultimate protection for body and face ? It should protect our users as much as the environment in a handy airless packaging. Can be used on wet skin with UVA protection of 25 and UVB 50+. 100% mineral filters and invisible non-greasy finish.
THE INVISIBLE SUN STICK : The first sun stick validated, with Impact scientifically measured and validated as minimal on the environment. A selection of "clean" "new generation" filters that are ultra-efficient UVA / UVB but also have a very low impact on marine biodiversity. Respects the environmental laws of reference: Hawaii and Palaus. 100% natural base with no undesirable ingredients. Eco responsible pack: 100% recyclable, mono-material, made from 80% recycled plastic
ECO SUN SHIELD SPORT : Pocket size, just as practical and nomadic as you! Eco Sun Shield SPF 50+ is the favourite product of surfers and outdoor sports enthusiasts. Ultra water-resistant, very high protection: the Eco Sun Shield Sport is your best ally to peacefully enjoy our playground : Nature.