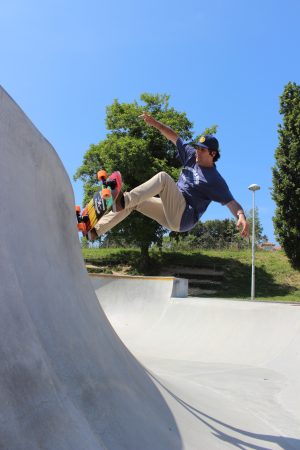 Miller Division 2023 Surfskate Brand Preview
Retail Buyers Guide: Surfskate 2023 Retail Buyer's Guide
Brand: Miller Division
Interviewee: IVAN GARCIA AROZAMENA, PRODUCT MANAGER
How is the European surfskate market currently?
The European market is good, I think that never before has there been so much skateboarding and all the modalities that there are today. Also, there are a lot of riders from other snow and water sports who are potential customers for surfskate, along with skaters of all ages, both old skaters and newcomers. The sport of surfing in general is very much alive, and the stores know it, that's why nowadays all surf shops know it's a must to have surfskates on their shelves.
How are you navigating the overstocking issues currently affecting the hardgoods sector?
Well, it is not an easy problem, as there is indeed an overstock, but mainly in complete skateboards and skate decks. As for surfskates it seems that little by little is stabilizing and we are optimistic that everything is back to normal. However, we offer better conditions to our customers to help them as well as some discount so that the end customer is encouraged to buy.
What are the main products in demand in the segment right now (completes etc)?
The greatest demand is for a complete surfskate with high quality and a fair price. Among them sizes between 29″ and 32″. Surfboard inspired shapes are the most demanded. We also see that there are more sales of protections and helmets than years ago because there are many riders and girls and little by little they are aware of the importance of riding safe.
What are your main price points for next season?
Our strategy as always is to offer the best quality at a fair price. We have 2 ranges. The first one, Miller Basic Surfskate which have a pvp of 165€. Then we have the Miller Division range, here the prices range from 180€ to 210€. More design details, in graphics, different woods and stains, sandpaper with digital printing, painted trucks, etc…
What are the "stars" right now. Products you couldn't live without?
As for the surfskates, it is important to have a wide range, both in size and design, since by size and weight of the rider, there is an ideal surfskate… from 29″ for the smallest to 32.5″. Also the varied designs are important, but above all inspired as I said in surfboards. Our best sellers are the Soul, Pablo Solar and Mundaka. Because they have good sizes and the designs are very cool.
What are the main features on your surf skate completes?
In each model we put a lot of emphasis on all the details and components (board, trucks, wheels…) in terms of quality, size and design. We also pay special attention to functionality. We never put design before functionality so we know that our surfskates work perfectly. In general the best features are applied to the best Canadian maple wood and cold pressed for durability and hardness. Digitally printed sandpaper for maximum grip. Axles with great turning and return and wheels more resistant and faster. With this we get a surfskate of technical characteristics of high range.
What kinds of trucks and wheels do you offer for this segment?
We remain faithful to our XRKP II trucks with high quality aluminum and without built-in springs and bearings, etc., as they increase the weight and volume and generate more problems at the same time. Our trucks are simple, with a reverse kingpin shape with a 12º rotation superior to any other axle of similar system. In addition, we include as standard and free of charge in all our surfskates, a set of softer bushings for the two trucks, as well as a set of flat washers for more turning if you need it.
As for the wheels, we use a special high rebound urethane formula, for more speed and grip without increasing wear and tear and therefore more durability. The hardness is medium 80a, to adapt to any terrain and we usually use two sizes, 65mm for more acceleration and smaller models and 70mm for larger and faster models.
Which technical features are you the proudest of?
Well, as I have indicated previously, the trucks with more spin and lightened and with extra bushings and washers, premium Canadian maple woods and cold pressed for more durability and a high quality urethane. In the end, with the best components in each part and a correct technical criterion, the best surfskates are achieved.
What are you doing with materials and tech next season?
We are always in search of new and better materials and also open to new manufacturing processes as long as quality or performance is improved. At the same time, sustainability is very important to us and year after year, we achieve in our processes to be kinder to the environment.
Any collaborations to look forward to?
We will have to wait until 2024 to find out about new collaborations… stay tuned!
BEST SELLERS
31,5″ X 9,7″ SOUL CORAL
Soul Coral & Soul Jade 31,5" long by 9,7" wide, single kick, medium concave, new XRKP II trucks,… Whatever your weight, height or skating style, you will enjoy all terrains – its size makes it perfect for all skaters.
STOKED 31,5″ X 10″
One of the most versatile surfskates in the range! With its measurements 31,5'' x 10'' and its 17,5'' wheelbase there's practically no manoeuvre you can't pull off! Extra width under your feet and double kick!
31″ X 9,8″ SEAN GUNNING
Sean Gunning Pro model is here! A real rocket to boost your rides! Smooth to flow, this 31"x 9,8" double kick, medium concave, 65mm SHR wheels literally flies. You'll find no excuses during the flat days to enjoy your rides like Sean!!