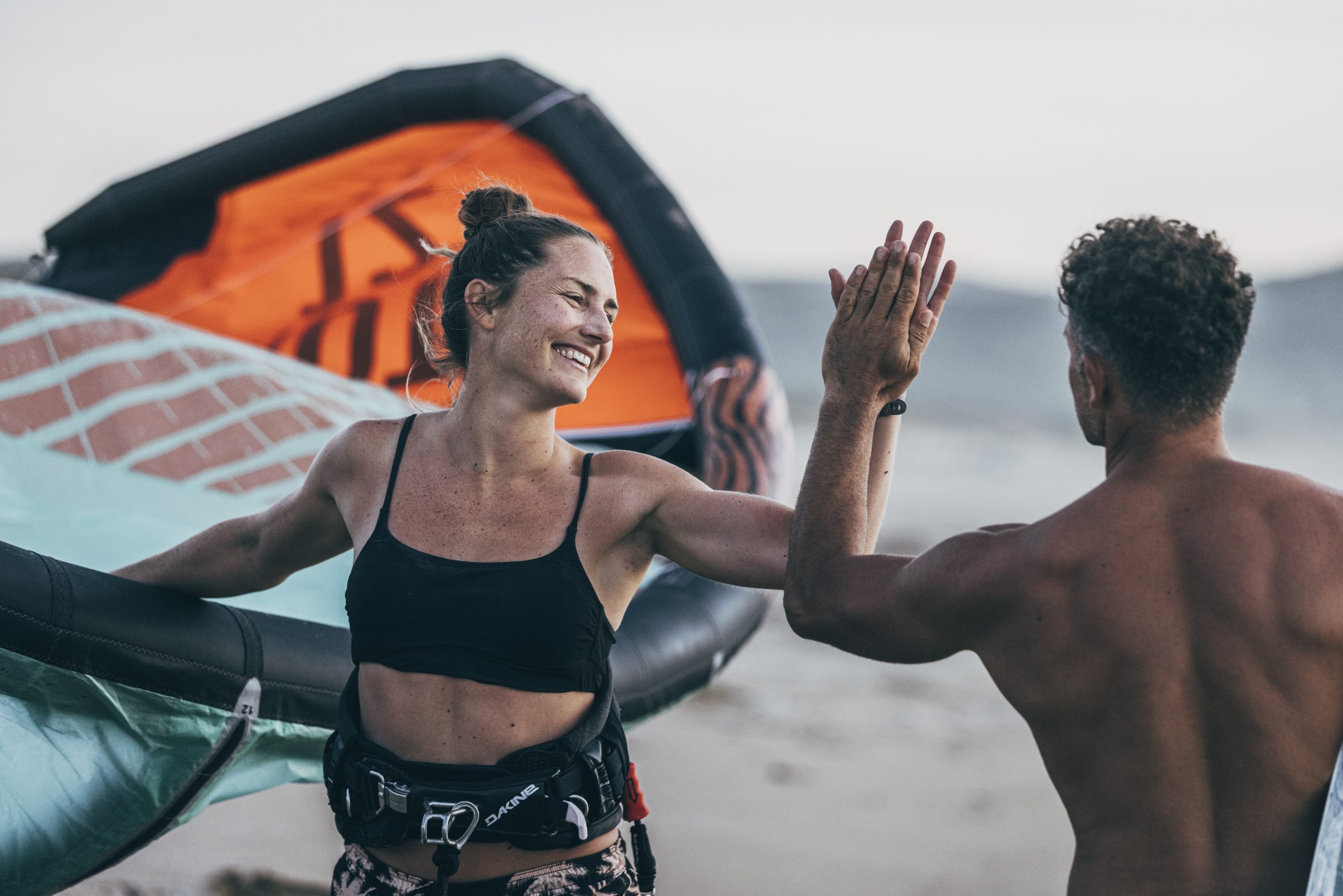 Cabrinha 2022 Kiteboarding Preview
Retail Buyers Guide: Kiteboarding S/S 22 Retail Buyer's Guide
Brand: Cabrinha
Interviewee: James Boulding, Marketing Manager & Jens Dietz, Sales and Marketing Manager Europe
Trends
What discipline (big air, wave, foil…) has grown the most so far in 2022 and why?
There are some really exciting areas of progression in watersports over the last year or so. Big air is definitely one area of kiteboarding that is seeing real excitement on the competition side. Refinements in materials and design have helped riders push the limits and invent new tricks that can filter down into consumers. Boosting airs is such a fundamental reason lots of people get into kiteboarding and it's still right at the forefront of kiteboarding. We also see the foiling side really exploding with the crossover into discipines like winging and foil surfing.
What do you believe will be the main trends for 2022 in kiteboarding, in terms of riding disciplines?
Big air is certainly set to see boundaries being pushed this year with a really exciting crop of youngsters coming through the ranks in international competition. Their hunger is adding to the drive from consumers wanting products that boost big while being easy to handle. The combination of kiteloops is where things get interesting in terms of kite design with many brands needing multiple kites with varying charactersitics to satisfy customer's varied kite handling needs. We've made big changes to the FX this year with the FX2 that allows riders to push their big air capabilities while also allowing it to perform as a high end freestyle model with the optional 6 line bridle configuration. It's radical kiteloop characteristics
Kites
Which of your Kites are selling well in 2022 and why?
The Switchblade kite is such a versatile and user friendly kite and is the most popular choice in the Cabrinha range. It is packed full of performance but with the usability for riders of all levels to maximise their level of riding. With the new design tweaks in the 02 model we've managed to increase it's performance and handling for all levels.
What is new for your kite construction, materials and design for 2022?
New ceramic pulleys have been added to an updated bridle design that speeds up the turning while offering a slightly lighter feel on the bar. Cabrinha's thoroughly trusted and high performing Nano Ripstop material is at the heart of each kites construction. In a time with widely varying raw materials this ultra durable canopy material gives customers confidence in their kites long lasting lifespan and rigid performance.
Are there any trends in terms of kite design, construction and materials that the entire industry seems to be progressing towards?
There is certainly some work across the industry towards new materials for construction. The key with them is making sure the performance is matched by the materials durability and lifespan.
Boards
Which of your boards are selling well in 2022 and why?
The ace hybrid twin tip is a refreshing new look on twin tip construction methods. It mixes a more conventional pauwlonia core with honeycomb foam offering a very lively under foot feeling. The use of unidirectional carbon strips lock in this core on the top and bottom to create an explosive pop and response. It is the perfect balance between high rocker, high performance and flat light wind rocker lines. This freeride performance has made it very popular with customers looking for a performance freeride board.
What is new for 2022 in terms of board design, materials and construction?
Just explained above.
Aesthetics
Any stand out new graphics or artwork collaborations?
Cabrinha's twin tip range design is the brain child of Cabrinha's graphic designer and artist Patrick Dunne. His cohesive styling throughout the whole range perfectly blends the entire Cabrinha range together, and utilizes some of his own artwork and digital prints in the TT range.
Do you have Pro Models?
In Cabrinha's foil program we recently released the new high efficiency H-series wings in collaboration with Keahi De Aboitiz. They are not technically a 'pro model', as these wings are very accessible to use and the efficicency allow for incredible performance for kite foiling, wingsurfing and prone foiling, something perfectly suited to Keahi's style. Keahi plays an instrumental part in the testing phase of the foil program due to his detailed feedback, skill level and attention to detail. He's been working on these wings for the last few year with the entire design team, one cog in a large team of skilled engineers, riders and brand staff.
Sustainability
Have you implemented any new sustainable practices in your production and shipping processes?
We have been implementing a sustainability reform plan across our logistics, manufacturing, packaging and brand. One key highlight we've been excited to introduce on the product side is our switch to bio-based dyneema flying lines in all our 2022 control systems. Bio-based Dyneema® fiber boasts the exact same performance as conventional Dyneema® with a carbon footprint that is 90% lower than generic HMPE fiber. As well as its extraordinary strength, bio-based Dyneema® excels in cut and abrasion resistance and has a high resistance to UV.
Retailer Help
How are you helping retailers sell your product and which method of help seems to be the most effective?
Within the pandemic regulations, we can finally meet in person and full commitment to our dealers and customers. Direct customer service with discussions and training on the great new Cabrinha 02 Range is very important for us. We are looking forward to the exchange with all retailers who are in direct contact with our customers. We are one big family and want to bring everyone along. Also dealer support by demo events and test material should not come too short this year. Everyone should get the chance to test our products and feel our new innovations. In addition to direct dealer support, we place great emphasis on the availability of product information and descriptions, as well as all marketing materials. Through our cloud platforms. Dealers can quickly and easily download all data transparently and freely accessible for their purposes.
Have you suffered any stock or delivery issues due to supply chain bottlenecks? If so, what solutions have you implemented?
Of course, we also had problems in the delivery of materials and the availability of our products, like all other industries. We have already clarified the delivery capabilities of suppliers for this season at an early stage. Consisten communication channels help us to constantly check these and help us to communicate quickly and without errors. We have used the time to reorganize our warehouse structures and container utilization. Orders from different suppliers, for example, can be combined in one container to have important products and materials available for the coming season. Towards our customers we will be more transparent in our communication and more fair. We are very confident for this year.
Best Sellers
Every coin has two sides, there are 2 sides to every story and there are two sides to the new FX2. With a nod to its heritage, but with a completely updated design we have been able to push the performance of the FX2 further into the big air realm. Keeping with the original Freestyle Crossover naming, we also have developed a pro level 6 line Freestyle bridle system.
No kite has done more in the sport of kitesurfing than the Switchblade. For 02 we have given the Switchblade a further performance boost. The redesigned and rebalanced bridle gives the option to not only increase the turning speed, but also lighten up the feel of the kite. A lighter faster kite not only extends the reach of this amazing product to different riders, but also allows for faster steering and control for jumping.
The H-SERIES High Aspect foil range is the latest offering from Cabrinha's state of the art foil design program in collaboration with Keahi De Aboitiz. The H-series represent the pinnacle in hydrodynamic efficiency & performance while seamlessly integrates into the Cab Fusion Foil system. Whether you use them for wing, kite or foil-surfing, rise to the occasion with all of the H-series' cutting edge features and be prepared for the endless ride…