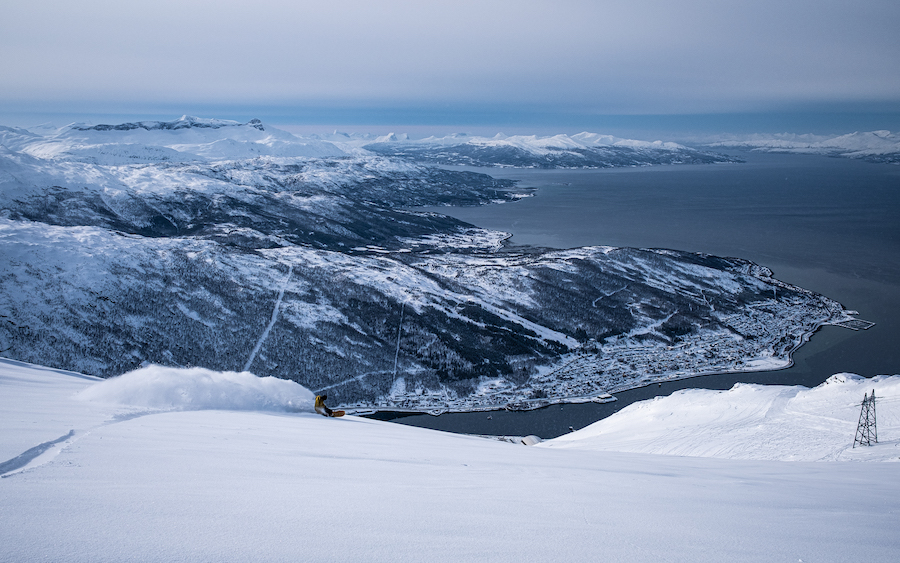 Dakine 2023/24 Technical Backpacks Preview
Retail Buyers Guide: Technical Backpacks 2023/24 Retail Buyer's Guide
Brand: Dakine
Interviewee: Remi Chaussemiche
What are the key trends in the snow backpack market?
Functionality, ergonomy and comfort, storage and compartments organization are always important for snow backpacks. Consumers like to have an organized bag which can carry and access all their essentials easily.
It is also very likeable to have bags that can be handle without removing gloves. Board and ski carry system needs to be easy to handle and hold your craft smoothly.Security features as spine protection inserted in the back panel, rescue whistle and air bag can also make the difference for core consumers.
Last but not least, eco responsible conception and materials becomes more and more important to very our conscious consumers and mountain enthusiasts.
What were your best sellers in 2022/23 and why?
Our Heli series (Heli pro and Heli Pack) is very Iconic for Dakine and remains a very good product more than 27 years after its first version. It fits well, perfectly ergonomic to enjoy your ride while carrying all the essentials you need for your session. it is available in various volume from 12L for the smallest Heli Pack to 24L for the biggest Heli pro.
The Poacher series is our most technical snow backpack and have also been a very good sale this season. We focused a lot of energy on this very high end backcountry back pack and our effort have been paying off. Most of them are compatible with the RAS system and the all have spine protection option, radio compartment, insulation pocket, helmet carry, and whistle signal.
It definitely is the ultimate backcountry back pack for those who want to push their boundaries.The Mission series also is an historical, Iconic and successful Dakine Backpack. His inspiration and style is more Urban mixed with all the technical features you need on a snow backpack.
How are you segmenting your 2023/24 technical backpack collection and where do you expect your biggest growth?
First of all at Dakine we think the ergonomic of the bag is key for the consumer. And the ergonomic is different for men, women and kid. That is why most of our snow back pack are declined for women and youth which allows each customer to find the bag with the best fit for a better mountain experience.
Then we still have our 3 main categories: Heli Series, Poacher and Mission which correspond to a specific use. Heli series for backcountry. Poacher for high mountainMission with a street approach.Each of those categories are declined in different volume matching the different needs of the riders.
Our team riders also back up this program collaborating with Dakine for there signature series. We give them the opportunity of designing a model matching their riding style and their artistic and cultural tastes.
Louif Paradis will rock a Team Mission 32L signature series. Jill Perkins has a Women Team Mission pro 25L signature series. Sam taxwood will present his brand-new Team Mission pro 18L.While our ski legend Sammy Carlson will feature a Team Poacher RAS 26L and Karl Fosvedt a Team Poacher RAS 36L.
This season we really focus on our Mission Pro back who has been totally renewed and present plenty of technical details in a pure street and urban fashion.
What are the most important technical features in your 2023/24 collection?
In our range we present a huge number of technical features to enhance ergonomic fit, storage compartment organization, comfort and user-friendly specs. It is hard to pick only one. Here is a list of examples:
~Glove friendly buckles
~Snow tool compartment
~Shovel compartment
~Security whistle
~Spine protector insert
~Padded belts
~Adjustable straps
~Fleece line google pocked
~Several pocket with easy access.
~Back panel zippered main pocket access, etc.,
What materials are you using in your 2023/34 collection? Any new ones?
All of our snow pack are made out of 100% recycled polyester.
What color palettes, prints or patterns are you featuring in your 2023/24 collection?
Our colour palette is diversified but all inspired by nature and outdoor roots. Dakine loves the main palette, which include: vintage camo, utility green, mustard seed, poppy, iceberg, and sand quartz.
We also have a collab which Board for Breast Cancer declined on different product categories of the line.
Are you implementing sustainability in your products and production processes?
The entire line is made out of 100% recycle polyester.
Our materials ant water repellent treatment are blue sign approved.
What are your marketing stories for 2023/24?
The Renewed mission back pack will be our main focus for next season.
How are you supporting retailers to sell this category?
Our main athletes and European team will rock this product category.
We will provide assets to our retailers to support it on their channel (product, lifestyle and action pictures and videos).
We will support our message with storytelling in core media and social networks.
Dakine is supporting Main event like Natural selection fostering an international visibility for the brand and it will be backed up with several other regional events.
Last but not least with have a premium dealer program ensuring some marketing budget to enhance the brand and product visibility on the shop floor of retailers. We tend to keep flexible in order to match perfectly our retailer needs opportunities and product mix.
Is your production impacted by raw material scarcity or cost increase? If so, what solutions have you put in place?
Cost increase and exchange rates affects every products in every industries. The idea was to focus on less skus in order to limit the price increase.
Mission Pro 25L
-Horizontal and vertical snowboard carry
-Diagonal ski carry
-Dk impact spine protector compatible (sold separately)
-Fleece lined goggle pocket
-Snow tool/shovel pocket
-Padded hip belt
-Insulated hydro sleeve
-Rescue whistle on sternum steam
-(Coming soon)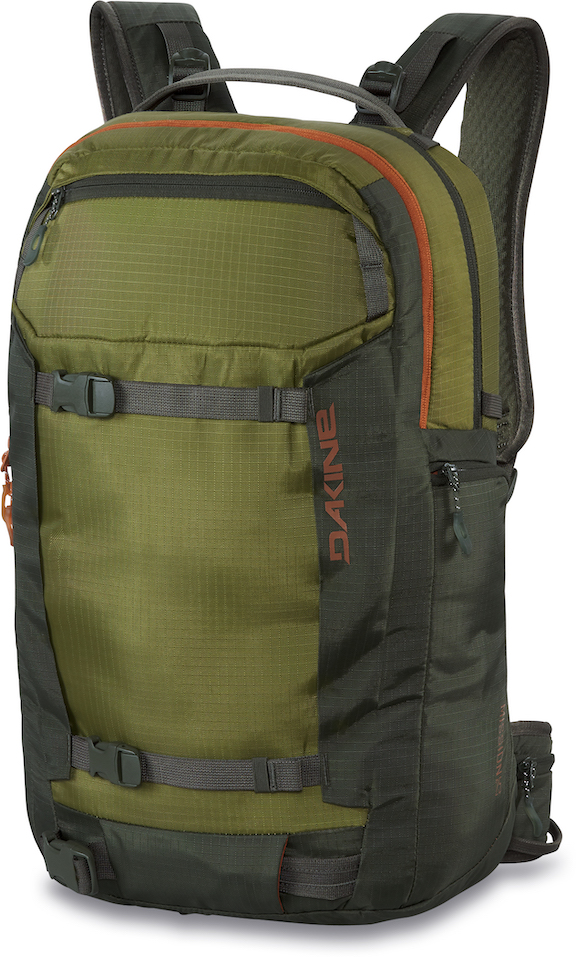 Women Mission Pro 18L
-Diagonal ski carry
-Dk impact spine protector compatible (sold separately)
-Fleece lined goggle pocket
-Snow tool/shovel pocket
-Padded hip belt
-Insulated hydro sleeve
-Rescue whistle on sternum steam
-100% Nylon
-(Coming soon)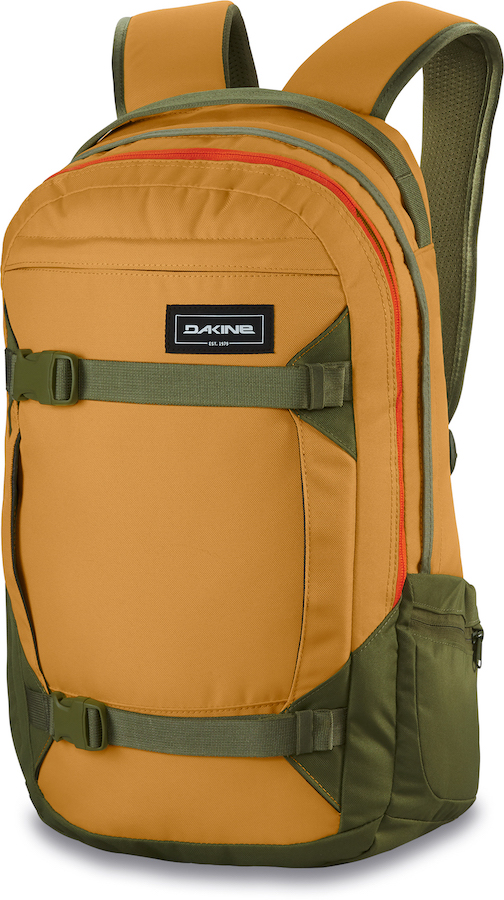 Poacher Ras 26L
-Removable Airbag System 3.0 by Mammut® compatible (sold separately) with RollTop closure.
-100% recycled high density nylon materials
-Diagonal & A-frame ski/splitboard carry
-Vertical snowboard carry
-Dk impact spine protector compatible (sold separately)
-Backpanel zippered main access
-Deployable helmet carry (Dual position)
-Oversized fleece lined goggle pocket
-Two-way radio handset and insulated hydration compatible
-Snow tool/shovel pocket, Splitboard poles and ice axe carry loops
-Side & hip belt pockets
-Snow shedding molded backpanel & padded hip belt
-Reverse pull waist belt
-Rescue whistle on sternum strap
-100% Recycled Nylon