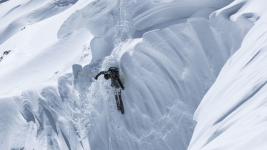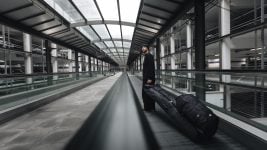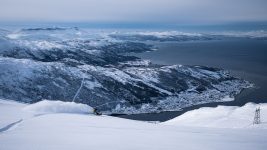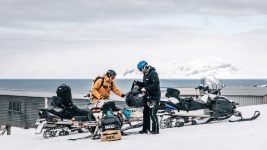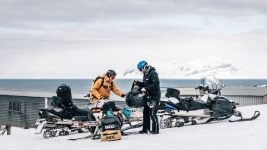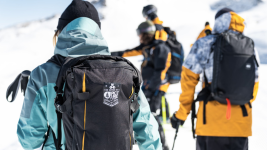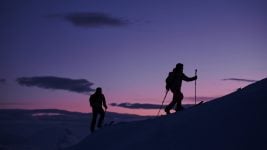 Technical Backpacks 2023/24 Retail Buyer's Guide
Savvy customers expect to be safe on the mountain at no cost to the environment. Brands are responding with technical, high quality and sustainably produced snowpacks. By Rocio Enriquez.
Technical Snowpack users prioritise high quality and sustainability in their choices. Only long-lasting products can be sustainable. New sustainable materials are highly appreciated but need to be carefully tested. Quality must not be compromised for the sake of carbon footprint reduction. Technical features are very important. Accessibility, safety and fit make a big difference to your day on the mountain. All brands focus their design on user-friendliness, easy carrying solutions, and wearing comfort. Versatility is a bonus.
Freeriding, descent packs topped the bestseller charts. Bags that offer the essential features for a safe day on the mountain. It is the case of Picture's BP18 and BP22 and Mammut's Nirvana 35 and Nirvana 35 Women. Dakine's iconic Heli Series in various volumes remains a top seller 27 years after its first version. Backpacks for Splitboarding and Ski Touring adventures sold very well too. Such is the case of Evoc's Line and Line Pro, Nitro's Splitpack 30, and Mammut's newly launched AenergyST collection. Travel and gear bags have increased their sales. Norrona, who got into luggage recently, reports top sales of their Norrona 120L Trolley Bag. DB's best-selling models are their Hugger and Ski Roller. Evoc has seen their best numbers on their Gear Bag and Gear Backpack.
New for 23/24
User-friendliness is at the forefront of developers' minds. Carrying a lot of safety gear only helps if you can access it quickly and easily when you need it. "Great examples of accessibility are our big front or back opening and the fast ski attachment on the Aenergy ST20-25", says Elias Wehrlin from Mammut. Ortovox highlights their fast ski fix, extra bottom compartment, rope exit and ice axe fixation. Rémi Chaussemiche from Dakine says: "We present a huge number of technical features to enhance ergonomic fit, storage organisation and user-friendly specs." They have redesigned their popular Mission Pro backpack to offer plenty of technical details in a pure street fashion. DB has redesigned their Fjäll touring backpack, to produce the new Snow Pro 32L. They stripped out unnecessary features and added a roll top that enables volume adjustment. The result is improved functionality in a cleaner and lighter design. Prism Off Road relies on modularity to offer customisable backpacks, perfect for every occasion. All their packs come with removable back protection. Spinal protection is particularaly observed. Evoc keeps pushing their LiteShield protector. It offers the best degree of spinal protection with excellent impact protection. The segmented design allows flexibility in all directions, and it is very light. Dakine also offers spine protector inserts. DB's biggest innovation for 23/24 is their Snow Pro Vest 8L in combination with Safeback SBX. This is an active breathing assistance device to use in case of avalanche burial. "Significantly lighter-weight and half the price of electric airbags, having the SBX in your quiver is a no-brainer", says Hunter Nordhauser. Since this is an extra layer, they add breathable mesh panels to allow cooling. Amplifiaims for carrying comfort with the auto-compression hip belt on the BC. It eliminates all swing weight and optimises weight distribution by tightly wrapping around the user's body. Mammut pays special attention to women's comfort. Their dedicated Women's Fit narrows down and shortens the shoulder straps to sit perfectly on the female anatomy. Nitro has a new adjustable waist belt and shoulder straps, and they have added loops for skis. Picture launches a new product. "We have completely redesigned our snow segment with our brand new Komit range", says Maxime Lemaitre. The Kommit.tr 26 has a crampon and ski pocket. They have added a helmet holder (which used to be sold separately) on all the Komit products. A specific tough lining prevents scratches on the bottom of the pack. Other noteworthy efforts in quality are Amplifi's high quality clasps and zips. Norronapresents their new Norrona XL Ski Bag. It features water-resistant zips, a U-shaped zipped main compartment and smaller organisation pockets. The top and side handles and large wheels allow it to easily cope with uneven terrains, snow or mud.
Research in recycled nylon has produced an array of high-quality alternative fabrics. There is widespread use of recycled fabrics in the backpack category. Amplifi's whole range is made with MIPAN Regen®, which uses 100% reclaimed waste and a PFC free water repellent coating. Each kg of this recycled yarn saves up to 7 kg of CO2, compared to standard nylon. This material provides excellent tenacity and high resistance to tear and abrasion. Picture, who uses recycled nylon since day 1, introduces a new fabric on the Kommit range. The 210D Diamond Ripstop is a light yet strong fabric made with 100% recycled polyester from plastic bottles. The diamond ripstop weaving gives it a very technical look. Norrona builds all their technical packs with Econyl. This is a 100% closed loop regenerated and recycled nylon yarn from pre- and post-consumer waste. Prism Off Road and Dakine also use recycled nylon. DB is updating their pinnacle Ski backpack and vest with a recycled 420D ripstop which is PFC free. It also offers high abrasion resistance while being very lightweight. Mammut continues to use sustainable fabrics which are PFC free and Bluesign approved. Wherever possible and not impairing durability, they choose recycled fabrics. Nitro uses 420D recycled polyester dobby, Big Diamond ripstop, Green PVC, Coal PU and other Bluesign approved materials. Ortovox uses recycled polyester and polyamide, plus aluminium for trims such as carabiners or hooks. Evoc's focus is on longevity. "We focus on light but durable and abrasion-resistant materials", says Alexandra Hlawitschka.  
Everything in technical snowpacks is designed with safety in mind, even the looks. Standing out from the white background is important. Neutral colours tend to be dark, accents tend to pop out and prints are popular. Amplifi sticks to their stealth "dark black". DB introduces a "Blackout" colour in their standard powder vest and in the new fabric of the Snow Pro pack. Norrona replaces black for "indigo" and "olive night". Nitro sticks to solid colours with nice details. Dakine's palette is inspired by nature colours. Evoc also features some timeless yet modern, earthy tones with details and accents on contrasting colours. They also offer their "Multicolour" edition, developed every two or three years. The current one features their "World Networking" pattern with grey, black and purple rose. Prints are an important part of Picture's collections. For 23/24 they offer two new prints. The "Mood" print takes inspiration from the Alpine landscape. The "Freeze" print is inspired by the Greenlandic landscapes of ice-covered surfaces. DB offers a vintage Norwegian anorak inspired red called "FaluRed". In the Snow Pro Vest 8l, they are offering an undyed "Whiteout" colour.
Sustainability
Reading about materials we get an idea of how important sustainability is. Another trending practice we have noticed is the offer of repair services. Amplifi, Mammut and Picture offer this. To avoid huge transport costs, Picture relies on a network of 42 repair centres globally. Prism Off Road practices a similar philosophy with their modular designs. If a user damages one element of the bag, they can buy that specific element only. There are other approaches to sustainability. Norrona has created a roadmap with a zero-waste goal which all designers are developing are working around. DB's black colours use dope dying to reduce carbon footprint in the process. Their Whiteout Snow Pro Vest will use as many undyed fabrics and textiles as possible. Ortovox confirms that their whole 23/24 collection is carbon neutral and PFC-free. Mammut and Amplifi ensure social responsibility towards factory employees.
Retailer Support
Safety and sustainability drive most marketing stories. Mammut shows how their athletes practice rescue protocols and assess the snow. DB will focus on their Safeback collaboration story. Picture keeps pushing their Upcycling story introduced one year ago. The consumer can create a new accessory just by following the dotted lines inside the backpack. They provide video content to help with the process. Norrona communicates about their use of Econyl and other recycled materials. They aim to drive the whole industry into using more closed loop materials and production processes. Nitro keeps pushing the "Get Out" campaign they kicked off after the pandemic, supported by their Adventure line. Dakine focuses on their renewed Mission backpack.
Brands will support these stories online and in-store. Picture offers POP to support their Upcycling story. Evoc offers modular display systems, with a large assortment of graphics, pictures and product information. They also offer soft tools such as 3D logo blocks, mats, and airbag fillers. As for digital, Evoc has redesigned their B2B download centre to make it more intuitive. Picture offers a package of content for every backpack, with images and videos to emphasise their features. A code in the hangtag directs consumers to those videos. Nitro is constantly improving their media server to provide the best content. They are also mindful about stock, allowing small pre-orders and enabling re-orders throughout the season. "We don't want retailers to have a large inventory, we take the risk for them", says Ludwig Hargasser. Prism Off Road adopts the same stance. They support their retailer by making sure they keep their margin. Mammut focuses on avalanche education. They have organised courses in collaboration with their retailers throughout Germany and Switzerland.
All brands have felt the impact of costs increase and higher time leads. Some price increase is inevitable, especially if brands want to keep the quality intact. Some practices have helped moderate this price hike. Reserving material earlier, carrying over colourways and absorbing some costs are amongst them. On the other hand, where prices have increased, brands have pushed for an increase in quality and features. Customers might be paying a bit more, but their product is more technical and sustainable than before.