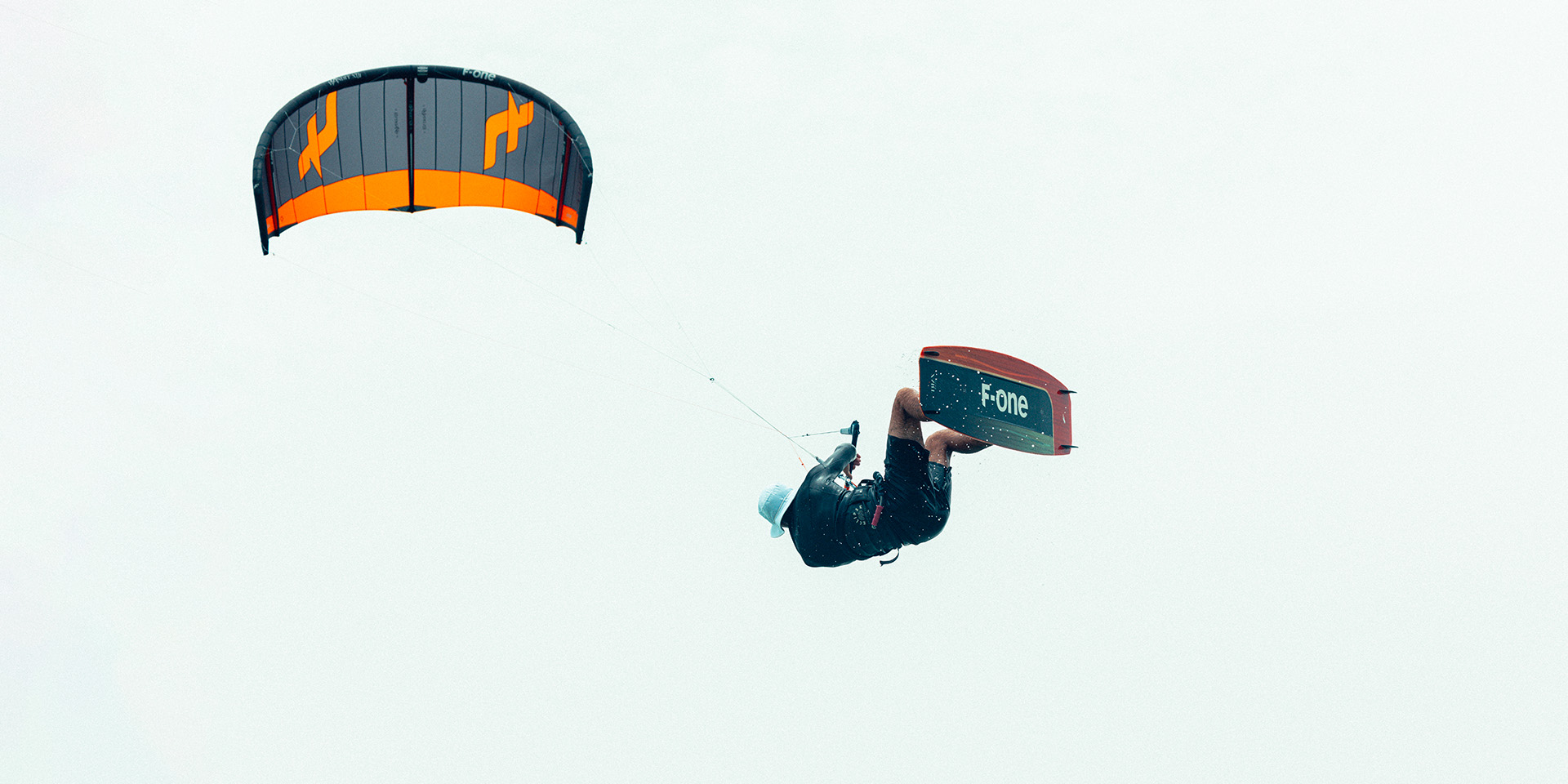 F-ONE 2023 Kiteboarding S/S Preview
Retail Buyers Guide: Kiteboarding S/S 2023 Retail Buyer's Guide
Brand: F - ONE
Interviewee: Chloe Scamps, Marketing Communications
What kiteboarding displine has grown the most so far in 2022 and why? 
Big Air has definitely taken the lead amongst the different kiteboarding disciplines. 
What do you believe will be the main trends for 2023 in kiteboarding? 
Twin-tip Big Air will remain the trendiest discipline for 2023 but will also become more and more trendy for kitefoil and strapless riders. 
In what discipline do you expect the biggest growth in 2023 and why? 
In terms of sales, freeriding will remain the main practiced discipline, however clients also want to jump high and try new freestyle tricks and therefore are looking for new performance kites such as our brand new Trigger.
Which of your Kites are selling well in 2022 and why?
Our Bandit remains unbeatable as its versatility makes it so unique, and stands out from the other kites on the market. 
What are your new kite designs for 2023? 
We have released a brand new kite in the range, the Trigger. A Big Air, 5 struts, high aspect kite with a fantastic hangtime amazing freeride abilities which will allow anyone willing to boost big to also easily come back upwind for endless big air sessions. 
What is new in your kite construction for 2023? Have you implemented any new technologies? 
F-ONE's mission is to create the best design, choosing the best fabrics, but also to maintain the kite's profile through Sail Engineering.
F-ONE Sail Engineering focuses on the forces and tensions applied to this shape, which allows us to control our design and the kite's behaviour while flying. We master the kite's loads through different features to maintain the shape for the longest time. We have this year. 
Are there any trends in terms of kite design, construction and materials that the entire industry seems to be progressing towards?
While F-ONE is really applying the same level of attention to every single products in the catalogue, some other brands, for example, are segmenting their range using different materials.  
Which of your boards are selling well in 2022 and why?
Our innovative Magnet Carbon has been a great success in the last two years. We are very proud of this model and its Slimtech Carbon Technology we have developed.
Our legendary Trax in its 3 different construction is always selling very well in the twintip world. 
What are your new board designs for 2023? 
We are proud to release this year our new Tweak, a brand new surfboard for small to medium waves and onshore conditions. Its compact shape and parallel outline makes it super easy and fun to surf with.
What materials are you using in your 2023 boards? 
We are happy with our current constructions as they have proven to be ultra reliable and offer the best feeling on the water. 
What is new in your board construction for 2023? Have you implemented any new technologies?
Our Slimtech Carbon technology has been improved and is even more resistant whilst being very comfortable and easy to ride. 
Are there any trends in terms of board design and construction that the entire industry seems to be progressing towards? 
We are all looking for lightness and durability when it comes to both twin tips and surfboards. 
Do you have any artists or athlete collaborations? 
We have amazing in-house designers which make, in my humble opinion, the best looking products on the market. 
Any standout features in looks of boards and kites?
We always tend to go for super sleek and sober designs with beautiful colours, which definitely make us stand out from the crowd. 
Have you implemented any new sustainable practices in your production, construction and shipping processes?
We are currently undergoing a huge sustainability audit which will allow us to set objectives in order to reduce our emissions as much as possible. 
Key Products:
Trigger – Designed for top Big Air performances, this 5-strut kite will blow your mind. Not only will it allow you to send big loops, but its awesome freeride abilities will also send you back upwind effortlessly.
Using our original 5-points connection setup and two pulleys bridles, the Trigger is incredibly precise and reactive and will perform in both the high and low end, never letting you down or forcing you to stop your session.
Bandit 16 – Experience the absolute refinement of this newest edition of the Bandit to ever offer its legendary precision feel and increase the overall comfort. With an extensive work on smoothing out the entire profile, the Bandit 16 offers sharper performances and more stability and efficiency than ever before.
Tweak – F-ONE's new Tweak surfboard follows your every move in total control. Responsive and intuitive, it planes early, turns quickly, and offers great maneuverability for amazing performance and sensations in onshore conditions.