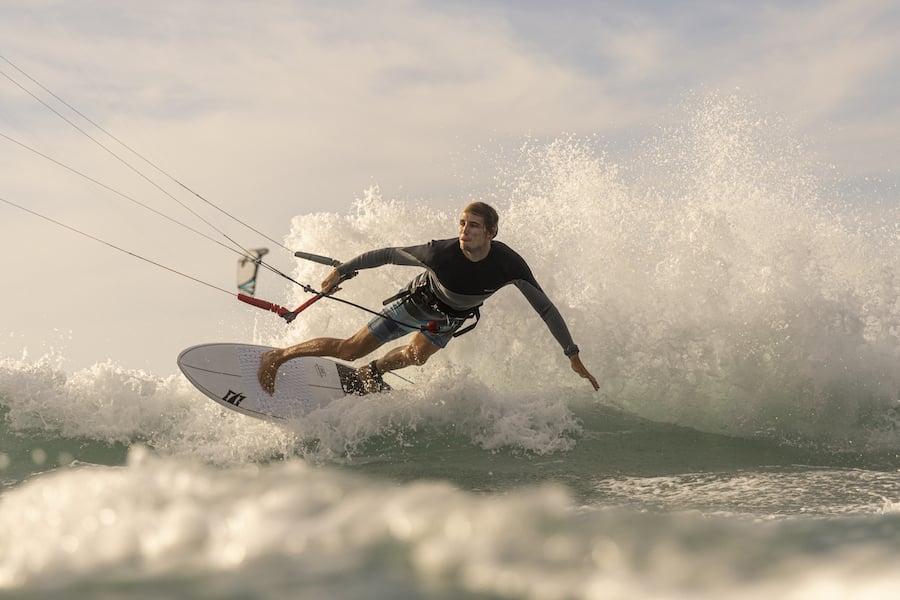 Naish 2023 Kiteboarding S/S Preview
Retail Buyers Guide: Kiteboarding S/S 2023 Retail Buyer's Guide
Brand: Naish
Interviewee: N/A
What kiteboarding discipline has grown the most so far in 2022 and why?
Big air riding has seen a lot of growth and energy in 2022. New competitions such as the Big Air Kite League have created a platform to showcase top talent and push riders to take themselves and the sport to the next level. Naish has recognized this and is the Exclusive Kite Sponsor for the 2022 Tatajubafest in Brazil. We have always been supportive of big air by making cutting edge gear and supporting organizations and riders that promote the sport. The level is rising really fast and we are excited to see what riders will be doing next.
What do you believe will be the main trends for 2023 in kiteboarding?
Integrating new materials will be an area of interest (don't know if we want to push since we don't have the fuego out yet). Gear that is user friendly and versatile will be trending for most riders. Many riders now ride a few different styles of boards -twin tips, surf boards, foil boards – one kite that can perform well in multiple disciplines and styles will be popular.
Maybe something about familiarity, as the pivot is very familiar.
Double loops are also tending and a kite that can safely allow riders to push those boundaries
In what discipline do you expect the biggest growth in 2023 and why?
I think the biggest growth will be in gear that is easy to use and will help riders confidently push their level of riding.
Which of your Kites are selling well in 2022 and why?
The Pivot is always a good seller because it works extremely well in many different disciplines. It is easy to use, predictable and reliable. The new Power Lock Bridle keeps the middle of the kite stable, increasing the wind range at the high end. The tips of the kite are still loose enough to allow the kite to twist for pivotal turns.
The Triad sells well because it is also very versatile and its large wind range and easy to use characteristics make it ideal as a wave kite.
The Boxer does well for foiling, twin tiping and riding waves because of it lightweight, light feel and performance.
What are your new kite designs for 2023?

New for 2023 is the Phoenix, a 5 strut, high aspect, flat arced kite with a fixed bridle so that riders can easily access big air and long gliding jumps. It has a lot of power. It makes jumping big easy, even in choppy water when you don't have a perfect ramp you can pull the bar in and fly.
What materials are you using in your 2023 kites?
For 2023 Naish is using proven materials to make a reliable kite that will last for a long time. The Quad tex canopy material provides a crisp, responsive and long lasting canopy.
What is new in your kite construction for 2023? Have you implemented any new technologies?
For 2023 Naish has been working on improving the performance and durability of the kite without the major cost increase of different materials. The Power Lock Bridle System on the Pivot has increased the performance and stability of the kite with out a huge cost increase.
Are there any trends in terms of kite design, construction and materials that the entire industry seems to be progressing towards?
In terms of kite design really fast turning kites for big air are trending on the performance end and light weight gear for light wind. For construction and materials, we see the industry going towards exotic materials to achieve lighter weight, Naish has been testing these materials and making sure they last and have longer term benefits for the customers before jumping in.
Which of your boards are selling well in 2022 and why?

The boards that are selling the most are the Hero, Motion, Drive and Monarch. The Hero and Motion are excellent all around boards that suit a wide variety of riders and
water conditions. They are a no brainer.
 The Drive is made with a Carbon construction that adds more liveliness to the easy to
use shape.
The Monarch is still a favorite for riders that want a fast and powerful ride.
The Traverse boards are also coming on strong as people get to try them more. They
are a smooth ride and excel as a true freeride board.
What are your new board designs for 2023?
For 2023 the board constructions have been refined so that the performance of the board is ideal for the target user.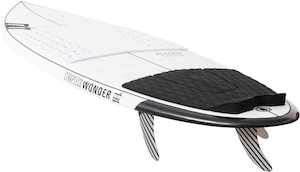 What materials are you using in your 2023 boards?
The boards have Palownia wood cores, TPU rails and fin blocks and a variety of fiberglass and carbon.
What is new in your board construction for 2023? Have you implemented any new technologies?
Cross laminates of fiberglass to control flex and torsion, Carbon strips to control flex and rocker have been added to increase performance and durability.
Are there any trends in terms of board design and construction that the entire industry seems to be progressing towards?
Naish has a very diverse line of boards so that every rider, regardless of style, water conditions and size can find the ideal board to progress their riding.
Any innovations in kite accessories for 2023?

Naish has a solid line of harness, travel gear and accessories designed with the rider in mind.
Do you have any artists or athlete collaborations?

The creative department at Naish has very talented artists. They work with riders on developing specific models – like Ewan Jaspan on the Traverse EJ pro.
Any standout features in looks of boards and kites?
The Naish line up of kites and boards have a very strong, distinctive and bold look. The surf boards have a unified clean and technical look.
Have you implemented any new sustainable practices in your production, construction and shipping processes?
Yes, big improvements have been made in reducing and eliminating plastics in the packaging. Naish is working with carbon neutral factories and exploring different green and renewable materials.
How are you helping retailers sell your product and which method of help seems to be the most effective?
There is not one silver bullet for this. The retailers are supported in a variety of ways mostly through national importers. Now that travel restrictions have been eased, having a meeting where everyone could meet again face to face, ride and catch up was very productive and felt really good.
Are you experiencing raw material scarcity, supply problems or costs increase that impact your production? If so, how are you addressing these issues?
Yes, all of the above. Rolling up the sleeves, constant contact and communication with factories, vendors and importers to find solutions.
Key Products:
Pivot
Phoenix
Triad or Motion, Skater or Global