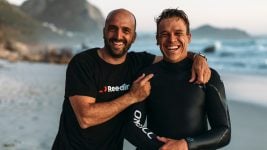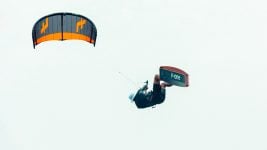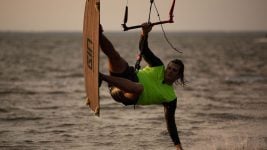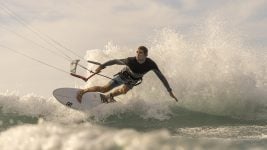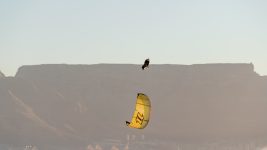 Kiteboarding S/S 2023 Retail Buyer's Guide
Big Air and Kite Foiling keep trending, boosted by the constant innovation in terms of lightness and performance of kites and boards. By Rocio Enriquez.
The resurgence of Big Air that started a few seasons ago remains. There is a fascination for what seems to be the quintessential thrill in kiteboarding: jumping high. It is the most aspirational discipline, and the one that entertains spectators the most. "The ambitious amateur rider is inspired and motivated by this trend", says Robert Bratz from Eleveight. Competitions like the Big Air Kite League or the King of the Air showcase the talent and push riders to the next level. Jumps are getting higher, loops more radical. The result is a significant growth in the demand of products for this segment.
Big Air, however, needs strong winds. "Regular users will be making the most out of any conditions",says Jan Korycki from Nobile. Foil is the answer to light wind. This segment is increasing substantially. Everyone wants to make the most of minimal wind speeds. "With foils and ram air kites, one can start riding at 6 knots, so it's perfect for summer breezes", says Tiana Laporte from Gin Kiteboarding. Kite foil boards and big, light wind kites are populating beaches all over the world. The Olympics showcase this modality, helping its popularity.
In terms of sales, the biggest figures still come from the freeride segment. It is the most practiced discipline, and the bread and butter of most brands. There is a significant demand for gear that is user-friendly and versatile. A kite that does it all and can perform well in multiple disciplines is generally rewarded with good sales.
Kites.
Versatile kites top the best-selling charts of most brands. They appeal to users who practice different disciplines or like to travel to spots with varying conditions. Eleveight's update to the RS, the RS+, was out of stock days after its launch. For F-One, the Bandit remains unbeatable. Gin reports their Marabou 2 hybrid kite as their most popular. For Naish, it is the Pivot that leads the sales, followed by the Triad. They both work well in many different disciplines. North's performance freeride Reach tops their sales. Ocean Rodeo is upgrading their high-performing wave and freeride three-strut kite, the Crave, with Aluula. Reedin is getting great figures from their SuperModel kite. It performs as well in underpowered foiling sessions as in overpowered big air, strapless freestyle, or wave riding. They are constantly re-developing it with innovative technologies. Nobile announces they are working on a new freeride model that will complete their range.
Big Air kites get a lot of R&D and marketing attention. There is a strong design trend for fast turning kites for this discipline. Eleveight's new iteration of the XS kite enables radical kite loops and ambitious hang time. F-One has released a new kite called The Trigger, their 5-strut, high aspect proposal for big air. This is a similar construction to Naish's Phoenix, new for 2023. "It has a fixed bridle so that riders can easily access big air and long gliding jumps", says Scott Trudon. North's Orbit, one of their best-selling kites, gets updated. Ocean Rodeo's Rise A-Series gets a lot of attention. Next year they will launch the new 5-strut Flite. "We have tuned our light wind machine to provide a true boosting experience", says Cai Waggett.
Lightweight gear for light wind is the other biggest design trend. Nobile is selling their single strut The One so well, that they are releasing a second iteration. North has just launched the all-new Code Zero, with a very minimalistic approach. "We wanted to see how light we could go without losing performance or making it too fragile", says Brand Director Mike Raper. Naish offers the Boxer. Gin works closely with the paragliding industry for their ram air kites.
There is a race for the lightest yet strong materials, and most brands are taking part in it. "Kites are getting better, materials lighter and more robust", says Philip Becker from Duotone. Along with Ocean Rodeo, they work with Aluula Composites that provide stiffness in combination with light weight. This makes the kites more reactive and easier to control. It enhances their overall performance in all disciplines, not only light wind riding. Ocean Rodeo announces the introduction of some new ground-breaking, fully recyclable materials developed with Aluula in 2023. Apart from Aluula, Duotone uses a mix of Tenjin and Challenger materials, depending on end use of the kite. Eleveighthas recently launched their Dynea Tex material in the RS+ kite. The response has been so good that they plan to introduce it in their upcoming WS and OS ranges. Dynea Tex makes very light and dynamic inflatable structures. They are also working on a second material, the XT Light, for their inflatable parts. For their canopies, they stick to their durable X4 ripstop material. Naish chooses the Quad Tex material for a crisp, responsive, and long-lasting canopy. They remain cautious when using new materials, testing them to make sure they last before they jump in. North uses a lighter Dacron called N-Dure in their inflatable structure. It features a symmetrical yarn pattern that helps the material snap back to its original shape. For the canopy, they use a high-tenacity ripstop called N-HTRS. It is light, long-lasting and has a high tear-strength and zero porosity. For 2023, they have replaced the heavy-duty trailing edge reinforcement material with a double-ply canopy material to optimise tension. This helps the kite twist better and makes it more responsive. They will also feature lighter bladders in the Carve, the Reach, the Code Zero, and larger sizes of the Orbit. They use Duralite lightweight reinforcement to protect from chafing and abrasion. Nobile uses the latest ripstop materials. Gin is currently testing new fabrics to lighten the leading edges and the inflatable parts.
Construction and manufacturing processes optimise the properties of these technical materials. Minimalism is a trend, dropping things that you don't need is the fastest way to make a kite lighter. North applies it as a mantra. They have also refined their bridles. The 2023 Carve will allow for a longer, more progressive depower and better response throughout. The 2023 Orbit features two new additional bar pressure options. They let you choose between a lighter, more forgiving feel when cruising and an ultra-direct steering with shorter depower travel when boosting loops. Naish has a new Power Lock Bridle system on their Pivot. It increases performance and stability, without a huge cost increase. F-One Sail Engineering division focuses on the forces and tensions. "We master the kite's load through different features to maintain the shape for the longest time", explains Marketing Head Chloe Scamps.
Boards.
Freeride twin tips lead the board sales. For Duotone it is the Jaime, Select and Soleil, both in regular and SLS versions. For Eleveight, it is the Process. F-One's Trax is selling equally well in its three different constructions. Naish's best sold are the Drive, the Monarch, the Hero, and the Motion. The last two are all-round boards suitable for different riders and conditions. They also report rising numbers for their Traverse board. North relies on their Prime and Atmos, Reedin on their Kev Pro and SuperE and Ocean Rodeo on their Mako.
Big Air boards are producing significant sales too. Duotone's Jaime and Jaime SLS have been completely redesigned for 2023, making them ideal for Big Air. The bottom design combined with the angled fins provide a lot of grip and enable very high jumps. North's Atmos carbon was ridden by Marc Jacobs for his victory at the last King of the Air competition. Another podium favourite is their Comp Strapless, ridden by World Champion Capucine Delannoy. Ocean Rodeo has seen the popularity of their Tumbler pushed by Giel Vlugt.
Surfboards get their share of the market. For Duotone, the D/Lab series of the Whip, the Wam and the Fish are selling best. They claim they are the closest you can get to a custom surfboard in kiteboarding. F-One is releasing the new Tweak. This is a compact surfboard with a parallel outline, ideal for small to medium waves and onshore conditions. North has refined their Cross Freeride Surfboard for 2023.
Materials for boards aim for performance, bearing in mind sustainability when possible. North uses a new EcoLite Bamboo Ply and unidirectional basalt tapes in their sandwich construction boards. Their Paulownia wood is CNC-machined for optimal stiffness. They offer full carbon and hybrid carbon lay ups in their twin tip range. For their Charge surfboard they combine FutureLite Carbon Innegra with Dual Shock High Density foam. This makes them light and strong, and with a lot of flex. Their Comp features a combination of carbon and e-glass layers with a very thin and durable PVC core. Naish'sboards feature Paulownia wood cores and TPU rails and fin blocks, plus a variety of carbon and fibre glass. They have cross laminates of fibre glass to control flex and torsion. They have also added carbon strips to increase performance and durability. Nobile uses Paulownia wood as well as carbon. They are constantly prototyping with new materials around the edges to make them stronger. Eleveight has experienced great demand for their high-performance full carbon boards Master C+ and Process C+. All their boards are made with a Paulownia wood core, although their prime models are delivered with an extra light Super Fly 3D wood core. Most of their freeride boards come with a carbon stringer to provide the best dynamic flex. Their + range features full carbon lamination. For their Commander AG Pro they used a new Penol rail that gives the board a very direct flex, perfect for aggressive freestyle riders. Duotone uses carbon for their performance boards, especially the TExtreme carbon. Gin Kiteboarding features a fine-grained, warp resistant Paulownia core in their boards. In their Geek4, they use Sicomin fibre, an organic Green Poxy 50% biobased.
Weight reduction and strength are two key factors in construction, always balanced with stiffness and flex. F-One talks very proudly about their SlimTech Carbon Technology developed in-house. It resulted in great success of their Magnet carbon board. Eleveight is working on a new Process and Process C+. It keeps the DNA of a classic freeride board with some updates in shape and construction. Gin crafts their Geek4 board in the Swiss Alps, with efficiency in mind. The board's flex gives precise control and is very comfortable on choppy waters or when landing jumps. It also features very soft pads. Goodboards keeps capitalising on their ACT (Anti Chop Technology) wavy edge. They also push their collaboration with Booomtag that equips all boards with an NFC chip. Naish has refined their constructions for 2023 to offer a performance ideal for the target user. Their Drive is made with carbon, making it livelier and easier to use. North's Atmos Carbon claims an exceptional performance thanks to the 100% carbon laminate. They tune the construction of all their boards each season to make sure they stay true to the DNA of each discipline. Their new EcoLite construction delivers lightweight and durable strength and stiffness with fast feedback. They have e-glass layered with a bamboo veneer on top and bottom. This improves impact resistance while keeping the weight low. Sustainability is observed when possible. Reedin brings the production of their boards closer to their market, twin tips in Poland and surfboards in Portugal. The result is a much superior quality.
Accessories.
There are some noteworthy innovations in accessories. Duotone is launching a new version of their comfortable NTT binding, the Entity. It is very strong and light and with a very good fit. North also releases new bindings. Their all-new Flex LX features a triple density dynamic support technology. It protects the heels and guarantees softer landings. They have a more contoured footbed and ramped chassis which improve the fit and increase the lateral support. The outer angled heel inserts ensure the foot rolls properly. This provides a stable landing and protects knees and ankles when jumping. Eleveight has a new Revo grab handle. Nobile introduces next Summer the brand-new control stick EZ Bar. Reedin has had success with their DreamStickX Control System that comes with the innovative Mono Bloc system with Auto-Swivel. Naish offers harnesses and travel gear. Gin Kiteboarding launches a collaboration with Fool Moon. All their kite bags will be made by them, including a new compressor bag for their ram air kites. North also launches a new bag programme called Go Green, featuring recycled PET kite bags.
Retailer Support.
Every brand realises that retailer support is of paramount importance in the current climate. The preferred choice seems to be demo days. Getting the product tested by customers is a proven marketing method in the kiteboarding industry. Eleveight, Goodboards, Nobile, Ocean Rodeo and Reedin prioritise this above all else. Education is also important. Reedin and Eleveight offer dealer's training. North developed the new Designer Notes video series. In these, their designers talk about the features and benefits of every product. Retailers can watch them in their own time and revisit them for a refresh whenever they need. Close communication and cooperation with retailers are also key. Nobile, Ocean Rodeo and Reedin pay good attention to it. The latter has developed a new B2B platform to smooth things. No brand is safe from the challenges of raw material scarcity and cost increase of shipping and production. However, they have all rolled up their sleeves to minimise the impact. They stick to long time suppliers when possible, and have brought their production processes forward in time, allowing for more planning and reaction time.