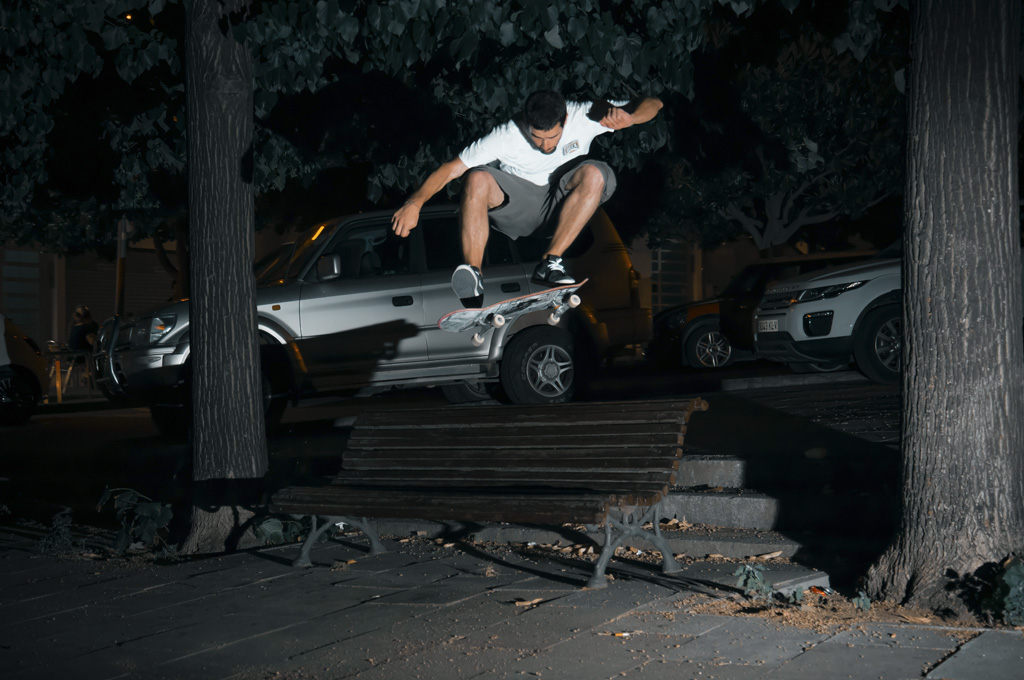 Hydroponic FW22 Men's Streetwear Preview
Retail Buyers Guide: Men's Streetwear 2022/23 Retail Buyer's Guide
Brand: Hydroponic
Interviewee: Jordi Quinto, Marketing & Skate Specialist
How is the European boardsports streetwear market performing right now?
Skateboarding is on a peak once again, so the market is in good shape at the moment. Many new young skaters starting means new customers to take care of, and that makes streetwear to go up in sales
How are you as a brand working around Covid-19 and what are some of the issues you're facing? i.e delays/shipping issues/carry over..
While masks indoors is still here to stay, the delays in shipping from China are affecting both brands and stores. The cost of shipping makes the products more expensive, so on our part we have absorbed part of the cost so as not to make the product too expensive. Our shop customers have already received part of their FW21 order, and they will receive the rest before Christmas starts
What are your main price points for next season and how is Covid-19 effecting these?
We do not have a low starting price since we offer a high quality product, but we try to adjust the price a lot. Quality comes at a price!
What new themes/collections are you stoked to be releasing in the coming season?
HYDROPONIC is presenting a Winter Collection in collab with The Pink Panther, with many different products in the clothing section (T's, crewnecks, hoodies, caps, socks), accessories (backpacks, fanny packs, wallets) and skateboarding hardware (decks, wheels and complete skates).
This is just a small part if our collections, which have grown a lot during the last few years, and especially in the skate and surfskate areas
What is the "must have" boardsports look (head-to-toe) for next season?
Warm Hydroponic ILLOURA beanie, super comfy RIVER jacket, any of our own DH Hoodies (made for winter skateboarding), the NEDLANDS SWEAT elastic denim pants and your choice of a Hydroponic complete skateboard or surfskate. Our wide variety of products means that any client can find things to their liking
Are trends staying the same, or are you noticing new styles coming through? Vests/Fleeces/ Outdoors
Market trends vary over the years, like polar jackets. Hydroponic has a very defined style of its own with trendy colors and daring designs at the Forefront
What are you doing with materials, colours and textures/ technology?
We follow the general market tendencies in these areas, and looking for original and specials materials looking for warm quality materials and linings and fresh and trendy colors
Are you focusing more on layered styles or singular solid warm pieces?
Both are options we contemplate on our collections. It always depends on what products we are talking about, but we try to keep a balance
What are you doing in regards to sustainability?
The company's energy at the HQ and flagship shops is renewable; packaging is made with recycled carton, and our backpack and bag collection is made with recycled rPET (or Polythylene Terephthalate)
Which trends do you see currently happening in the denim segment? (Seasonal colors, distressed jeans, washes, best sellers, etc)
Denim pants and pants in general are becoming wider, more baggy, after a few years of slim tendencies
What is your current denim collection's theme and marketing story?
Hydroponic denim pants are one of the best in the market for skateboarding due to their comfort & resistance
Which technical and sustainable features are you adding to jeans (stretch, sustainable fabrics etc)?
Most of Hydroponic's jeans collection is made with top stretch materials, looking for comfort while skating. We also add triple stitching and reinforced bartacks to the areas most subjected to skateboarding's wear and tear
This Hooded Sweatshirts allow you to skate when it's really cold outside due to their additional comfort elements, such as:
-Reinforced patches on elbows for safety during slides, and on hips to protect the hoodie from griptape fabric tear.
-Thumb holes at the rib anchor the sleeves, keep hands from cold and prevent scratches.
-Reflective zipper closure and print to increase visibility at night.
-Kangaroo pocket with rubber pullers so your car keys and phone don't fall off during the session.
-Big ergonomic hood with drawstring that fits your helmet.
-Built-in Face Mask with drawstring at back of hood will keep you warm during wintertime and night skating.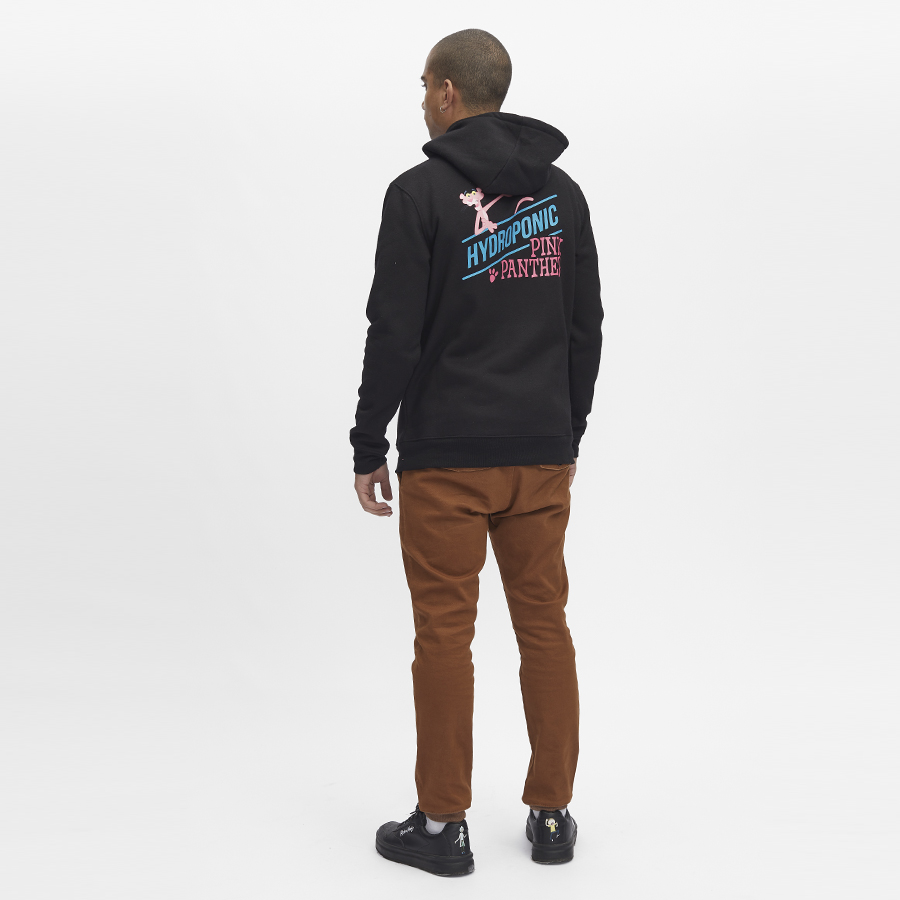 The new Winter 21 catalog brings us a new collaboration: The Pink Panther. Created in 1963 as an intro to Blake Edwards' film 'The Pink Panther', it's the animated representation of a valuable diamond that clumsy Inspector Clouseau must protect from theft.
For the past 60 years, The Pink Panther has stood out as a symbol of clever humor, sophistication, and utmost coolness, and her TV show 'The Pink Panther Show', became the soundtrack of every Saturday for children around the world.
The collaboration continues during the Winter Season 2021, and presents a wide range of products: from short and long sleeve t-shirts, crew sweatshirts, hoodies and DH sweatshirts, socks, caps, backpacks, fanny packs & neck warmers, plus a skateboard collection featuring skate decks, skate completes and wheels.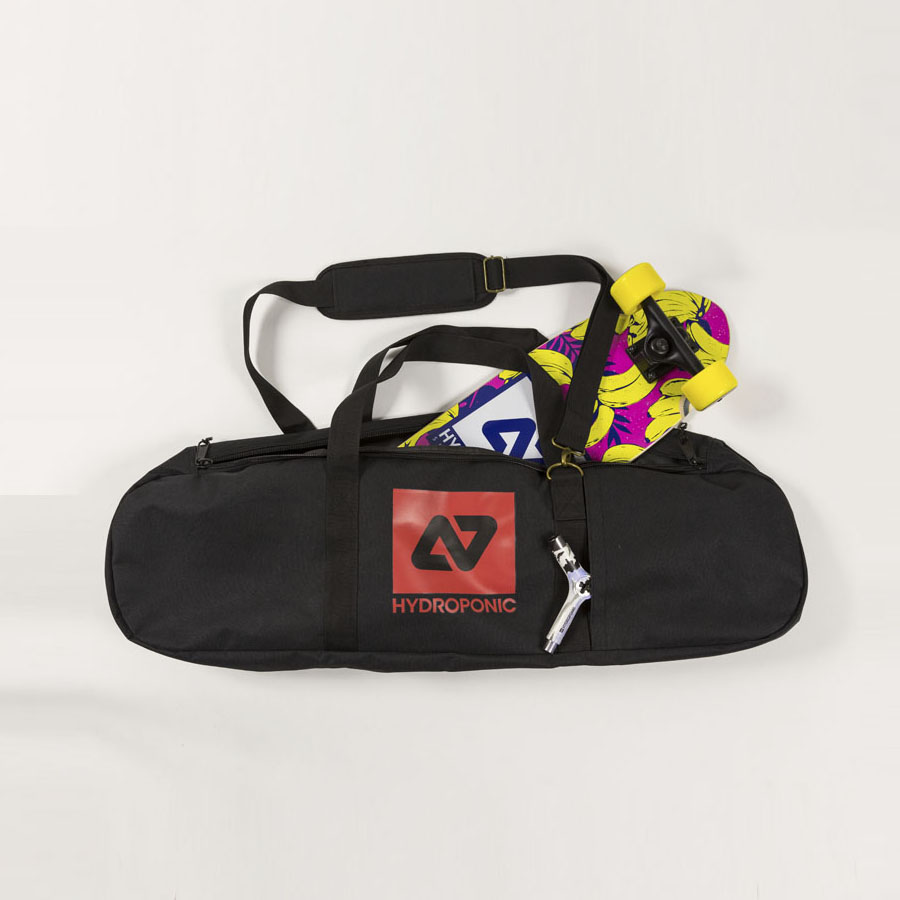 The Hydroponic Drexel Skateboard and Surfskate bag is an essential element to take in your car or motorbike on the way to your favorite spot, travelling or skatepark and not leave anything forgotten at home. Very resistant to wear and tear and scratches, you can fit your complete skate or surfskate, plus a couple of single decks. Includes a wide main compartment with double zipper closure. Interior pocket for skate accessories, such as wheels, keys or bearings, and Hydroponic logo screen printed on both sides.