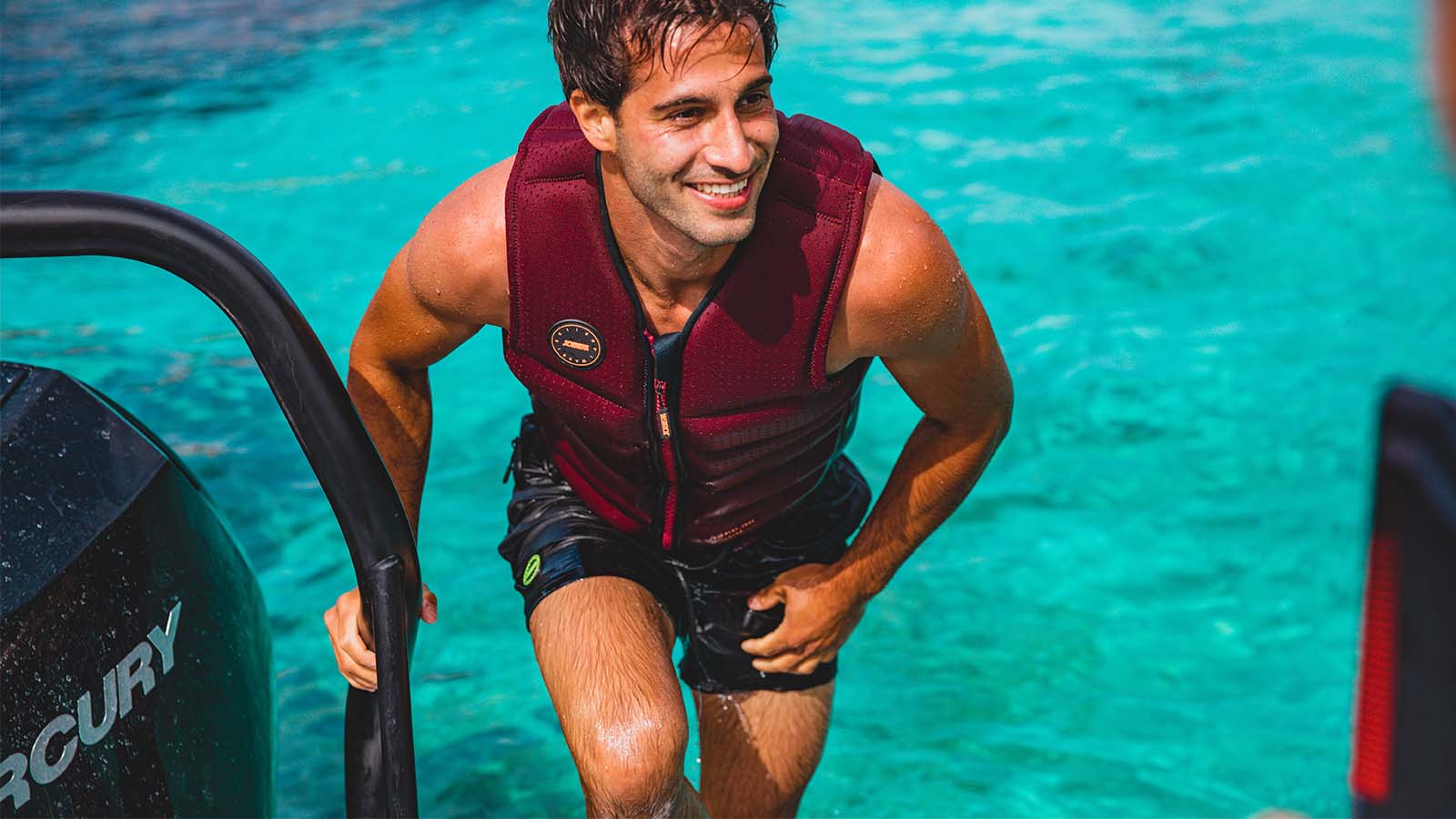 Jobe 2022 Impact Vests Preview
Retail Buyers Guide: Impact Vests 2022 Retail Buyer's Guide
Brand: Jobe
Interviewee: William Doornekamp, Brand Manager
Markets
Are your designing crash jackets for a wake market segment, eg boat / wake park / surf / skate. Or is the same design being sold over the whole market. Which market is giving you the most direction in terms of the design and look of your crash jackets.  
We cater to the boating market in general, from families who have fun on a towable, to wakeboarders who want to send it. So we sell to the boating market primarily (but our vests also work for other markets) and this market is growing. We do see that we are doing really good and the feedback we get from the market is that this is because we focus on accessibility, safety and comfort. Vests like our Neo vests come at an great price and cover all the other parts, making it perfect for the masses.
Style / Look
What style is your brand aiming for, what is the process of determining what your crash jackets look like?
We keep 1 main design philosophy in the back of our mind, when designing. Mix 'n Match – All our products need to "Mix 'n Match", if you buy a wakeboard in the shop, you need to be able to buy a matching vest as well. This goes for all our products because we see that this works and everyone would rather have a set which compliments each other. This is key in designing our vests, we design a whole wide range of products according to this.
Fit / Feel / Protection
What trends are you seeing in terms of fit, feel and protection in your crash jackets. What do you think your customers want and what has worked well for you in terms or fit, feel, protection. For example do end users want a thicker more protected crash jacket at a wake park (as they fall onto solid features at 20mph) or do people want as flexible as possible?
Fit and comfort will always be leading in a case like this in my opinion. First of people want to feel safe and regulations are making this mandatory for multiple occasions, which makes us a brand responsible to do the right thing and put safety first!
Comfort is next because if a vest doesn't suit well, you'll be done with it in no time. So making sure people have comfort and a reasonable amount of freedom of movement, will be key in the combination to win the consumer.
Looking around me when I'm on the water, I see people using thicker and thinner vest, freedom or less freedom. So the end-user's choice of vest is purely based on THEIR preference not on the occasion they use it for. Where I would go for a thinner vest for freedom of movement, people around me will choose something more padded for obstacles. But when talking to retailers and consumers, you hear that a lot don't even always think this through and just buy what they feel has a nice fit. In my opinion it would be best to always strive for the middle ground in all these factors.
Tech / USP
What technology or materials are using in your crash jackets to give you a unique selling point?
First is our "Perfect Fit", we have had this for quite some time but this is still something which some might not know about. A fit which we created for our vests together with TNO, a large research institution. The result is a perfect fit for every kind of body, tall or small, we have a vest for everyone! And it's all due to a extensive research and collaboration to create the best fit possible.
Team Riders
How do your team riders influence your soft good offering? Do they have signature soft goods, do they help with design, do you suggest ideas to you, etc?
We did this in the past but nowadays we don't and spend this effort in our R&D process. Making sure we implement the best materials and technology possible to push the boundaries of what defines a great and safe vest.
Best Sellers
Neo Vest – Our Neo Vest is a brand new vest, combining our old Dual Vest with our Neoprene Vest. The result is a comfortable vest with great flex at a great pricepoint. This vest replaces our most popular vest and this turned out to be a great choice! Giving consumers a even better vest for the same price.
Fragment Vest – The Fragment Vest is the top-choice for everyone who wants a high-end competitive vest. Next to integrating our "Perfect Fit" in this vest, we also implemented a cool aesthetic piece to this vest. A perforated top on the vest, gives a unique look which you won't see anywhere else.
Unify Vest – The Unify has gained massive traction these last years, this is the combined result of multiple hours of testing, refining and testing again. A great fitting vest which has a high regard to safety making it perfect for those boating days. But the best material for comfort and flexibility, even with a more padded vest.