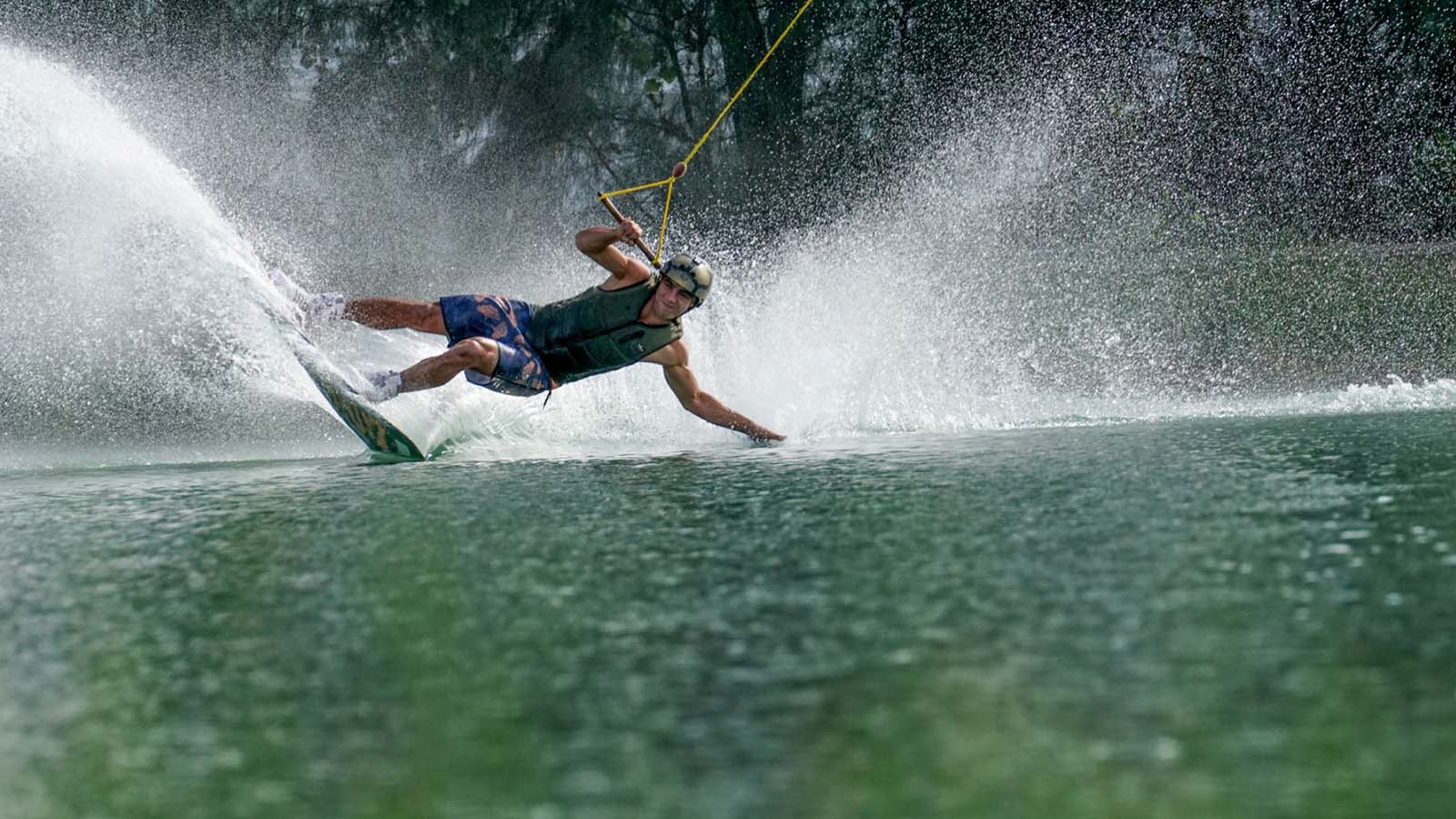 Liquid Force 2022 Impact Vests Preview
Retail Buyers Guide: Impact Vests 2022 Retail Buyer's Guide
Brand: Liquid Force
Interviewee: Aaron Grace Marketing Director
How has Covid impacted the wakeboard business?
When Covid first hit and the World went into lock down, we were pretty scared.  March and April were a couple of the worst months in the history of LF.  How are we going to weather this storm???  Then once everyone was given the ok and encouraged to be outside with your immediate family, the market did a complete 180 and we couldn't build product fast enough.  Fast forward a year and LF has had one the best years to date and as of now, we don't see in slowing down in sight.    
Are your designing crash jackets for a wake market segment, eg boat / wake park / surf / skate. Or is the same design being sold over the whole market. Which market is giving you the most growth. Which market is giving you the most direction in terms of the design and look of your crash jackets.  
We are designing crash jackets with features targeting riders in all market segments. With a large range of jackets, we can target the fashions and functions of each rider class.  While we don't market the jackets to exclude any type of rider there are features more useful for cable riders for example.
As Liquid Force has enjoyed success in the cable market, we look to this market for color trends and features.  The cable/park market definitely has more of a street/skate vibe to it compared to the boat market and tends to lead the overall design, color pallets, etc…   Outside of Europe the boating/surfing categories are also important to the brand.  The jackets for these markets demand different color schemes suited to the boating / surfing attitude and environment.
Liquid Force is seeing growth in all categories this year.  One new category that is seeing increased growth is the foil market.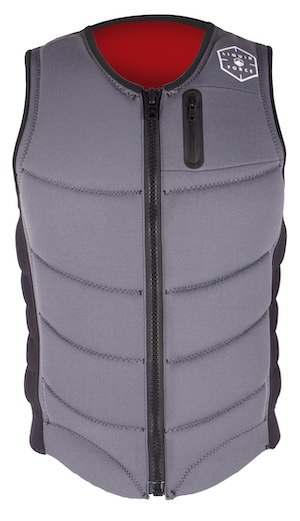 Style / Look
What style is your brand aiming for, what is the process of determining what your crash jackets look like?
We have a new collection of crash jackets with a more earth tone color palette and cleaner patterns.  This is driven from the fashion world.  We are focusing on delivering more subtle color combinations with and effort to bring cleaner designs with unique fabrics, textures and logo effects. The cable and boating markets are always looking for new, innovative styles, but we also can't lose focus on the "traditional" styles, especially for the boating market.
Fit / Feel / Protection
What trends are you seeing in terms of fit, feel and protection in your crash jackets. What do you think your customers want and what has worked well for you in terms or fit, feel, protection. For example, do end users want a thicker more protected crash jacket at a wake park (as they fall onto solid features at 20mph) or do people want as flexible as possible?
Liquid force has a large product line of jackets.  We can offer vests with different fits, feels and levels of protection. The trend is to do a better job communicating to our customers so they can make better choices. With the growth of online this is critical.
Our vests are trending toward more protective foam. Our challenge is to use thicker foam but not at the cost of flexibility and comfort. It has been an effort by our athletes and designer to get this right. This new thicker, but still flexible vest construction has been a great benefit to both the cable and boat market.
Tech / USP
What technology or materials are using in your crash jackets to give you a unique selling point?
We are always working to offer more protection while trying to maintain the flexibility and comfort our athletes require.  This mission has driven our product team to invent new technologies to maximize both flexibility and impact protection.
We have introduced the Spector Vest with plastic amour panels for cable riders. Most of our crash jackets are designed with our exclusive Bio-Spine pattern. This creates more space for the shoulder to flex while allowing a close fit around the rider's waist. Our V-Flex pattern on the back collars of our vests allows for a snug conforming fit, but also allows a greater range of motion for the shoulder blades.  Liquid Force vests are unique in the way we combine different materials into purpose-built patterns, the styling is purely functional.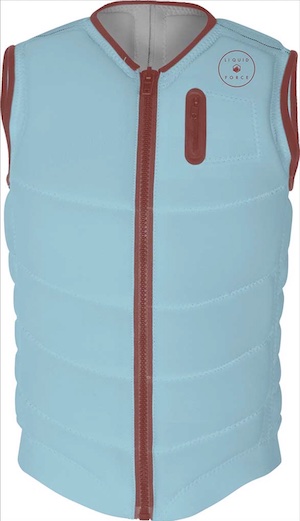 Team Riders
How do your team riders influence your soft good offering? Do they have signature soft goods, do they help with design, do you suggest ideas to you, etc?
When you have a team like Liquid Force you need to lean on them. Our athletes spend more time on the water than anybody and they really know what works and what doesn't. We work with a group of athletes on fit, styling and functional design.  Our vest program is driven by the demands of our athletes! We have two of our top athletes with signature jackets.  Luca Kidd, one of the best boat riders, has 2 signature colorways for the Squad vest.  Daniel Grant has a handful of signature jackets based around our new Heritage line.  These vests are going to be a top seller in the park/cable market.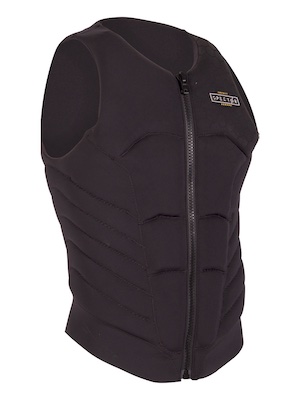 Best Sellers
Squad Non CGA Comp Vest
The Liquid Force SQUAD is a competition vest to rule them all! Designed by Liquid Force pro riders to be used by Liquid Force pro riders, the SQUAD COMP makes no compromises.  The all new 18 panel design features the Liquid Force Exclusive Bio-Spine and Flex Rib side panels. Constructed with our Power-Flex Neoprene the Squad fits tight to your body like a second skin. A tapered waist and larger arm openings make this vest fit like it was made for you! Retail – €129.99
Breeze Non CGA Woman's Comp Vest
The Liquid Force Breeze is lightweight and flexible.  The all new 18 panel design features the Liquid Force Exclusive Bio-Spine and Flex Rib side panels.  Constructed with our Power-Flex Neoprene the Squad fits tight to your body like a second skin.  A tapered waist and larger arm openings make this vest fit like it was made for you! Not just the men's vest scaled for women, The Breeze is patterned for your unique shape! Retail – €129.99
Spector Non CGA Comp Vest
The Spector is our competition vest designed with the extra padding that professional and aspiring cable rider's demand! The Spector features a Liquid Force the exclusive, Poly ARMOUR, and a new Uni-body pattern designed to provide maximum range of motion.
Poly ARMOUR is a double-layered sandwich of foam padding combined with a rigid polymer shield. Poly ARMOUR panels are light, thin, and flexible giving the rider confidence without sacrificing comfort or range of motion.
The Liquid Force Spector also features a unique seamless one-piece Uni-body construction for the shell and liner fabric. Inside and out there are no seams to snag, rub or interrupt the flex. The new design of Spector's foam panels provides extra flex space for shoulder blades to move naturally without restriction.The Spector NCGA vest is proof of the Liquid Force commitment to Relentless Innovation. – Retail – €179.99