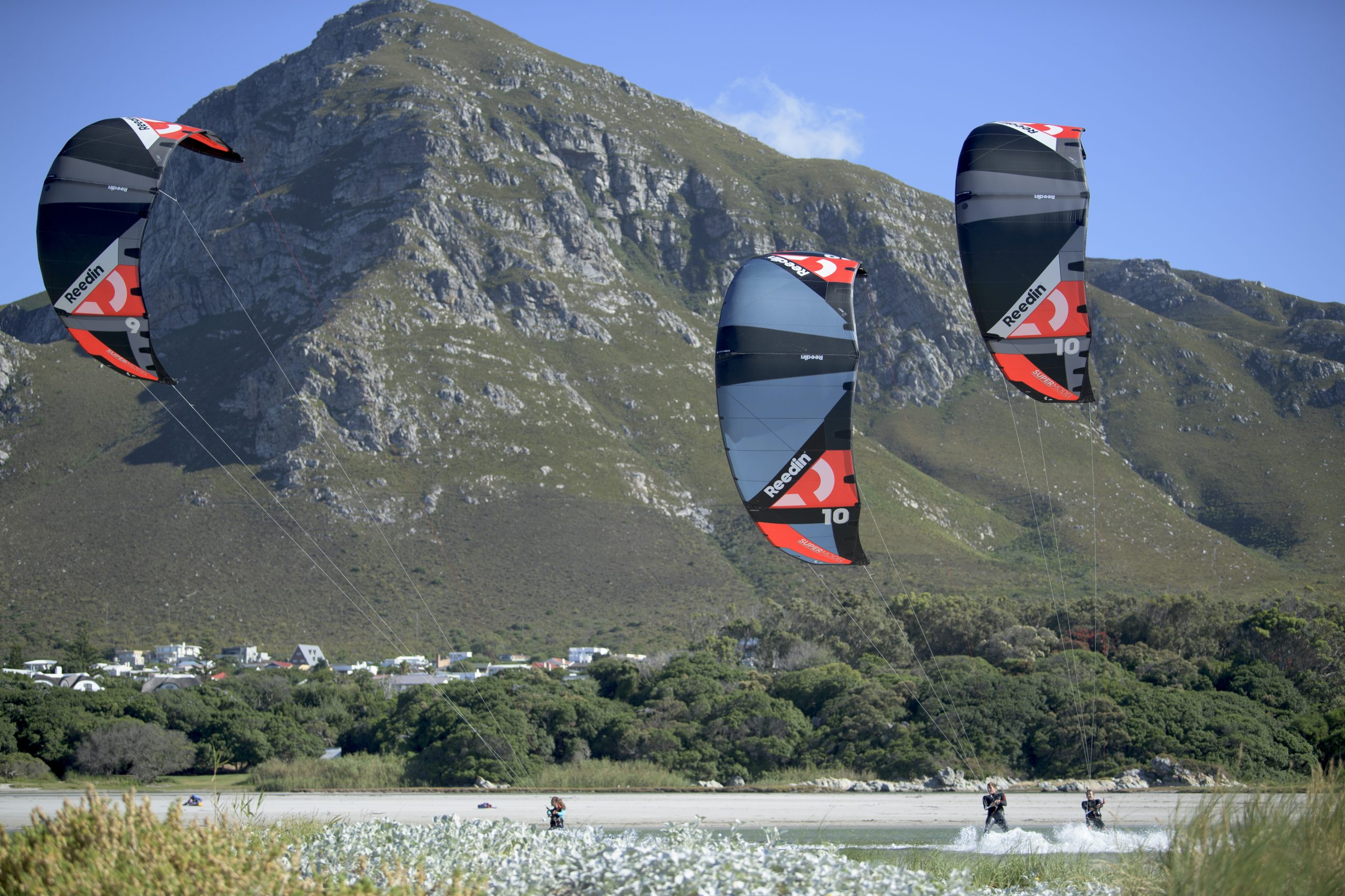 Reedin 2022 Kiteboarding Preview
Retail Buyers Guide: Kiteboarding S/S 22 Retail Buyer's Guide
Brand: Reedin
Interviewee: Damien Girardin, Co Founder & Head of Design
Trends
What discipline (big air, wave, foil…) have sold well in the last 6 months and why?
Since we launched Reedin, our philosophy has been to have a kite that does it all. We have focused our design on flying performance of the kite rather than the type of riding it's made for, knowing that if a kite is good, it will be good for all types of riding. In the end the rider can decide what to do with it depending on the conditions of the day. This is exactly what Kevin (Langeree) does, he will use SuperModel to compete at King of the Air, ride waves or go foiling. The biggest trend is still twin tip riding, which includes riding back and forth, doing little turns on waves and off course jumping as high as possible. It seems like more than other kite disciplines, kite foiling is the segment that has seen the most riders migrating towards wing riding.
What do you believe will be the main trends for 2022 in kiteboarding, in terms of riding disciplines? 
Big Air category is the one that seems to be growing at the moment.
In what discipline do you expect the biggest growth in 2022 and why? 
In kites, the do it all category is our main focus and this will certainly keep growing for us. We also expect our waveboards to grow really well this year thanks to whole new board design and esthetics with the absolute best construction out of our Portuguese factory.
Kites
Which of your Kites have sold well in the last 6 months and why?
SuperModel has been selling very well for us. Clients know that no matter the conditions of the day, the kite will perform, from under powered foiling session to overpowered big air including strapless freestyle and waveriding. No need to switch kite when conditions are changing. We have also been very successful with our DreamStickX control system, clients have been upgrading their kites (regardless of the brand) with DreamStickX to take full advantage of the innovative Monobloc system with Auto-swivelling.
What innovations in kite construction, materials and design are most popular? 
The trend is towards making kites as versatile and easy as possible. Control system functionality is also an important asset to clients.
Are there any trends in terms of kite design, construction and materials that the entire industry seems to be progressing towards?
Quality material is the trend.
Boards 
Which of your boards have sold well in the last 6 months and why?
Both our Kev Pro and SuperE Twin tips have been selling really well. I believe they sell well because the design was focused of comfort and grip for normal world riding (I.e. they perform in choppy water). Kev Pro have been selling more that we originally expecting showing that we have a solid clientele in the high end spectrum of the market.
What innovations in board design, materials and construction are most popular? 
I believe that quality production closer to the market is growing at the moment, we build our Twintips in Poland and waveboards in Portugal the quality we are getting is just superior to what we could get in Asia. Cost is certainly higher but in the end, quality and riding on these boards is simply better.
Are there any trends in terms of board design and construction that the entire industry seems to be progressing towards?
For us, quality material sourced in Europe have proven to be successful and I can see a trend towards producing more boards in Europe (or the US) being implemented or at least explored by the industry.
Aesthetics
Have you introduces any new graphics, artwork collaborations or pro models during the season? 
Our new collection#3 range benefits of all new graphics with the goal of making a very cohesive line of product so you can tell right away when you see a Reedin product.
Sustainability
Have you implemented any new sustainable practices in your production and shipping processes?
Producing closer to the market for some of our products have allowed for a low carbon footprint for these products. We are also chasing waste at all of our factories and reducing the amount of packaging everywhere possible. Finally, we are also focusing our production schedules to allow as much sea freight as possible for product coming from Asia.
Retailer Help 
How are you helping retailers sell your product and which method of help seems to be the most effective?
Our focus for retail is to maximize communication with each retailer, for this reason we have hire a new agency for the German market that will be able to greatly serve our retailers there, We have also hired a new agent and tech reps for the US, have increased our customer service team in house so our sales team have more time for each client. We have also developed a whole new B2B platform that will greatly streamline and simplify our relation with dealers. We will also increase the number of demos we will be organizing with dealers this season and have a bigger fleet of demo gear available.
Have you suffered any stock or delivery issues due to supply chain bottlenecks? If so, what solutions have you implemented?
Over the many years I have been in this industry, we have developed a close relation with all of our main raw material suppliers, so we could organize production and quantities directly with them, and so far it has been working pretty well and we have not faced major delivery delays. We have also opened a second kites and wings manufacturer, this has provided a great improvement in on time deliveries. Shipping have certainly been challenging with goods seating in docks in Asia for weeks sometimes month waiting to get on board a boat, we are closely working with our freight forwarder to improve this.
Best Sellers